A Study to Compare Two Surgical Procedures in Women With BRCA1 Mutations to Assess Reduced Risk of Ovarian Cancer
Principal Investigator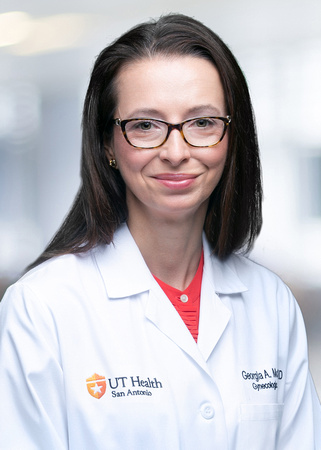 Georgia McCann, MD associate clinical professor in the Division of Gynecologic Oncology is the site principal investigator for a multicenter surgical trial sponsored by NRG Oncology and the National Cancer Institute.
About this study
This trial studies how well two surgical procedures (bilateral salpingectomy and bilateral salpingo-oophorectomy) work in reducing the risk of ovarian cancer for women with BRCA1 mutations. Bilateral salpingectomy involves the surgical removal of fallopian tubes, and bilateral salpingo-oophorectomy involves the surgical removal of both the fallopian tubes and ovaries. This study may help doctors determine if the two surgical procedures are nearly the same for ovarian cancer risk reduction for women with BRCA1 mutations.
Learn more about this clinical trial
Participation eligibility
Participant eligibility includes age, gender, type and stage of disease, and previous treatments or health concerns. Guidelines differ from study to study and identify who can or cannot participate. There is no guarantee that every individual who qualifies and wants to participate in a trial will be enrolled. Please complete the following information and our study team will contact you to discuss study eligibility and potential participation.
Inclusion Criteria:
Women 35-50 years of age
At least one intact ovary and fallopian tube. Prior hysterectomy and tubal ligation is allowed as long as one ovary and fallopian tube are present.
Positive BRCA1 mutation
Premenopausal (still having menstrual cycles)