Certain cancer types and therapies cause lymphedema, a condition that's difficult to treat. At Mays Cancer Center, home to UT Health San Antonio MD Anderson Cancer Center, you have access to exceptional care. Our services can help detect early development of lymphedema, may slow lymphedema progression and help many people maintain lasting symptom relief.
What you need to know about lymphedema
This condition occurs when tissue damage disrupts the flow of fluid in the lymphatic system. It causes fluid buildup that leads to swelling, limbs that feel heavy and hard skin. It also increases the risk of soft tissue infections. There is no cure, but treatments can manage symptoms and reduce the risk of soft tissue infections.
Lymphedema is more likely to occur after surgery or radiation therapy in people with specific cancers, including:
Cancers that spread to the lymph nodes

Merkel cell carcinoma, a type of skin cancer
Why choose us for lymphedema care?
Highlights of our program include:
Expertise:

Mays Cancer Center uses a team-based approach. You receive coordinated services from physical medicine and rehabilitation doctors (physiatrists), surgeons and physical therapists specializing in lymphedema care. Our experience treating a high volume of patients helps us successfully treat complex cases.

Personalized care:

We use a variety of techniques to evaluate lymphedema buildup severity so that you receive appropriate care. Lymphedema is often a lifelong condition, which is why we pay careful attention to your treatment response. These efforts enable us to tailor therapies or try different options as your needs change.

Early detection:

Our team starts screening at-risk patients for lymphedema in the early stages of treatment. We use a special test (bioimpedance spectroscopy) to detect tiny fluid changes before they become severe enough to cause symptoms or any noticeable swelling.

Advanced care:

You still have options if medical lymphedema treatments, like compression garments and decongestive therapy alone, are not successful. Mays Cancer Center provides the only multidisciplinary 

lymphedema surgery

program in South Texas. We perform specialized procedures that give you excellent chances of healing. 
Our lymphedema services
Experts work together to coordinate the services that are best for you. Your personalized lymphedema care plan may include:
Evaluation:

We use a variety of advanced methods to confirm a lymphedema diagnosis and its severity. Our team uses sophisticated tests, including bioimpedance spectroscopy which detects early lymphatic fluid build-up, perometry which precisely measures changes in limb volume over time and indocyanine green lymphography scans which monitor fluid movement in real-time.

Compression garments:

Putting a tight-fitting, elasticized garment on the affected limb creates gentle pressure that relieves swelling. By reducing fluid buildup in the affected limb, compression plays a vital role in slowing the progression of lymphedema damage.

Lymphedema therapy:

A physical therapist certified in lymphedema therapy uses touch, massage and stretching techniques to help drain lymph fluid buildup. Therapy also includes exercises that promote lymph drainage and support for healthy lifestyle changes.

Surgery:

We use an innovative microsurgery technique to help drain lymphatic fluid. We offer sophisticated procedures, including vascularized lymph node transfer and lymphovenous bypass, to improve drainage and restore function.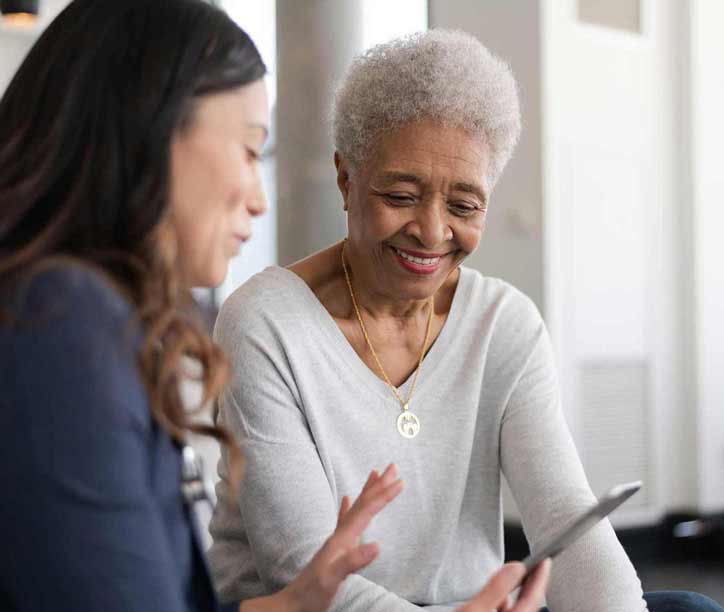 Take the first step by visiting our cancer experts for testing, a second opinion or to learn about treatment options.
Our team includes cancer experts from different medical specialties who share a commitment to delivering precise, personalized care.
Search our provider directory