Lymphedema surgery gives hope for healing when medical therapies alone are not successful. Mays Cancer Center, home to UT Health San Antonio MD Anderson Cancer Center, is the only program in South Texas offering this advanced treatment. Our services consistently shrink swollen limbs, giving patients much-needed symptom relief.
What you should know about lymphedema surgery
Lymphedema surgery replaces or bypasses damaged lymphatic vessels, enhancing the body's ability to drain lymph fluid trapped in your limbs. It doesn't cure lymphedema, but it slows symptom progression and reduces swelling and discomfort.
Why choose us for lymphedema surgery?
Highlights of our program include:
Expertise: You receive services from a surgeon who completed advanced (fellowship) lymphedema training in microsurgery. Microsurgery uses sophisticated instruments to connect vessels so small they cannot be seen without a microscope.
Excellent outcomes: Our depth of experience helps more patients achieve outstanding outcomes. There is a notable reduction in limb swelling shortly after surgery in some cases. Results improve over time for most patients.
Coordination: Our surgical expert works with other members of your care team to learn about your treatment history and surgical needs. Patients typically receive a personalized care plan and schedule their procedure after one appointment.
Comprehensive care: Treatment often includes medical therapies before and after surgery. You receive services from a physical medicine and rehabilitation doctor (physiatrist) and physical therapist who use research-based lymphedema care methods.
Types of lymphedema surgery we offer
The right procedure for you depends on the location and severity of lymphedema symptoms. Mays Cancer Center offers a broad range of options.
Your care may include:
Lymphovenous bypass (also known as lymphovenous anastomosis): We use microsurgical techniques to connect healthy lymph vessels to nearby veins. This procedure redirects lymph fluid away from damaged tissue to reduce buildups.  
Preventive surgery: If cancer treatment involves surgery to remove lymph nodes, we may perform a lymphovenous bypass during the same procedure. This approach may lower the likelihood of developing lymphedema.
Vascularized lymph node transfer: We remove scar tissue to relieve lymph vessel blockages. The surgeon then transfers tissue with healthy lymph nodes from the abdomen to the affected limb. The transferred nodes drain fluid from the limb and stimulates new lymph vessel growth.
Liposuction: You may be eligible for liposuction if a lymph node transfer or lymphovenous bypass are not possible, due to the advanced stage of lymphedema. This procedure removes fat and scar tissue, reducing the size of the affected limb.
What to expect after lymphedema surgery
We often recommend a recovery period after surgery. You resume other treatments when your provider advises, but you might not need the same intensity or frequency.
For example, compression therapy may involve garments that don't put as much pressure on the affected limb. Some people need smaller garments as the swelling goes down. You also may be able to go longer between lymphedema therapy appointments as your ability to drain fluid improves.  
We monitor your progress through frequent follow-up appointments to ensure your care stays on the right track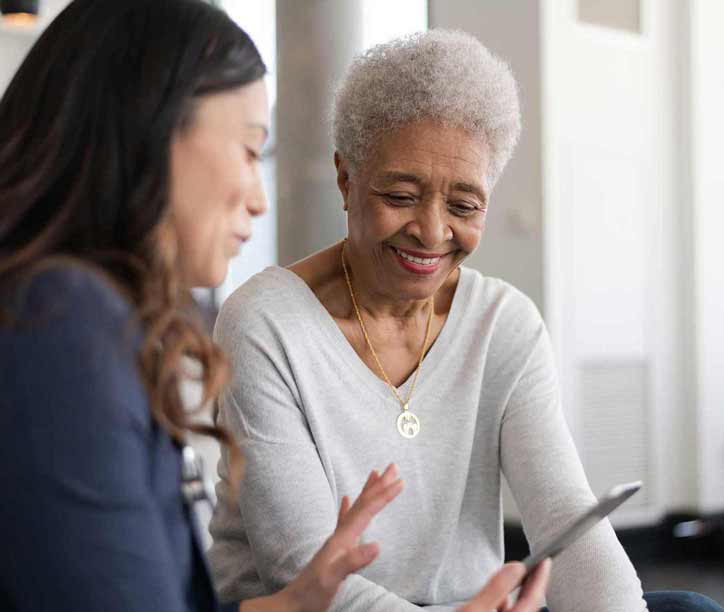 Take the first step by visiting our cancer experts for testing, a second opinion or to learn about treatment options.
Our team includes cancer experts from different medical specialties who share a commitment to delivering precise, personalized care.
See our provider directory