Why choose us for thyroid cancer care?
Many people in South Texas are turning to Mays Cancer Center, home to UT Health San Antonio MD Anderson Cancer Center, for thyroid cancer care. Our experience from treating a high volume of adults and children helps us deliver precise care, even for complex cases.
Our team includes fellowship-trained endocrine and head and neck cancer and surgeons. They team with other specialists who coordinate therapies in meetings called tumor boards. These meetings ensure you receive the care that's right for your situation, which may include sophisticated surgical and nonsurgical options.
Thyroid cancer is one of many types of endocrine tumors we treat.
Read more about our:
What you need to know about thyroid cancer
Your thyroid is a gland in the neck that produces hormones, chemical messengers that control body functions. Thyroid hormones control your heart rate, digestion and bone strength.

This type of cancer starts as a thyroid nodule, an abnormal, noncancerous growth. Find out more about

thyroid nodules

.
Having a family history of certain thyroid cancers may raise your risk of a future thyroid cancer diagnosis. Learn more about rare and familial endocrine tumors.
Younger patients with thyroid cancer receive additional support and specialized inpatient care through our

adolescent and young adult cancer program

.
How to talk to

your doctor

about thyroid cancer
Receiving a thyroid cancer diagnosis may come as a surprise. Our doctors take time to answer your questions so you feel confident about the next steps in your care.
Feel free to ask us about:
Further testing

, if necessary,

to confirm a diagnosis or check treatment progress

Cancer stage,

which tells us how serious the cancer is

and if it is likely to spread

Treatment options,

 

which often includes surgery followed by hormone therapy

Potential treatment side effects and care options that help you get relief
Our personalized approach to care means you often have choices about your treatment plan. We explain options in ways that are easier to understand. You are welcome to bring loved ones with you to appointments for support.
Types
There are many types of thyroid cancer, including:
Papillary thyroid cancer,

which is more common and grows slowly

Follicular thyroid cancer,

which occurs in the cells that produce thyroid hormone

Medullary thyroid cancer,

a rare type of thyroid cancer that can be passed down in families and has a high likelihood of spreading

Anaplastic thyroid cancer,

a rare fast-growing cancer that typically occurs in older adults
Symptoms
Most patients with thyroid cancers do not experience symptoms. Other people experience:
Difficulty speaking, breathing or swallowing

Discomfort in the neck or throat

Ongoing cough with unknown cause

Visible lump in the front part of the neck
Diagnosis
Doctors often detect thyroid cancer through imaging scans for other medical conditions. For example, computed tomography (CT) or magnetic resonance imaging (MRI) scans for neck pain may uncover a suspicious growth on your thyroid.
The first step in a thyroid cancer workup is a procedure (biopsy) to take a sample of thyroid tissue. Our endocrinologists and radiologists work together to perform biopsies, so you don't have to worry about coordinating with additional doctors. Examining the tissue under a microscope helps us confirm or rule out thyroid cancer.
Treatment
We develop personalized care plans that often include surgery to remove cancerous growths. Most patients experience a quick recovery and return do daily activities.
Types of thyroid cancer surgery we offer include:
Hemithyroidectomy

to remove half of the thyroid gland

Total thyroidectomy,

which involves removing the entire thyroid gland

Neck dissection,

a specialized procedure to remove nearby tissue in the neck (lymph nodes) that are cancerous
After surgery, you'll take a thyroid hormone supplement for the rest of your life to maintain appropriate thyroid hormone levels. Learn more about thyroid hormone therapy.
Some people also need treatment with a radioactive substance, radioactive iodine (I-131), to eliminate trace levels of cancer that may remain after surgery.
Research and clinical trials
Our physician-scientists participate in research that's advancing care for many types of cancer, including endocrine tumors. Participating in these efforts through clinical trials, if eligible, gives you additional care options.
Get more information about: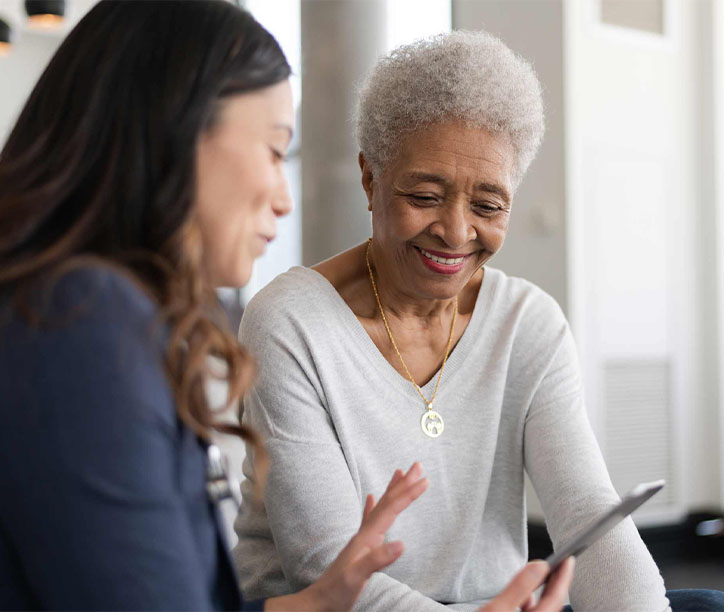 Take the first step by visiting our cancer experts for testing, a second opinion or to learn about treatment options.
Clinical trials help researchers evaluate new therapies before making them available to the public. Mays Cancer Center is the only National Cancer Institute (NCI)-designated cancer center in Central and South Texas, which gives eligible patients early access to clinical trials.
Clinical trial opportunities
Our team includes cancer experts from different medical specialties who share a commitment to delivering precise, personalized care.
Search our provider directory