Thyroid hormone therapy restores levels of important hormones that the body cannot produce after thyroid cancer surgery. Experts at Mays Cancer Center, home to UT Health San Antonio MD Anderson Cancer Center, deliver personalized care.

Our expertise helps more patients maintain appropriate levels of thyroid hormone and lowers the risk of complications. We build a lasting relationship with you, enabling us to tailor therapies to your changing needs.
About thyroid hormone therapy
Thyroid cancer treatment often includes surgery to remove all or part of your thyroid gland. This gland makes hormones that help you produce energy from food (metabolism) and carry out other body functions. Find out more about thyroid cancer.
Thyroid hormone therapy includes taking daily pills of human-made (synthetic) thyroid hormone. Receiving the right amount of thyroid hormone helps you avoid side effects and may lower the chances of the cancer returning.
In rare cases, you may need thyroid hormone therapy if you have abnormal growths on your thyroids (thyroid nodules). These growths can disrupt the balance of thyroid hormone in your body. And if you need surgery to remove a nodule, you might not be able to produce thyroid hormone. Read more about thyroid nodules.
Who needs thyroid hormone therapy?
If we remove part of your thyroid (lobectomy): We may wait to see if the remaining thyroid gland is capable of producing enough hormone. Few people who undergo a lobectomy need thyroid therapy. Those who do often need a small dose.
If we remove your entire thyroid (total thyroidectomy): 
You'll need to take thyroid replacement pills for the rest of your life. You start thyroid hormone therapy shortly after surgery and may require a higher dose than someone who had a lobectomy.
Why choose us for thyroid hormone therapy?
Highlights of our program include:
Expertise:

You receive care from doctors (endocrinologists) who specialize in treating thyroid problems, including cancer. Our decades of experience, and knowledge gained from treating a high volume of patients, enables us to fine-tune your therapy.

Coordinated cancer treatment:

Hormone therapy is one of many ways we care for people with thyroid cancer. Endocrinologists work with experienced cancer surgeons and other specialists to plan and deliver the right services for your situation. Find out more about

cancer treatments

.

Ongoing care:

We continue seeing many of our patients years after they complete treatment. With thyroid hormone replacement, you'll need regular monitoring to be sure your thyroid levels remain healthy. If your medical needs change or you experience side effects, we are here for you with new care recommendations.
How to talk to your doctor about thyroid hormone therapy
Our experts consider many factors when determining how much thyroid hormone you need. Information we may need to adjust your care plan includes whether you:
Take medications

for certain other medical problems, including ulcers or weakened bones (osteoporosis)

Eat soy-based foods,

such as soy milk and meat or dairy substitutes

Plan on getting pregnant,

are pregnant or just had a baby

Take certain dietary supplements,

such as those that increase your intake of iron or calcium
You are welcome to bring loved ones with you to care appointments. They can help you remember everything we discuss, so it's a little easier to follow care instructions.
Thyroid hormone therapy: What to expect
If you need thyroid hormone therapy, you receive testing, a personalized care plan and adjustments when necessary from our endocrinology team.
Here's what to expect:
Testing:

A blood test helps us determine your current thyroid hormone level. Your doctor will test your thyroid stimulating hormone (TSH) levels. You may also have tests for thyroglobulin (Tg), a protein that doctors sometimes use as a cancer marker, to alert us if cancer may return.

Evaluation:

We perform a physical exam and ask you about your medical history and daily habits.

Initial dose:

Each person responds to thyroid hormones in a different way. We start you off on an initial dose and then make adjustments.

Tailoring hormone levels:

We see you frequently at first to assess whether the dose meets your needs and to help manage side effects. Quick blood tests measure TSH to tell us if the level needs adjusting. Our goal is to keep your thyroid hormone levels in a safe range for the type of cancer you had and your current health.

Ongoing care:

Once we find the right dose, you receive follow-up testing and evaluations on a regular basis. Even if you are not experiencing side effects, these touch points help us keep your thyroid hormones at the proper levels.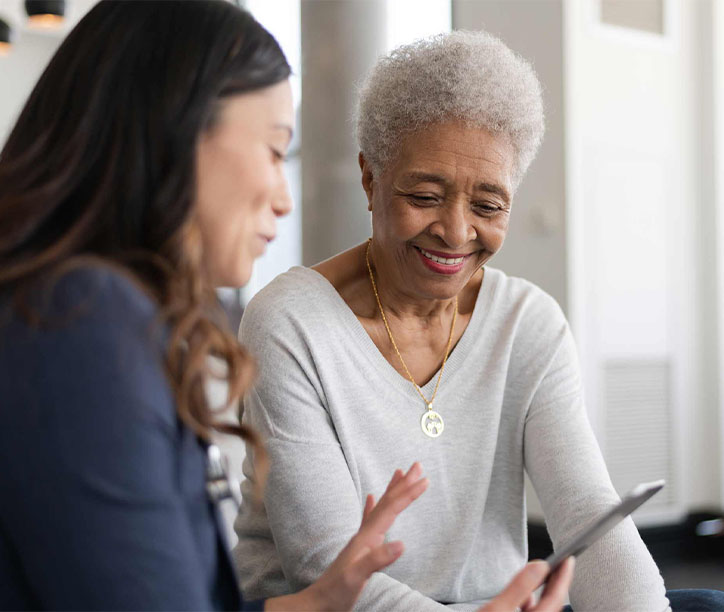 Take the first step by visiting our cancer experts for testing, a second opinion or to learn about treatment options.
Our team includes cancer experts from different medical specialties who share a commitment to delivering precise, personalized care.
Search our provider directory