Why choose us for thyroid nodule care?
Nodules are growths in the thyroid glands. They are often harmless, but in some people, they can become cancerous.
Mays Cancer Center, home to UT Health MD Anderson Cancer Center, has highly skilled surgeons with decades of experience caring for adults and children with thyroid nodules. We provide thorough evaluations to help patients receive timely, personalized care.
Your thyroid gland is part of the endocrine system, which produces hormones that regulate organ functioning.
Read more about our:
What you need to know about thyroid nodules
Thyroid nodules are common. Some people have nodules and don't even know it. Only a small number of people have nodules that become

thyroid cancer

.

Adults face a higher risk of thyroid nodules if there is a family history of thyroid cancer or nodules. Regardless of family history, the risk of nodules increases with age.

Thyroid nodules in children often occur due to genetic conditions, such as

multiple endocrine neoplasia

.

Thyroid nodules rarely require treatment. But most people need ongoing monitoring to check for changes that may lead to a cancer diagnosis.
How to talk to your doctor about thyroid nodules
We explain how thyroid nodules can affect your health, including cancer risk, and the services that help us monitor it. Together, we make a plan that reflects your medical needs and personal preferences.
You might want to ask us about:
Evaluations and testing, and how often you need it

Nodule details, including their number, location and

size

Treatment options for nodules that are causing symptoms or likely to become cancerous

Genetic testing for people with a family history or hereditary conditions
Living with thyroid nodules may require care decisions that don't always come easily. You can bring family members or trusted friends with you to appointments for support.
Types
There are many types of thyroid nodules, including:
Colloid nodules:

Normal thyroid tissue that grows out of control

Multinodular goiter:

Enlarged thyroid that causes multiple nodules

Thyroid cysts:

Fluid-filled sacs that form in thyroid gland tissue

Toxic thyroid nodules:

Growths that cause the thyroid to produce too much hormone
Symptoms
Most people with thyroid nodules do not experience symptoms. Those who do may have:
Difficulty breathing or swallowing

Enlarged thyroid (goiter)

Pain (this symptom is rare)

Small lump in your neck you can see or feel

Unexplained weight loss
Diagnosis
Thyroid nodules often appear in imaging scans for other medical conditions. Additional tests help us learn more about the nodules and plan the next steps of your care.
Additional tests may include:
Genomic testing

 

We offer innovative genetic testing that helps you and your care team decide if surgery is the best choice for certain thyroid nodules

Hormone testing

to determine whether the nodule is causing an increase in thyroid hormone levels

Imaging scans,

which include ultrasound to determine the size, number and location of the nodules

Biopsy,

a procedure to take a sample of suspicious nodules so we can confirm or rule out thyroid cancer
You receive more of these services, including biopsies, from our endocrinologists, so you receive accurate testing and reliable results.
Treatment
For most people, watchful waiting is all that's necessary. You receive regular imaging and evaluations to make sure the nodule isn't growing.
You may need treatment if the nodules:
Are causing symptoms

Become large enough to affect your appearance or how nearby organs function
Treatment may include:
Surgery:

We remove nodules that are causing problems while preserving nearby healthy tissue.

Radioactive iodine:

We use medication containing small amounts of a radioactive substance to quiet symptoms in people with hyperthyroidism.
Research and clinical trials
Cancer research at Mays Cancer Center gives eligible patients access to new care methods through clinical trials. Our interests span all aspects of cancer care, including prevention.
Get more information about: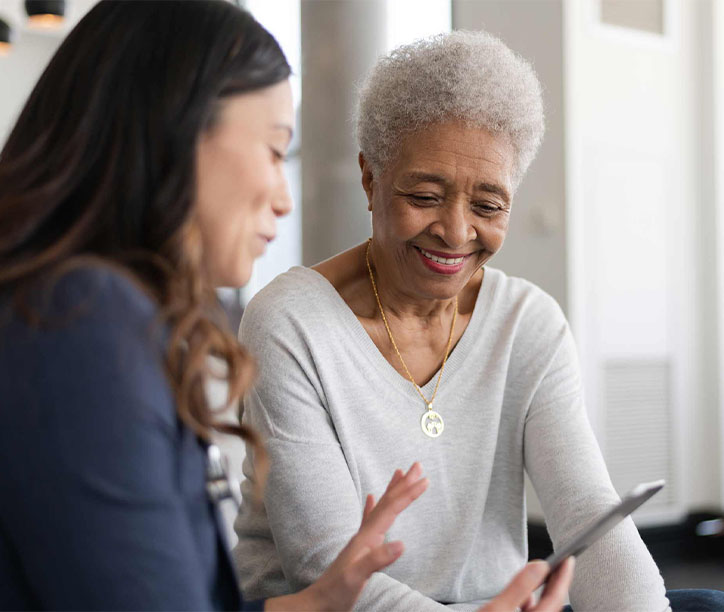 Take the first step by visiting our cancer experts for testing, a second opinion or to learn about treatment options.
Clinical trials help researchers evaluate new therapies before making them available to the public. Mays Cancer Center is the only National Cancer Institute (NCI)-designated cancer center in Central and South Texas, which gives eligible patients early access to clinical trials.
Clinical trial opportunities
Our team includes cancer experts from different medical specialties who share a commitment to delivering precise, personalized care.
Search our provider directory