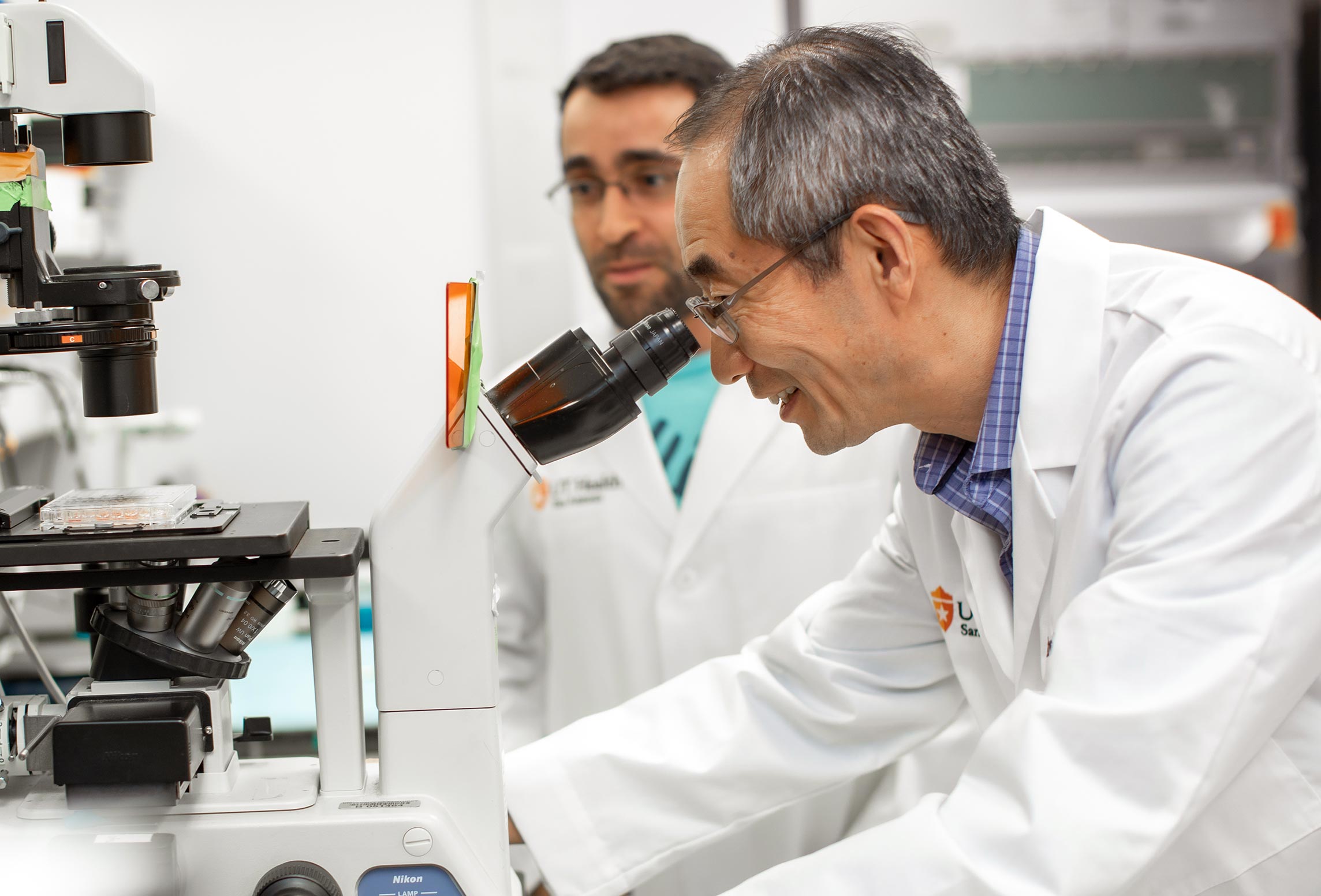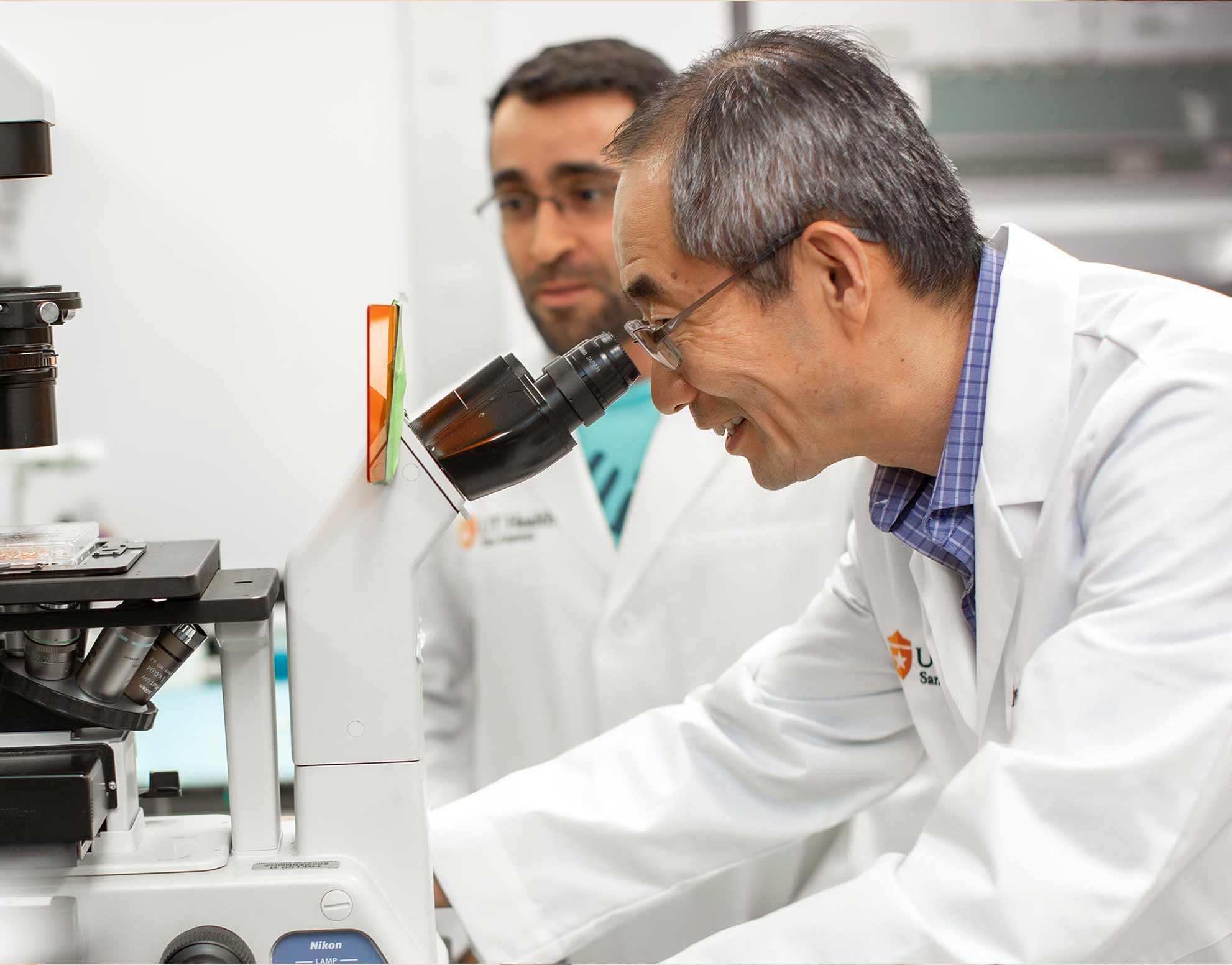 Cancer Research and Clinical Trials
Physicians and scientists at Mays Cancer Center, home to UT Health San Antonio MD Anderson Cancer Center, are at the helm of groundbreaking research. Through lab studies, clinical trials, innovative research programs and other research components, we are making a lasting mark on cancer prevention and care delivery.
The core of discovering the most successful cancer treatments.
Research at Mays Cancer Center combines the expertise of renowned cancer researchers, state-of-the-art laboratory technologies and a team approach. These capabilities fuel discovery at an accelerated pace. Our hope is to lessen cancer's impact on our community.
The breadth of our research helps us address the unique needs of South Texas and the nation's most pressing cancer concerns.
We are the only National Cancer Institute (NCI)-designated cancer center in Central and South Texas. This recognition of our research excellence places us among a select group of centers across the country. Find out more about the NCI designation.
Clinical trials for children and adults with cancer
Our clinical trials are exploring new methods of preventing, detecting, treating and surviving cancer. We participate in some of the nation's most respected clinical trial networks.
We are part of groups sponsored by NCI and the NCI Community Oncology Research Program (NCORP). We also partner with industry to develop cutting-edge oncology trials.
These efforts give eligible pediatric and adult patients access to leading care options, often years before they become widely available.
Find out more about:
Our cancer research
Mays Cancer Center physicians and scientists are reducing the impact of cancer in South Texas through focused research programs and components. Our holistic approach also includes sharing expert knowledge with future cancer researchers. Explore our cancer research.
Highlights of these efforts include:
Basic research

that's yielding impactful discoveries about

how cancer develops, grows and spreads in pediatric and adult patients

Drug development,

including novel drugs, novel drug targets and new uses for existing drugs

Increasing awareness

about cancer screening rates to help more people in our community benefit from new care methods

Outreach efforts

to better understand cancer's effects in our community and provide the rest of the nation with a template for studying and treating cancer in Hispanic patients

Engagement and training

for emerging scientific leaders, from high school students through junior UT Health San Antonio faculty
Expanded access to clinical trials
Our partnership with MD Anderson Cancer Center expands eligible patients' access to additional clinical trials. Find out more about our partnership with MD Anderson Cancer Center.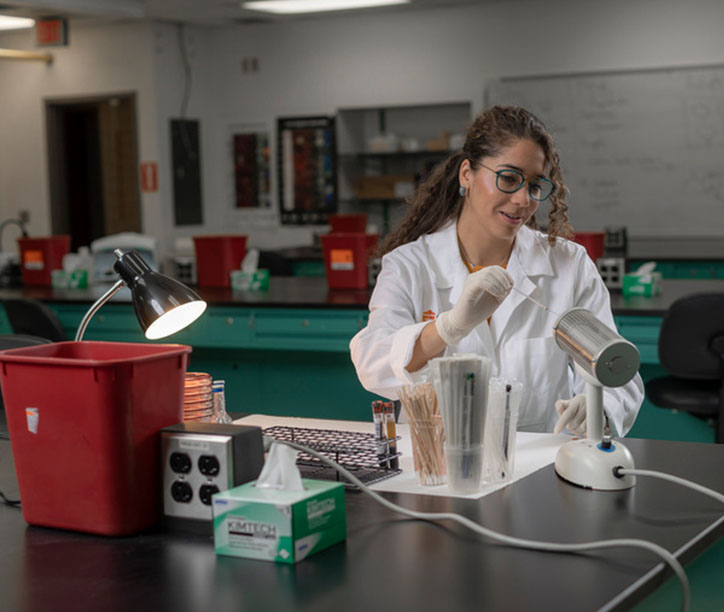 Find out more about how our research is helping us advance the understanding of cancer development and progression. Our efforts are paving the way for innovative cancer care and prevention techniques in South Texas and across the country
Our research team includes cancer experts from different medical specialties and scientists who share a commitment to advancing care and outcomes.
Meet our team