Why choose us for ovarian cancer care?
Ovarian cancer happens when cancer cells start growing in the ovaries (a major reproductive organ). At Mays Cancer Center, home to UT Health San Antonio MD Anderson Cancer Center, you have access to experienced, supportive cancer doctors who specialize in gynecologic health.
Our gynecologic surgeons are with you throughout your entire treatment, playing a central role in your care. South Texans count on us to provide leading ovarian cancer treatments and personal support. Your treatment options may include new cancer drugs or therapies only available through select clinical trials, if eligible.
Ovarian cancer is one type of gynecological cancer we treat. Learn more about our gynecologic oncology program.
What you need to know about ovarian cancer
Research shows that people with ovarian cancer have better outcomes when they receive their care from gynecologic oncologists. These doctors are OB/GYNs who specialize in treating gynecological cancers. Our gynecologic oncologists are highly trained to deliver research-based ovarian cancer care.

Often times ovarian cancer can go undetected until it has spread to other organs.

Inherited gene changes (passed down through families) can increase your risk of having ovarian cancer. We offer genetic testing and counseling to help you assess and manage your risk. 

Read more about our cancer genetics and high-risk screening clinic.

You can receive firsthand insights and extensive support from

Purple Heals

, the only support group of its kind in South Texas. This large, diverse network brings together women of all ages who have experienced some form of gynecological cancer.
How to talk to your doctor about ovarian cancer
It's natural to feel confused or uncertain about an ovarian cancer diagnosis. Our team is here to answer your questions and support you.
We take the time to explain your diagnosis and detail your treatment options. We listen to your concerns, making sure we address them in a way you understand.
You might want to ask your doctor about:
Additional testing you might

need to determine the type of ovarian cancer or guide treatment decisions

Cancer stage,

including tumor size,

whether it has spread and how it could impact your long-term health

Treatment options,

 

including

oncofertility

services

that can preserve your options to conceive if you're of childbearing age

Clinical trials

you may be eligible for, at any phase of your care

Support

services

to help you cope with a cancer diagnosis or manage any discomfort you feel from cancer treatment
We encourage you to involve your loved ones in your care in whatever way feels right to you. You are welcome to bring family members or trusted friends with you to appointments or treatment sessions.
Types
Our specialists' expertise spans common and rare types of ovarian cancer, including:
Epithelial ovarian cancer

makes up most ovarian cancers. It develops in the outer lining of the ovaries (called the epithelium). It can affect women at any age, but most women are diagnosed after menopause.

Germ cell ovarian cancers

are rare tumors that often affect women during adolescence or young adulthood. They occur inside egg-producing cells.

Sex cord stromal cancer

are rare tumors that can affect women at any age. They occur inside sex cords (connective tissues) of the ovary.
Certain gynecological cancers closely resemble ovarian cancer in how they look and act. While they are not technically types of ovarian cancer, doctors treat them in similar ways:
Fallopian tube cancer

starts growing inside the fallopian tubes (tract that connects each ovary to the uterus). Read more about

fallopian tube cancer

.

Primary peritoneal carcinoma

is rare cancer that affects the abdominal area. Learn more about

primary peritoneal cancer

.
Symptoms
Ovarian cancer may not cause obvious symptoms. Common ovarian cancer symptoms include:
Bloating

or swelling of the abdomen

Pain or pressure

near the back or pelvic area

Urinary problems,

such as constipation or frequent bathroom trips

Weight loss,

or loss of appetite
Diagnosis
If we suspect you may have ovarian cancer, our gynecologic oncologists perform a pelvic exam to evaluate the uterus and other reproductive organs for abnormal growths.
Additional tests can help us pinpoint your diagnosis:
Imaging tests

like CT or MRI scans offer clear details of an abnormal growth's size and location.

Blood tests

measure levels of a substance called a tumor marker (Ca 125) made by ovarian cancer cells.

Biopsy

involves removing a tiny tissue sample from a tumor so specialists can analyze cells under a microscope.
Highly trained imaging and pathology doctors are part of our gynecological cancer care team. Together, we discuss your diagnosis and develop a treatment plan. Your gynecologic oncologist then sits down with you to help you understand what a diagnosis means and how it may affect your health.
Learn more about diagnosing cancer.
Treatment
Ovarian cancer treatment often includes a combination of surgery and chemotherapy. Our surgeons have extensive experience performing intricate surgeries to remove ovarian cancer.  
Our gynecologic surgeons partner with surgical oncologists to perform delicate procedures to treat advanced cancers involving other organs, providing a higher level of care for complex cases.
Your doctor may recommend other therapies, such as chemotherapy, to destroy any remaining cancer cells after surgery.
We offer leading cancer innovations in your care, some of which are not widely available in South Texas.
Hyperthermic intraperitoneal chemotherapy (HIPEC) is an advanced way of administering chemotherapy. Doctors deliver cancer-destroying medication directly to a tumor during surgery.
Find out more about cancer treatments.
Research and clinical trials
As an academic research program, our physician-scientists pursue a wide range of improvements to gynecologic cancer care. We offer eligible patients access to new clinical trials, expanding your ovarian cancer treatment options. You may be able to receive novel drugs or therapies that aren't otherwise available in the community.
Get more information about cancer clinical trials and research.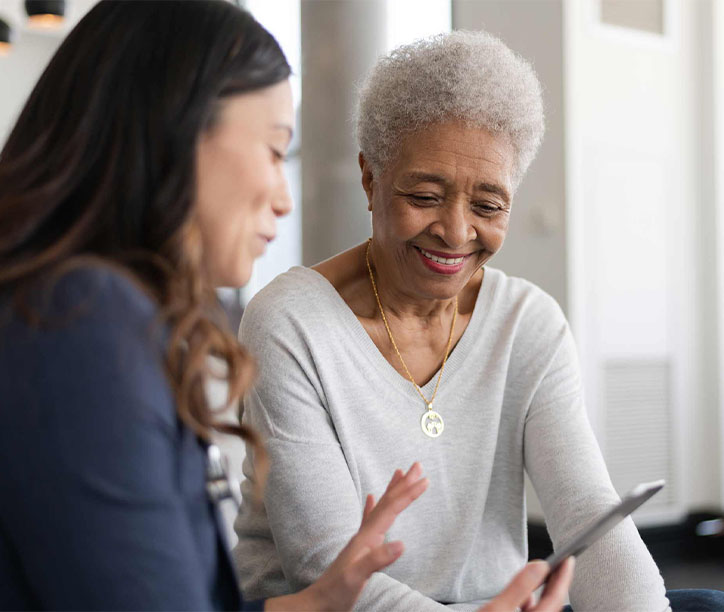 Take the first steps by visiting our cancer experts for testing, a second opinion or to learn about treatment options.
Clinical trials help researchers evaluate new therapies before making them available to the public. Mays Cancer Center is the only National Cancer Institute (NCI)-designated cancer center in South Texas, which may give you early access to clinical trials, if you are eligible.
Clinical trial opportunities
Our team includes cancer experts from different medical specialties who share a commitment to delivering precise, personalized care.
Search our provider directory