Why choose us for fallopian tube cancer care?
Fallopian tube cancer is a very rare gynecological cancer that affects the female reproductive system. At Mays Cancer Center, home to UT Health San Antonio MD Anderson Cancer Center, you can receive expert care from doctors who specialize in rare fallopian tube tumors.
Fellowship-trained gynecologic oncologists and other cancer specialists work as a team to personalize your care. We offer sophisticated cancer therapies and supportive treatments, such as fertility preservation services.
Fallopian tube cancer is one of several gynecological cancers we treat. Learn more about our gynecologic oncology program.
What you need to know about fallopian tube cancer
The fallopian tubes sit on each side of the uterus, inside the pelvic area. Their primary reproductive role is transporting eggs (ova) from the ovaries to the uterus (womb).

Fallopian tube cancer happens when cancer cells begin growing inside the fallopian tube (often where the tube ends close to the ovary).

Research shows notable advantages when people with fallopian tube cancer seek care from gynecologic oncologists (doctors whose sole focus is treating gynecological cancers). Our highly trained gynecologic surgeons provide research-based fallopian tube cancer care.

Fallopian tube cancer most commonly affects women after menopause, but it can occur at any age. Women who haven't had children are at higher risk.

Certain gene mutations (changes) increase the risk of developing fallopian tube cancer. At our cancer genetics and high-risk screening clinic, you can learn more about your level of risk. We also give personalized guidance on how to protect your health or detect cancer early.
How to talk to your doctor about fallopian tube cancer
Cancer affects every person differently. We offer you support right from the start. Our team will explain your diagnosis in a way you can understand.
We talk through your treatment options and listen to your care preferences. We make sure to answer all your questions or concerns, including how cancer treatment could affect your reproductive health.
You might want to ask your doctor about:
Additional testing you might

need and how test results guide your treatment plan

Cancer stage,

including

where cancer originated and whether it has spread to other organs

Treatment options,

 

including

oncofertility

services

that help you preserve reproductive options before cancer treatment

Clinical trials

you may be eligible for, such as targeted therapies

Support

services,

including how to connect with members of

Purple Heals

, our large, active support group of local gynecological cancer survivors
Cancer support comes in many forms. Having a friendly face by your side at appointments may provide comfort when you may feel overwhelmed. We encourage you to involve family members or loved ones in your care, however it feels right for you.
Types
We treat all types of fallopian tube cancers, including:
Adenocarcinoma

develops from glandular cells that make up the lining of fallopian tubes. Adenocarcinoma makes up the majority of fallopian tube cancers.

Secondary fallopian tube cancer

describes cancer that starts in another area of the body and spreads to the fallopian tubes.
Symptoms
Fallopian tube cancer often causes vague symptoms or no symptoms at all. Women with fallopian tube cancer may experience:
Abdominal bloating

(a full, tight belly)

Feeling full easily

or unusual disinterest in eating

Tenderness or pressure

around the abdomen (midsection)

Changes to bathroom habits,

such as constipation or feeling the need to urinate often
Diagnosis
Our cancer doctors specialize in rare gynecological cancers, such as fallopian tube cancers. To diagnose fallopian tube cancer, we first perform a pelvic examination to check the area around the uterus, ovaries and fallopian tubes for abnormal growths.
We may recommend one or more other tests to learn more about what's causing your symptoms:
Imaging tests

like CT or MRI scans help doctors confirm or rule out the presence of an abnormal mass (tumor).

Blood tests

measure the levels of a chemical called a tumor marker (Ca 125) that cancer cells make.

Biopsy

carefully removes a small sample of tissue from the area of concern so that gynecologic pathologists can analyze cells under a microscope.
Learn more about diagnosing cancer.
Treatment
Fallopian tube treatment usually involves cancer removal surgery and chemotherapy. A highly trained cancer doctor (gynecologic oncologist) will perform your surgery and prescribe chemotherapy. Having one oncologist lead your cancer team helps us understand your needs and deliver precise, personalized care.
Our team also includes many other cancer specialists, including surgical oncologists and radiation oncologists. We work together to personalize fallopian tube cancer treatment using leading cancer science and surgical techniques. Surgeons may work together to remove cancer that has spread to other organs.
Your doctor may recommend chemotherapy after surgery. In some cases, we may administer an advanced type of chemotherapy medicine to tumor cells during surgery. Hyperthermic intraperitoneal chemotherapy (HIPEC) requires specialized training and is not widely available in our region.
Find out more about cancer treatments.
Research and clinical trials
Our physician-scientists participate in local and nationwide clinical trials to improve care for many gynecological cancers such as fallopian tube cancer. These trials offer eligible patients the opportunity to access new cancer drugs, such as targeted therapy, before they're widely available.
Get more information about cancer clinical trials and research.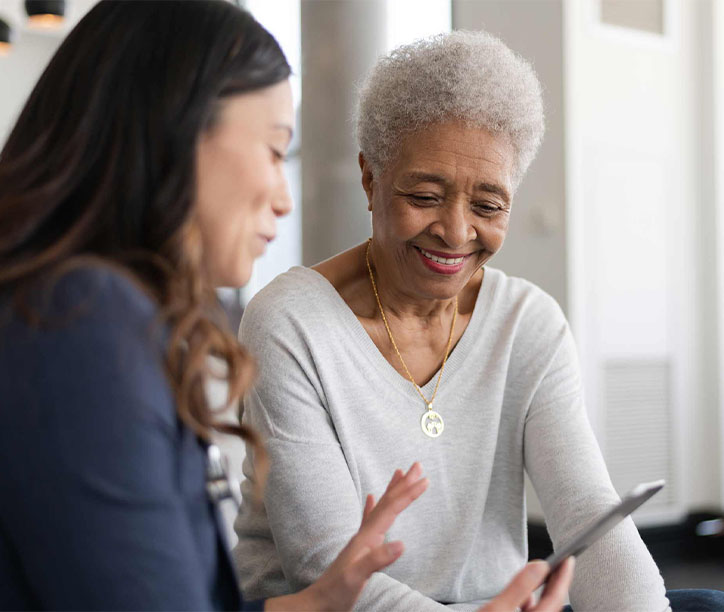 Take the first steps by visiting our cancer experts for testing, a second opinion or to learn about treatment options.
Clinical trials help researchers evaluate new therapies before making them available to the public. Mays Cancer Center is the only National Cancer Institute (NCI)-designated cancer center in South Texas, which may give you early access to clinical trials, if you are eligible.
Clinical trial opportunities
Our team includes cancer experts from different medical specialties who share a commitment to delivering precise, personalized care.
Search our provider directory