Why choose us for brain cancer care?
Malignant brain tumors (also called brain cancer) can affect your health and body functions in significant ways. However brain cancer impacts your life, Mays Cancer Center, home to UT Health San Antonio MD Anderson Cancer Center , offers leading expertise and resources to support you throughout treatment.
Our team includes nationally recognized experts with fellowship training in neurosurgery and neuro-oncology. Few centers in South Texas have this level of expertise. Our research program allows you to access some of today's leading brain cancer treatments, including clinical trials, close to home.
Find out more about our neuro-oncology (brain tumor) program.
What you need to know about brain cancer
A brain tumor can consist of benign (noncancerous) or malignant (cancer) cells. Noncancerous masses are

benign brain tumors

. Cancerous tumors are also called brain cancer.
Primary malignant brain tumors start growing inside the brain. A metastatic brain tumor (also called a

brain metastasis

) is cancer that develops somewhere else (like the breast or lungs) and spreads to the brain.

There are many types of brain tumors. Each acts and affects you in different ways.

We have a team of doctors who focus on treating brain and spinal tumors. This focus means they see more brain cancer cases than many doctors and offer a high level of expertise.

We deliver precise care for all types of brain cancer. This includes rare tumors like ganglioglioma, which develops from multiple types of nerve cells in the brain.

We are active in brain tumor research. Our physician-scientists participate in a nationwide network of clinical trials while leading research studies in our laboratories. These efforts help us provide hope and additional treatment options. We offer clinical trial opportunities for eligible patients with all phases of brain cancer, including brain metastases.
How to talk to your doctor about brain cancer
There's no right or wrong way to react to a brain cancer diagnosis. You can trust our team to provide the information you need to understand your diagnosis. We also offer multiple layers of support as you navigate the road ahead.
We take the time to detail your treatment options, including how any clinical trials you may be eligible for might enhance your treatment. We encourage you to express any questions or concerns with us at any point.
You might want to ask your doctor about:
Additional testing,

 

if any, you may need to guide diagnosis or treatment

Cancer type,

including the type of brain tumor

and whether (or where) it has spread

Treatment options,

 

including what to expect if your doctor recommends surgery and clinical trial treatments for which you may be eligible

Support

services,

including resources that can help you manage physical or emotional difficulties you experience
We consider what's important to you before making treatment recommendations. We encourage you to bring family or loved ones with you to appointments, should that help you make care decisions.
Types
We treat all types of malignant brain tumors. Gliomas are the most common type of malignant cancer to start in the brain in adults. Gliomas develop from glial cells in the brain.
Glioma cancers include:
Glioblastoma

mostly occurs in older age. It often grows and spreads quickly.

Astrocytoma

is the most common type of glioma brain tumor. It develops from star-shaped cells in the brain called astrocytes.

Oligodendroglioma

often grows slowly and may affect younger adults in their 20s and 30s.

Ependymoma

is a rarer tumor that usually grows slower than other types.
Symptoms
Brain cancer can cause varying symptoms based on its location and size. Brain cancer symptoms include:
Changes to your mood or personality

Confusion or disorientation

Headaches

Hearing or speaking difficulties

Muscle stiffness or tingling on one side of your body

Nausea or vomiting

Problems with walking, balance or coordination

Seizures

Sensory changes, such as your ability to feel cold or heat or changes in smell or taste

Vision changes, such as blurry or double vision
Diagnosis
We diagnose malignant brain tumors in multiple ways. After performing a physical examination to evaluate your symptoms, your doctor may recommend:
Imaging tests

such as computed tomography (CT) scans or magnetic resonance imaging (MRI) that can identify a tumor's size and location

Neurological exam

that can evaluate symptoms related to your coordination, vision and hearing

Lumbar puncture

(also called a spinal tap) that tests a small sample of spinal cord fluid for possible cancer spread

Biopsy

that removes a small section of tissue so that doctors (neuropathologists) can analyze cells under a microscope for signs of cancer

Molecular tests

that study cancer cells' makeup for targets (like genes) to give doctors clues to a cancer's behavior and most appropriate treatment
Our team-based approach means multiple doctors (including neuropathologists and other brain tumor experts) consult on your case. They review your test results together at tumor board meetings. This collaboration helps us provide an individualized diagnosis.
Learn more about cancer diagnosis.
Treatment
Brain cancer treatment usually includes a combination of surgery, chemotherapy and radiation therapy. We personalize treatment to your needs and situation, considering the tumor's type and location and your preferences. You can trust our doctors to provide leading treatment options based on proven cancer advances.
Your doctor may recommend:
Research
Our physician-scientists are well-known for their work advancing brain tumor treatments. We participate in hundreds of clinical trials, providing hope and new treatment options to eligible patients affected by early and advanced disease, including brain metastases.
Read more about cancer clinical trials and research.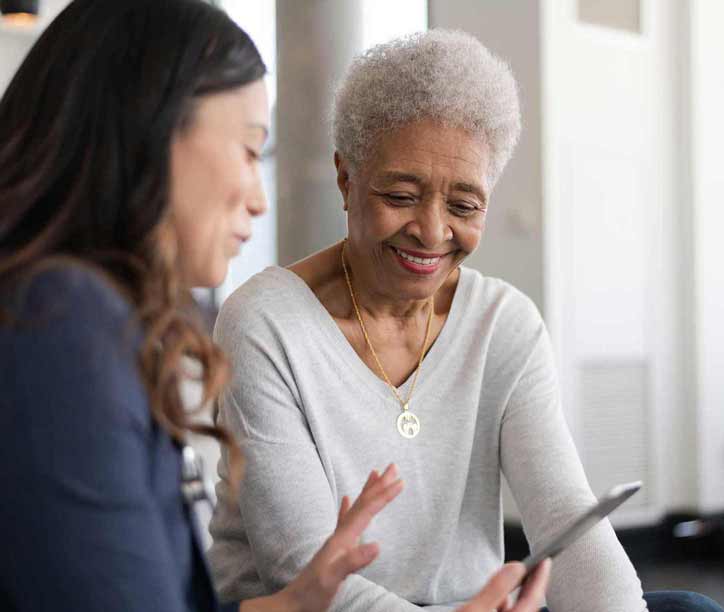 Take the first step by visiting our cancer experts for testing, a second opinion or to learn about treatment options.
Clinical trials help researchers evaluate new therapies before making them available to the public. Mays Cancer Center is the only National Cancer Institute (NCI)-designated cancer center in Central and South Texas, which gives eligible patients early access to clinical trials.
Our research efforts make it possible for eligible patients' treatment options to include some of the latest cancer advances, such as new cancer drugs. We will explain how any clinical trial treatments for which you may be eligible fit into your care.
Clinical trial opportunities for brain tumors
Our team includes cancer experts from different medical specialties who share a commitment to delivering precise, personalized care.
Search our provider directory