Why choose us for glioblastoma care?
You can count on Mays Cancer Center, home to UT Health San Antonio MD Anderson Cancer Center, for expert glioblastoma care, enhanced options and steadfast support.
We are one of the few centers in South Texas with fellowship-trained brain tumor specialists on your team. Our unified approach to your care means we personalize your treatment, which may include emerging therapies available only through clinical trials.
We care for your whole health. Our team is here to guide you to family resources and support to help you manage a glioblastoma's impact on your life.
Find out more about our neuro-oncology (brain tumor) program.
What you need to know about glioblastoma
Glioblastoma (also called glioblastoma multiforme) is a type of glioma brain cancer. It is often aggressive and may present a serious threat to your health.

Doctors do not know what causes glioblastoma. It usually affects people of older age.

We have a team of doctors who specialize in treating glioblastoma. Multiple cancer doctors (including neuro-oncologists and neurosurgeons) consult on your care.

We use a combination of leading therapies to tailor treatment to your needs and the specific type of cancer you have.

Our team includes highly respected doctors who have made significant advances in brain tumor treatment. If you are eligible, your treatment options may include new cancer drugs or other therapies only available through clinical trials.

A glioblastoma diagnosis may be unexpected. You don't have to go through it alone. You can trust our team to stay by your side, providing leading treatment options and straightforward guidance and support.
How to talk to your doctor about glioblastoma
Everyone experiences cancer differently. Your doctor will sit down with you to explain your diagnosis and detail all your treatment options in a way that makes sense to you. Your care team will go over any clinical trials for which you may be eligible, explaining how any experimental therapies may benefit you.
We encourage you to be open with us about questions or concerns, such as symptoms or stress you experience that makes your life harder. We can guide you to a wide range of resources to support you and your family during this time.
You might want to ask your doctor about:
Additional testing, if any, you may need to guide diagnosis or treatment

Cancer type, including whether or where cancer has spread and how it may affect your health

Treatment options, including what to expect if your doctor recommends surgery and any clinical trials for which you may be eligible

Support services, including resources that can relieve discomfort or ease emotional difficulties
Making treatment decisions alone can feel overwhelming. You may feel more confident in making difficult care decisions if you have a trusted family member or friend come with you to appointments.
Types
Glioblastoma may develop in the brain or spinal cord. Doctors classify glioblastoma into two main types:
Primary (de novo)

makes up most cases of glioblastoma. This type typically grows quickly and spreads throughout the brain.

Secondary glioblastoma

is a rarer form of glioblastoma that may affect younger people (in their 40s). This cancer may grow or spread somewhat more slowly. It remains a serious threat to your health.
Symptoms
Glioblastoma symptoms, such as a severe headache or seizures, may come on suddenly and worsen quickly.
Symptoms may include:
Headaches that get worse over time

Blurry or double vision

Nausea or vomiting

Numbness or weakness on one side of your body

Seizures

Unusual mood or personality changes

Hearing or speaking difficulties

Feeling overly tired or sleepy
Diagnosis
We may use a combination of tests to diagnose glioblastoma. You can trust our specialists to perform a thorough physical exam to evaluate your symptoms. To learn more about what could be causing your symptoms, we may recommend:
Imaging tests

such as computed tomography (CT) scans or magnetic resonance imaging (MRI) that can show clear details of a tumor's size and location

Neurological exam

that evaluates coordination, vision and hearing symptoms that may point to a potential brain tumor

Biopsy

(tissue removal procedure) that enables our doctors (neuropathologists) to examine tumor cells up close for signs of cancer

Molecular tests

that analyze the building blocks of cancer cells so doctors can recommend treatments designed to attack a specific type of cancer cell
A team of doctors focus on your needs. These regular meetings (called tumor boards) help us provide a personalized diagnosis informed by several experts.
Learn more about cancer diagnosis.
Treatment
Glioblastoma treatment usually includes a combination of surgery, chemotherapy and radiation therapy. Before we recommend next steps, our team spends considerable time talking through the details of your case. We value your preferences. We will decide together on the best treatments for you.
Your doctor may recommend:
Research
As a large academic medical center, we participate in hundreds of clinical trials at any time. This research focus offers you access to additional options if you are eligible.
Our physician-scientists have helped improve brain tumor treatments in significant ways. Through our continued research, we offer emerging therapies to eligible patients affected by early and advanced disease, including glioblastoma.
Your doctor will explain how any clinical trial for which you may be eligible could enhance your treatment plan. Learn more about cancer clinical trials and research.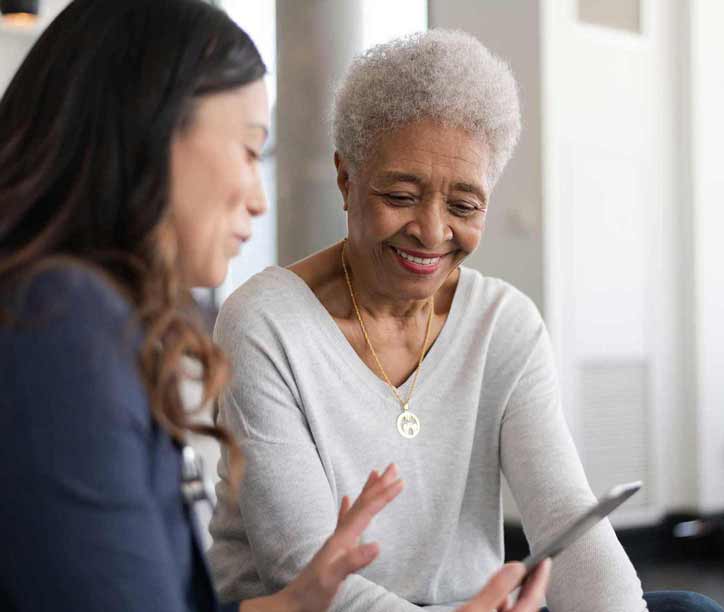 Take the first step by visiting our cancer experts for testing, a second opinion or to learn about treatment options.
Clinical trials help researchers evaluate new therapies before making them available to the public. Mays Cancer Center is the only National Cancer Institute (NCI)-designated cancer center in Central and South Texas, which gives eligible patients early access to clinical trials.
Our research efforts make it possible for eligible patients' treatment options to include some of the latest cancer advances, such as new and emerging cancer drugs. We will explain how any clinical trial treatments for which you may be eligible fit into your care.
Clinical trial opportunities for glioblastoma
Our team includes cancer experts from different medical specialties who share a commitment to delivering precise, personalized care.
Search our provider directory