Why choose us for benign brain tumor care?
Benign (noncancerous) tumors require specialized expertise to protect your long-term health. At Mays Cancer Center, home to UT Health San Antonio MD Anderson Cancer Center, you are in expert hands.
Here, doctors with different specialties collaborate to deliver a precise diagnosis and personalized treatment. This team approach is uncommon in San Antonio and South Texas.
Our fellowship-trained neurosurgeons are skilled in techniques that enable us to remove brain tumors precisely. For example, we offer stereotactic radiosurgery. This advanced type of radiation therapy can treat some brain tumors without a single incision.
Find out more about our neuro-oncology (brain tumor) program.
What you need to know about benign brain tumors
A benign brain tumor is a mass of noncancerous cells that grows inside the brain. By contrast, a malignant brain tumor (also called

brain cancer

) consists of cancerous cells.

Benign brain tumors tend to grow slowly and are unlikely to spread outside the brain.

A benign brain tumor may cause minor to severe symptoms, depending on its size and location. A tumor that presses against vital tissues or nerves may impair your ability to speak, see or remember things.

Doctors often recommend removing benign brain tumors to protect your long-term health. In some cases, you may not need immediate treatment.

People with benign brain tumors usually need lifelong monitoring. We personalize a follow-up plan to your needs. Regular testing helps us track changes in your health so we can act promptly should a concern arise.
How to talk to your doctor about benign brain tumors
You may be surprised to learn that you have a benign brain tumor. We help you understand your diagnosis and take the time to answer any questions or concerns you may have.
You might want to ask your doctor about:
Additional testing,

 

if any, you may need to guide diagnosis or treatment

Tumor type,

including how a benign brain tumor could affect your health now or in the future

Treatment options,

 

including whether you need treatment now and what to expect if your doctor recommends surgery

Support

services,

including resources that can help you manage any physical or emotional challenges during treatment

Lifelong care

, including how and how often your doctor recommends monitoring you in the months and years ahead
We consider what's important to you when developing your treatment recommendations. We encourage you to bring family or loved ones with you to appointments to support you in making important treatment decisions.
Types
Common types of benign brain tumors include:
Acoustic neuroma

(also called a vestibular schwannoma) grows on the nerves near your inner ear. It may affect your balance or hearing abilities.

Meningioma

is a type of brain tumor that is usually benign and tends to grow slowly.

Pituitary adenoma

is a tumor that occurs on the pituitary gland, located at the bottom of the skull.

Pituitary tumors

can sometimes affect your hormone production, which may cause you to feel sick or not like yourself.
Symptoms
A brain tumor may cause minor to severe symptoms. Some people notice no symptoms at all.
Brain tumor symptoms include:
Changes to how well you see, hear or smell or feel heat or cold

Differences in speech

Balance or coordination problems

Confusion or disorientation

Fatigue or muscle weakness

Headaches

Nausea or vomiting

Personality, mood or memory changes

Seizures

Tingling or stiffness on one side of your body
Diagnosis
We use multiple tests to diagnose benign brain tumors. Sometimes, our doctors detect a brain tumor unexpectedly while performing an imaging test for another reason.
Depending on your symptoms, we may recommend:
Imaging tests

such as computed tomography (CT) scans or magnetic resonance imaging (MRI), which can pinpoint a tumor's size and location

Neurological exam,

which

evaluates how a tumor may impact your coordination, vision and hearing

Biopsy,

when a surgeon removes a small sample of tumor tissue for a review by a neuropathologist (doctor trained in brain tumor diagnosis)
Several brain tumor specialists meet regularly to discuss your test results and collaborate on your case. By bringing together specialists with diverse backgrounds, these meetings help us confirm your specific diagnosis and develop an individualized treatment plan.
Learn more about cancer diagnosis.
Treatment
You may not need treatment right away. Your doctor might recommend waiting if you don't have symptoms and the tumor poses little risk to your health.
We usually treat benign brain tumors with surgery or radiation therapy. Your doctor may recommend a combination of treatments:
Surgery:

We use advanced imaging and computerized tools to map areas of the brain that perform vital functions (like speech). With the aid of leading technology, our surgeons perform intricate surgeries safely. We remove some tumors through the mouth or nose (called endoscopic surgery), which may ease your recovery. Learn more about neurosurgery.

Radiation therapy:

We offer stereotactic radiotherapy, a sophisticated way of treating brain tumors without surgery. Powerful machines mold energy beams to the specific shape of a tumor, which helps protect healthy tissues. Many patients experience no side effects from stereotactic radiotherapy.

Supportive therapies:

If treatment makes speaking, eating or another aspect of life more difficult, we have resources to support you. Learn more about patient and family services during cancer care.

Chemotherapy:

In a few cases, we might recommend chemotherapy treatment to shrink a tumor before surgery. Chemotherapy is not commonly used for noncancerous brain tumors.
You may need long-term follow-up care to evaluate how a tumor grows or changes over time. This follow-up can enable us to spot a recurrence (a tumor that comes back at some point after successful treatment).
Research
Our physician-scientists have been recognized for important research developments that have advanced brain tumor treatment.
Wide-ranging cancer research efforts enable us to offer enhanced treatment options for all types of brain tumors, including metastatic disease. Your doctor will explain if you are eligible for any ongoing clinical trials.
Read more about cancer clinical trials and research.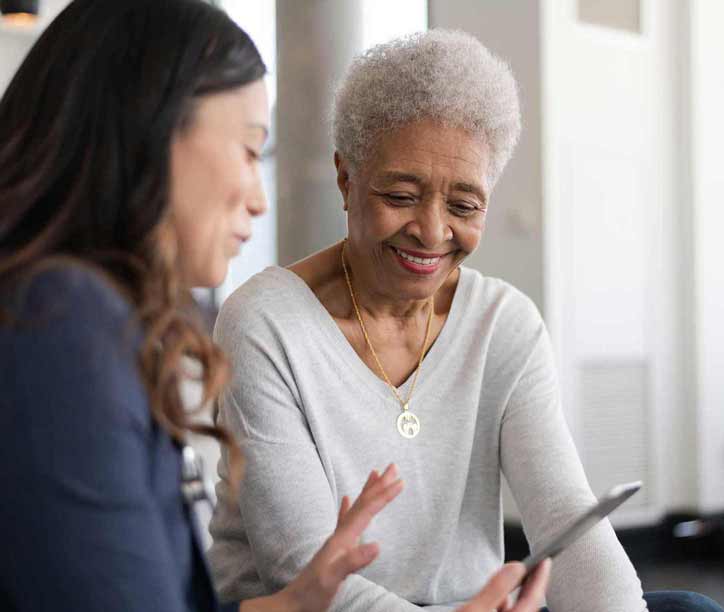 Take the first step by visiting our cancer experts for testing, a second opinion or to learn about treatment options.
Clinical trials help researchers evaluate new therapies before making them available to the public. Mays Cancer Center is the only National Cancer Institute (NCI)-designated cancer center in Central and South Texas, which gives eligible patients early access to clinical trials.
Our research efforts make it possible for eligible patients' treatment options to include some of the latest cancer advances, such as new cancer drugs. We will explain how any clinical trial treatments for which you may be eligible fit into your care.
Clinical trial opportunities for brain tumors
Our team includes cancer experts from different medical specialties who share a commitment to delivering precise, personalized care.
Search our provider directory