Why choose us for von Hippel-Lindau syndrome

care?
Von Hippel-Lindau syndrome is a rare genetic problem that causes tumors, some cancerous, to form in multiple organ systems. At Mays Cancer Center, home to UT Health San Antonio MD Anderson Cancer Center, you have access to pediatric and adult specialists with experience treating this complex condition.
Von Hippel-Lindau syndrome is one of many rare genetic endocrine tumors we treat. Find out more about rare and familial endocrine tumors.
What you need to know about von Hippel-Lindau syndrome
This condition occurs due to an abnormal change (mutation) in the von Hippel-Lindau gene. This gene normally keeps cells from dividing too fast and forming tumors. In patients with von Hippel-Lindau syndrome, the mutation prevents the gene from doing its job.

Von Hippel-Lindau syndrome is challenging to diagnose because it can affect many organ systems, including your eyes and kidneys. The symptoms often mimic other medical problems.

People with this condition need lifelong care. You may need surgery to remove tumors once they get to a certain size. Even after surgery, tumors might come back, or new ones may form in different areas.
How to talk to your doctor about von Hippel-Lindau syndrome
Von Hippel-Lindau syndrome is a complex condition that can affect your family's health and your own. We take time to answer your questions and help you plan for future health needs.
You might want to ask your doctor about:
Additional testing

 

that may be necessary to check for tumors and how often you need them

Diagnosis,

including the size and location of tumors, if you have any, and whether they are cancer

Genetic testing to determine whether other family members carry the von Hippel-Lindau syndrome gene mutation

Treatments,

 

if needed, which may include clinical trials, if eligible

Support

to help you and your family cope with the ways von Hippel-Lindau disease may affect your life
Making care decisions can be challenging. In addition to the support you receive from our team, your loved ones can also help. Feel free to bring family members or trusted friends with you to care appointments.
Types
There are two types of von Hippel-Lindau syndrome:
Type 1

has a low risk of a certain type of adrenal tumor (pheochromocytoma)

Type 2

includes pheochromocytoma with other tumor types
Both types increase your risk of different types of tumors and cancer, including:
Hemangioblastoma, a

benign brain tumor

that can form in the brain, spinal cord and back of the eye
Retinal hemangioblastoma, a type of

eye tumor

Neuroendocrine tumors

of the pancreas
Symptoms
The symptoms of von Hippel-Lindau syndrome are different for each person. They vary based on the location of tumors.
Symptoms may start in childhood or later in life. Signs often include:
Dizziness or lightheadedness when standing

Headaches

High blood pressure

Muscle weakness and poor coordination

Vision problems
Diagnosis
We confirm or rule out von Hippel-Lindau syndrome using genetic testing. If there is a mutation in the von Hippel-Lindau gene, we may recommend members of your family also undergo testing.
Additional tests you may need to check for tumors include:
Blood or urine tests

to detect signs of pheochromocytoma

Hearing test

to examine your inner ear for tumors

Imaging scans

of the spinal cord and abdomen

Specialized eye exam

(fundoscopy) to detect eye tumors
Treatment
If you are at risk but do not have tumors, regular testing may help us detect early signs, even if you do not have symptoms. 
If there are small tumors, you might not need treatment. Ongoing monitoring helps us determine whether tumors are growing. If tumors become large enough, they may require treatment.
If you have pancreatic neuroendocrine tumors (PNETs), our gastrointestinal (GI) oncologists monitor them. These tumors are more likely to spread, but regular follow up care makes it easier to detect issues early. Find out more about our GI cancer program.
For large or fast-growing tumors, you will likely need surgery. Our team includes cancer surgeons who completed additional training through fellowships, so you receive leading care. Find out more about cancer surgery.
Research and clinical trials
Research at Mays Cancer Center gives eligible patients access to new care options through clinical trials. Some of our trials, including those for certain cancer drugs, are not available at any other cancer program.
Get more information about: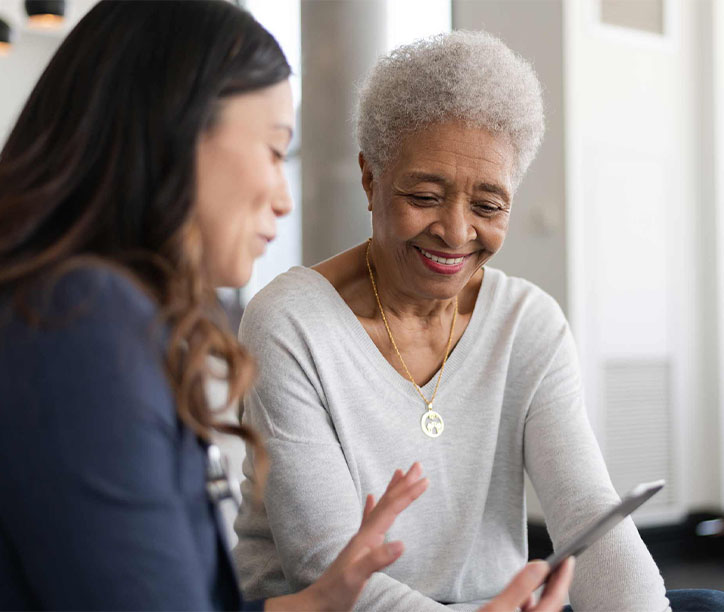 Take the first step by visiting our cancer experts for testing, a second opinion or to learn about treatment options.
Clinical trials help researchers evaluate new therapies before making them available to the public. Mays Cancer Center is the only National Cancer Institute (NCI)-designated cancer center in Central and South Texas, which gives eligible patients early access to clinical trials.
Clinical trial opportunities
Our team includes cancer experts from different medical specialties who share a commitment to delivering precise, personalized care.
Search our provider directory