Why choose us for adrenal tumor care?
At Mays Cancer Center, home to UT Health San Antonio MD Anderson Cancer Center, you have access to a team of experts working together to personalize your care. 
Our team includes doctors (endocrinologists) and surgeons who completed additional training through fellowships. We offer a level of care not widely available in South Texas, including sophisticated procedures to remove adrenal tumors.
The adrenal glands are part of your endocrine system. This system produces hormones that regulate how your organs function. Read more about our endocrine tumor program.
What you need to know about adrenal tumors and nodules
Your adrenal glands sit on top of your kidneys and produce different types of hormones, including: 

Aldosterone regulates blood pressure and electrolyte levels 
Adrenaline, a stress hormone, helps you react to potentially dangerous situations
Androgenic steroids control gender-specific organs, including testes in men and ovaries in women
Cortisol regulates the way the body uses fats and maintains sleep patterns

Adrenal tumors are abnormal growths, some of which are cancerous. Tumors sometimes cause the adrenal glands to produce high levels of hormones. Benign (not cancerous) or cancerous tumors can cause hormone production.
You may face a higher risk of adrenal tumors if you have certain hereditary conditions, such as von Hippel-Lindau syndrome. 
Adrenal nodules are abnormal growths on the adrenal glands that are often not cancerous. Nodules typically do not produce hormones.
How to talk to your doctor about adrenal tumors and nodules
Finding out you have an adrenal tumor may come as a surprise. We answer all your questions and explain what this means for your health. 
You might want to ask your doctor about:
Additional testing you may need as part of a thorough evaluation
Diagnosis, including whether the tumor is cancerous
Treatments, if necessary, and how they work
Genetic testing through our cancer genetics and high-risk screening clinic for people with a family history or hereditary conditions
Support to help you manage challenges that come with an adrenal tumor diagnosis
We explain tests and treatments in ways you can understand, so you know what to expect. Please feel free to bring loved ones with you to appointments to help you make care decisions. 
Types
Types of adrenal tumors we treat include:
Adrenal cortical carcinoma: These cancerous growths can become large enough to press on nearby organs, including the kidneys. 
Adrenal incidentaloma: Growths that are discovered by chance during testing for other medical conditions. 
Aldosteronoma: These noncancerous tumors (adenomas) may or may not produce hormones. The tumors that produce hormones can cause other adrenal gland issues, including aldosteronoma and Cushing's disease. 
Pheochromocytoma: Pheochromocytoma is a type of neuroendocrine tumor that is typically noncancerous but produces hormones that raise your blood pressure.
Sex hormone-producing adrenal tumors: These growths produce excess male hormones, causing early puberty in boys and excessive hair growth in women and girls.
Symptoms
Adrenal tumors and nodules can lead to a variety of symptoms depending on their size and location, and whether they produce hormones. 
Some common symptoms include:
Bruising easily
Excessive sweating
High blood sugar levels
Nervousness, anxiety and panic attacks
Racing heart rate
 
Diagnosis
We use blood and urine tests to determine whether adrenal hormone levels are high. Imaging tests, which may include computed tomography (CT) scan, enable our team to evaluate abnormal growths.
Treatment
If the tumor is not producing hormones or pressing against nearby organs, you might not need treatment. We may recommend watchful waiting, regular exams and testing. This care helps us spot changes that may signal the need to remove it surgically. 
If the tumor is producing hormones or large enough to affect nearby organs, you need surgery. We typically use minimally invasive techniques, such as robotic surgery. This technology enables surgeons to guide instruments through delicate areas with a high degree of precision. Find out more about robotic surgery.
Research and clinical trials
Our highly respected cancer research program gives eligible patients access to new treatments through clinical trials. We conduct trials covering all aspects of cancer care, including survivorship and strategies to prevent cancer from coming back. Read more about cancer clinical trials and research.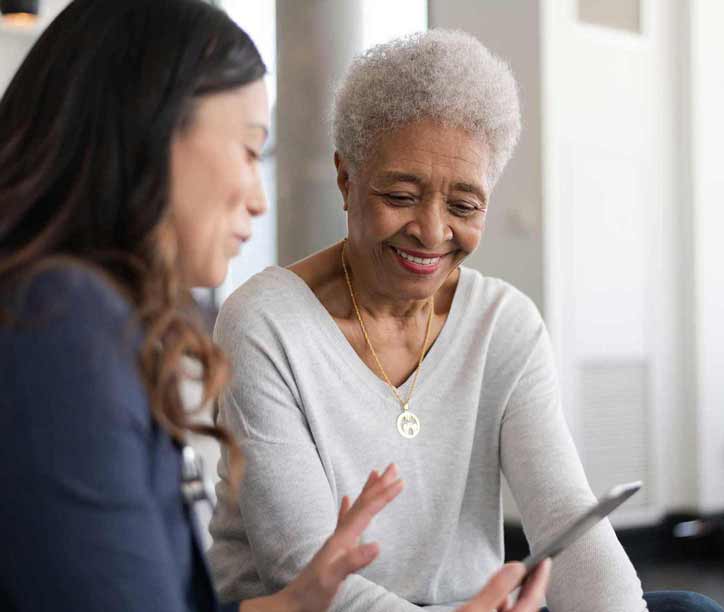 Take the first step by visiting our cancer experts for testing, a second opinion or to learn about treatment options. 
Clinical trials help researchers evaluate new therapies before making them available to the public. Mays Cancer Center is the only National Cancer Institute (NCI)-designated cancer center in Central and South Texas, which gives eligible patients early access to clinical trials. 
View clinical trial opportunities for endocrine tumors
Our team includes cancer experts from different medical specialties who share a commitment to delivering precise, personalized care.
Search our provider directory