Why choose us for kidney cancer care?
At Mays Cancer Center, home to UT Health San Antonio MD Anderson Cancer Center, our doctors are at the forefront of kidney cancer care. Our surgeons are experts at treating the most advanced kidney cancers, including technical procedures like surgery for tumor thrombus (extension of kidney cancer into the major veins) — always with a focus on you. 
Our skilled doctors use leading techniques to treat a high volume of kidney cancers. South Texas has a very high incidence rate of kidney cancer as compared to the national average. Our team has developed advanced surgical protocols to provide exceptional cancer care close to your support network and the comforts of home.
What you need to know about kidney cancer
The kidneys are bean-shaped organs that sit in your abdomen, near your back. Their primary role is filtering waste products (like extra water or toxic substances) out of your blood. 
Kidney cancer is a kind of genitourinary (GU) cancer. Find out more about our nationally renowned genitourinary cancer program.
South Texas has higher rates of kidney cancer than most areas of the country. Our team of doctors and scientists work diligently to understand why, so we can offer you a higher level of care.
If you ever see blood in your urine, call your doctor. It may be due to a common, easily treatable health problem. But blood in the urine can also be a sign of kidney cancer. The earlier we detect kidney cancer, the better we can treat it. 
Our surgeons regularly perform complicated procedures to successfully remove kidney cancer that has spread to one of the body's biggest blood vessels (called the inferior vena cava), also called tumor thrombus. This surgery is very technically complex and requires cancer surgeons to work closely with vascular and cardiac surgeons to remove cancer while protecting your other organs. 
How to talk to your doctor about kidney cancer
Seeing blood in your urine makes many people worry. You should know that this symptom is often due to routine, easily treatable problems.
Sometimes, however, it can be the first sign of kidney cancer. Telling your doctor is the only way to find out for sure. We're here to help you get answers and feel better.
A cancer diagnosis can be a lot to take in. We want you to ask questions and bring up concerns at any time.
You might want to ask your doctor about:
Additional testing

you may need to determine the kidney cancer type or find out if your genes play a role in your cancer risk

Cancer stage,

including a tumor's size and location,

whether cancer has spread and what it means for your long-term health

Treatment options,

 

including immunotherapy or other clinical trials you may be eligible for

Potential treatment side effects and therapies to lessen their impact on your daily life

Support

to help you cope with the ways kidney cancer can affect your mind, body and spirit
Sometimes, bringing a close family member or loved one with you to appointments can help you remember questions or important treatment details. We'll get through this together.
Types
Our doctors specialize in treating all forms of early and advanced kidney cancer, including:
Renal cell carcinoma:

The most common type of kidney cancer, it may develop into one or multiple tumors inside the kidney.

Urothelial carcinoma:

Also called transitional cell carcinoma, urothelial carcinoma is less common. This cancer doesn't actually develop inside the kidney. It grows from cells located where the ureters (tubes that connect your kidney to your bladder) meet the kidneys.

Wilms tumor:

This type of kidney cancer that usually affects young children under the age of 3. Our team includes pediatric oncologists. These well-known experts tailor care to the unique needs of children. Learn more about

Wilms tumor

.
Symptoms
Sometimes kidney cancer causes no obvious symptoms. Blood in the urine (which may look dark red or brown) is the most common sign of kidney cancer.
This symptom often happens from a routine problem that's easily treatable. But you should always tell your doctor if you notice blood in your urine, especially if it doesn't go away.
Kidney cancer may also cause:
Pain on one or both sides of your body, between your hips and ribs

Extreme tiredness (fatigue)

Loss of appetite

A lump or mass you can feel near your abdomen

Fever that doesn't go away and can't be easily explained
Diagnosis 
Doctors often diagnose kidney cancer using a combination of blood, urine and imaging tests. Learn more about cancer diagnosis.
Our doctors may confirm or rule out kidney cancer with magnetic resonance imaging (MRI) of the kidneys or a special type of CT scan called a CT urogram. This procedure lets doctors see clear detail of the kidneys and ureters.
Certain gene mutations may put you or your family at increased risk for kidney cancer. Our doctors may recommend genetic testing to learn more about kidney cancer and your future cancer risk. Learn more about our cancer genetics and high-risk screening clinic. 
Treatment
If you have kidney cancer, you're in the right place. Our doctors work together to treat kidney cancer using the latest cancer advances and surgical techniques.
Surgery to remove cancerous tumors or an entire kidney is an effective treatment for many types of kidney cancer. Mays Cancer Center is home to some of the country's leading experts in complex kidney cancer surgery. 
Drawing patients from all over South and Central Texas, we treat a very high volume of advanced kidney cancers where cancer cells spread beyond the kidney. Our skill level and team approach allow us to perform complicated surgeries to successfully remove kidney cancer for complex cases, particularly tumor thrombus. 
In tumor thrombus, kidney cancer spreads to the inferior vena cava blood vessel and moves toward the heart and liver. This surgery is very technical and requires cancer surgeons to work in close coordination with vascular and cardiac surgeons to remove cancer while protecting your other organs.
At our center, you have access to chemotherapy medicines and novel biological agents (immunotherapy) that are among the most advanced. Our doctors may recommend one of these therapies before or after surgery to better treat kidney cancer. Read more about cancer treatments.
Research
Our doctors have special expertise in immunotherapy and other targeted medicines that are revolutionizing how doctors everywhere treat kidney cancer. 
If you are eligible, a clinical trial involving one of these promising advances may help increase treatment effectiveness. We will discuss all your options with you and explain how a clinical trial may benefit you, at any phase of your treatment. Learn more about cancer clinical trials and research.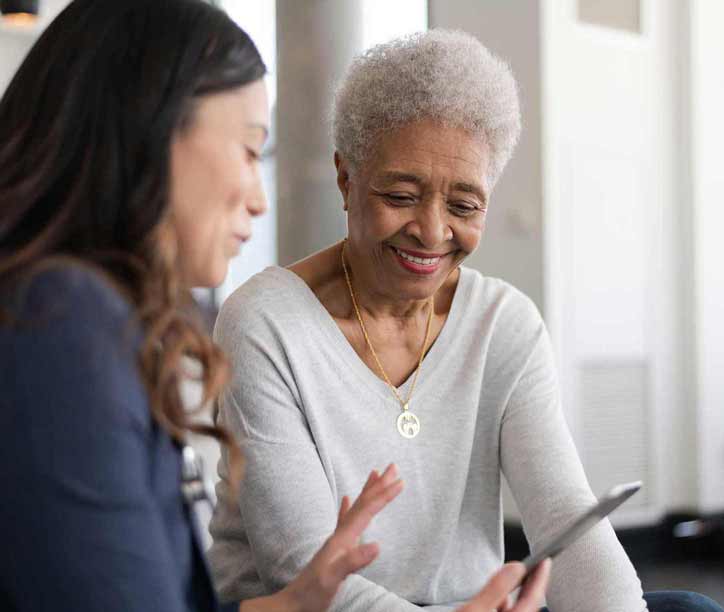 We offer a range of services and a compassionate approach to make living with cancer a little easier on you and your family. 
Scientists are exploring how new chemotherapy medicines and immunotherapy can treat kidney cancer in new ways. Mays Cancer Center is the only National Cancer Institute (NCI)-designated cancer center in Central and South Texas. Our researchers also lead studies of their own. We make sure you have access to a wide assortment of clinical trials — some only available here.
View clinical trial opportunities