Why choose us for neuroendocrine tumor care?
Neuroendocrine tumors are rare conditions. Mays Cancer Center, home to UT Health San Antonio MD Anderson Cancer Center, offers a team approach from experts in this field. 
 
Our medical oncologists, surgeons, endocrinologists and nuclear medicine specialists work together to coordinate your care. Doctors and patients from all over South Texas put their trust in our capabilities. You'll receive advanced testing and treatments through our gastrointestinal (GI) cancer and endocrine cancer programs.
What you need to know about neuroendocrine tumors 
Neuroendocrine tumors (NETs) occur in cells that make hormones. Your hormones are chemical messengers that control certain body functions, such as digesting food.
Some NETs produce hormones. Having abnormally high levels of hormones can make you feel sick even if the tumor isn't large enough to cause problems.
Many NETs do not produce hormones (called silent tumors). However, they can still spread to other organs.
It's possible to develop NETs in many parts of the body, but they are more likely to develop in the lungs or organs of your digestive system.
NETs are rare and act differently than other tumors. Seeking care at an experienced program such as ours helps you receive the high-quality care you deserve.
How to talk to your doctor about NETs
It's natural to worry about your future after receiving a neuroendocrine tumor diagnosis. We help ease your concerns by explaining the services that can help you get better. 
Your care will be coordinated in meetings called tumor boards, where multiple experts will discuss options for your care. During clinic visits, we take time to get to know your preferences so that we can tailor therapies to your needs.
You might want to ask your doctor about:
Additional testing, if any, to confirm the type and location of the neuroendocrine tumor as well as whether it's cancerous
Hormone production by the tumor and what effects these hormones might cause
Cancer stage and whether it has spread to nearby organs
Treatment options, including medications, surgery or clinical trials, if you are eligible 
Potential treatment side effects and therapies to help you get relief
Support to help you cope with emotions and challenges you may be facing 
Many patients also take comfort in the assistance they receive from loved ones. Feel free to bring family members or trusted friends with you to your appointments. They can help you make important care decisions and keep track of the next steps of your care. 
 
Types
There are many types of NETs, including:
Neuroendocrine tumors of the gastrointestinal (GI) tract often occur in organs such as the stomach, small bowel, colon, rectum, pancreas and appendix. 
Lung NETs develop in the lungs. 
Neuroendocrine tumors may be:
Functional, meaning they produce hormones
Nonfunctional, not producing hormones
Symptoms
Many NETs do not cause any symptoms. People who do experience symptoms may have a range of issues depending on the tumor type, size, type of hormone it makes and location. 
Symptoms may include: 
Bleeding
Diabetes
Diarrhea
Intestinal blockage (obstruction)
Low blood sugar
Rash
Stomach ulcers
Diagnosis 
We may recommend genetic counseling to help you receive appropriate testing. You may need lifelong monitoring to check for signs of tumors so you receive timely care. 
You face a higher risk of NETs if you have certain inherited genetic conditions. Find out more about rare and familial endocrine tumors.  
Conditions that put you at risk for NETs include:
Treatment
Our team approach helps you receive the treatments that suit your needs. Your care may include specialized chemotherapy, surgery or controlled levels of a radioactive substance (nuclear medicine). Read more about cancer treatments.
Our whole-person approach includes additional services to restore your sense of well-being. Cancer dietitians can provide helpful tips and therapies if you are having difficulty eating. Read more about our supportive cancer care clinic.
 
Research and clinical trials
You may be eligible to receive innovative new therapies due to our active participation in clinical trials. Mays Cancer Center is a national leader in cancer research. We give you access to options you might not expect to find in South Texas. Find out more about cancer clinical trials and research.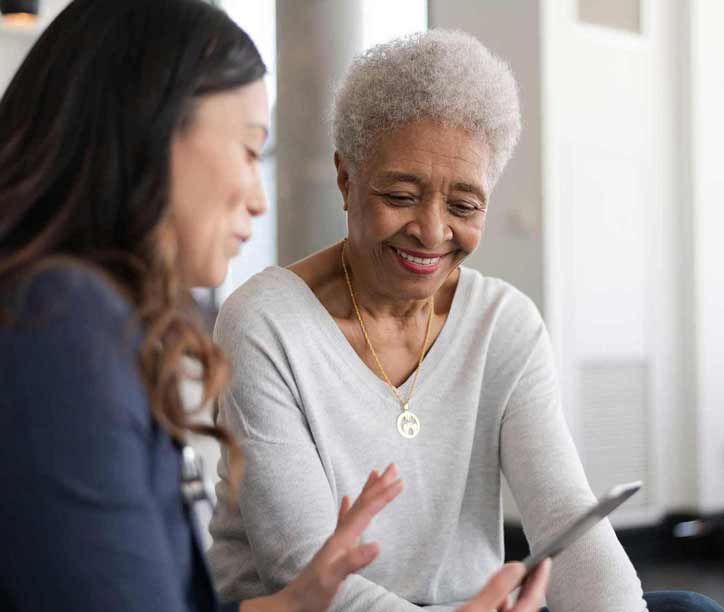 Take the first step by visiting our cancer experts for testing, a second opinion or to learn about treatment options. 
Clinical trials help researchers evaluate new therapies before making them available to the public. Mays Cancer Center is the only National Cancer Institute (NCI)-designated cancer center in Central and South Texas, which gives you early access to clinical trials if you are eligible.
 
View clinical trial opportunities
Our team includes cancer experts from different medical specialties who share a commitment to delivering precise, personalized care.
Search our provider directory