Why choose us for neurofibromatosis care?
Neurofibromatosis is a rare genetic condition that can cause brain, spine and other tumors as well as other health problems. At Mays Cancer Center, you can access specialized pediatric care from a team of doctors with neurofibromatosis expertise close to home.
Neurofibromatosis can affect children and adults in many different ways. Our pediatric team includes neurologists, ophthalmologists, chronic pain specialists and surgeons who have experience treating children of all ages with this complex condition.
We coordinate tests and treatments, making it easier for you to manage how this condition affects your child. Our research program enables us to offer eligible patients leading neurofibromatosis treatments that are only available in clinical trials.
Read more about our neurofibromatosis program.
What you need to know about neurofibromatosis
Neurofibromatosis significantly increases a child's risk for developing brain tumors. The condition can also lead to tumors along the spine or other areas.

These tumors arise out of nerve tissue and may be benign or cancerous.

Children experience neurofibromatosis differently. Neurofibromatosis may affect a child's vision, hearing, growth or learning. It may cause minor or less obvious symptoms. Some adults may not even realize they have it.

Abnormal gene changes cause neurofibromatosis. It is often passed down through families. Our genetic counselors can help children and families identify their risk and manage their long-term health.
Children with neurofibromatosis need lifelong care. We help families coordinate tests and therapies among multiple specialists, helping you access the care your child needs.
How to talk to your doctor about neurofibromatosis
If your child has neurofibromatosis, you may have many questions. Our team is here to give you honest, straightforward questions and support your family.
We explain how this condition may affect your child's health and the health of other family members. We can also guide you to helpful resources available in the community.
You might want to ask your doctor about:
Additional testing

 

that may be necessary to assess your child's risk or monitor their long-term health

Diagnosis,

including what type of neurofibromatosis your child has and how it could affect them in the years to come

Genetic testing to determine which gene mutations run in your family and who else in your family may be at risk

Treatments,

 if needed, which may include medications or surgery

, now or in the future

Support,

including how our partnership with the

Texas Neurofibromatosis Foundation

®

 

can help you and your family cope with a neurofibromatosis diagnosis
Types
Two main types of neurofibromatosis affect children:
Neurofibromatosis type 1

results from a genetic mutation on chromosome 17. It is the most common type by far and is mostly diagnosed when children are young.

Neurofibromatosis type 2

is a rare form of the condition, caused by a genetic change on chromosome 22. Noticeable symptoms usually develop in the teen and young adult years.
Symptoms
Neurofibromatosis can cause a wide range of symptoms. Both neurofibromatosis types can cause benign tumors to develop, most often in the brain or along the spine. In some cases, tumors may turn into cancer.
Common neurofibromatosis type 1 symptoms include:
Areas of flat, light brown spots on the skin that have jagged edges (called café au lait spots)

Small bumps you can see or feel right under the skin (called neurofibromas)

Bone problems, such as a curved spine (scoliosis) or legs that curve inward

Headaches

Learning delays, such as a problem focusing
Neurofibromatosis type 2 symptoms include:
Hearing problems that may get worse over a long time

Ringing sensation in ears (tinnitus)

Vision problems, such as dizziness

Coordination issues, such as poor balance

Headaches
Diagnosis
We diagnose children with neurofibromatosis in different ways. Your doctor may recommend a range of tests, depending on your child's symptoms:
Genetic tests

to identify genetic changes (mutations) that cause neurofibromatosis

Imaging scans

to detect bone problems, such as scoliosis, or tumors

Eye exam

to evaluate vision symptoms, such as cataracts

Hearing exam

to evaluate hearing problems, such as tinnitus

Neurological tests

to evaluate symptoms related to coordination and thinking
Neurofibromatosis is one of the most commonly inherited genetic disorders. If your child has neurofibromatosis, you or other family members may also be at risk. Genetic testing can help us identify your risk and protect your family's health.
Treatment
Treatment for neurofibromatosis is highly individualized due to the varying effects the condition can have. We may recommend frequent testing to monitor your child's growth and development or detect tumors. Early detection helps us treat these tumors at early stages.
Here, a team of specialists meets regularly to discuss your child's care. This close collaboration helps us manage every way neurofibromatosis affects your child. We recommend treatments personalized to your child's needs and help you access care in a way that's convenient for your family's life.
If we detect a tumor, your child's care team may recommend:
Surgery:

Our team includes a skilled pediatric neurosurgeon who removes tumors using highly sophisticated techniques. Read more about

pediatric neurosurgery

.

Chemotherapy or other medicines:

Your doctor may recommend cancer-destroying drugs like chemotherapy or targeted therapy to treat certain tumors. Other medications may relieve pain or discomfort your child feels.

Radiation therapy:

Radiation therapy uses powerful energy beams to destroy cancer cells. Your doctor may recommend

stereotactic radiosurgery

, a highly precise type of radiation therapy. This specialized treatment enables our doctors to noninvasively treat some brain tumors in one session, often with fewer side effects.
Research and clinical trials
We partner with well-known childhood cancer research groups, including the National Cancer Institute's Children's Oncology Group, to improve neurofibromatosis treatment options for children in South Texas and around the world.
Your doctor will explain whether your child may be eligible for any ongoing clinical trials, including how we help match children with new targeted therapies.
Read more about pediatric cancer clinical trials.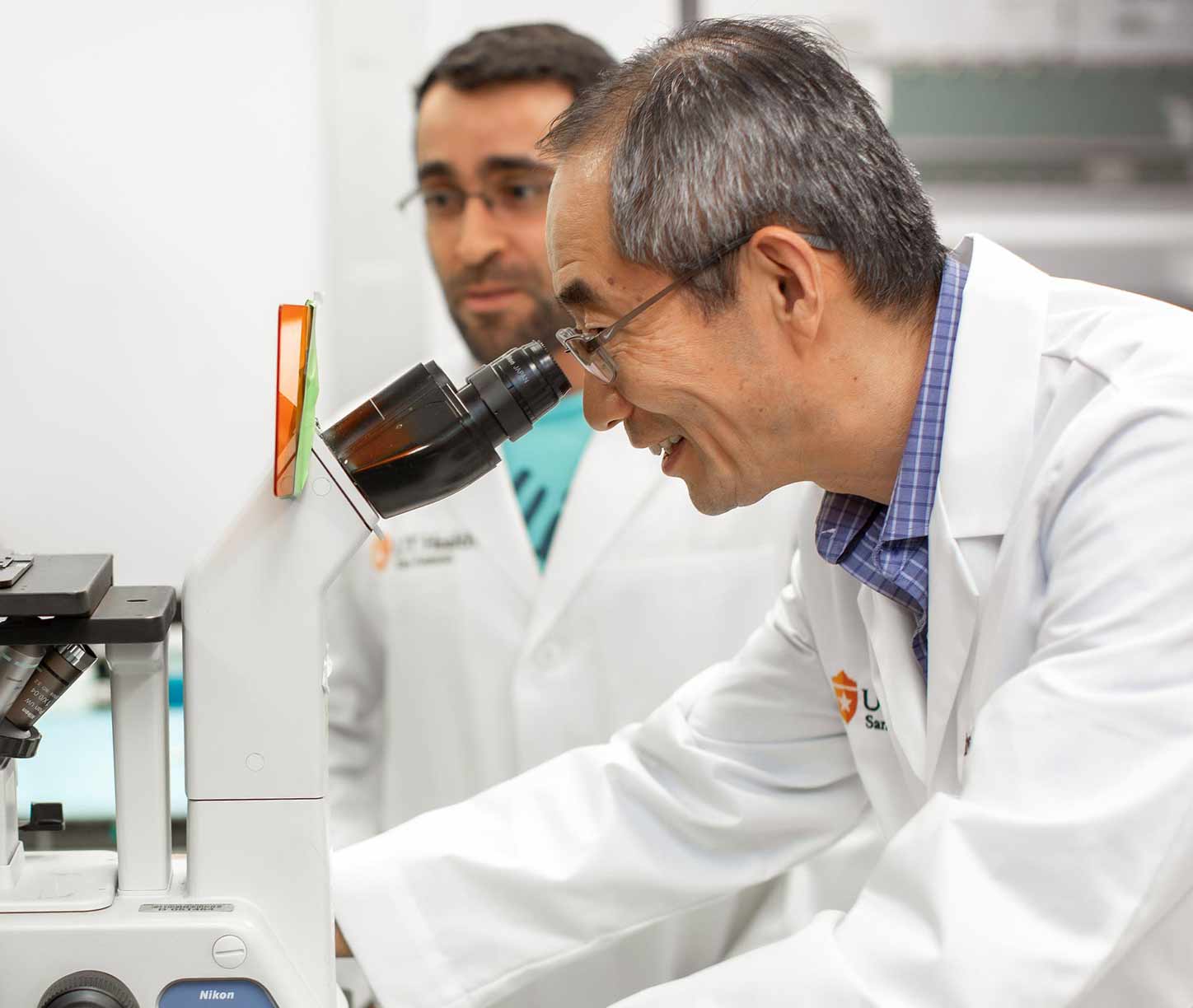 Take the first step by visiting our cancer experts for testing, a second opinion or to learn about treatment options.
Clinical trials help researchers evaluate new therapies before making them available to the public. Mays Cancer Center is the only National Cancer Institute (NCI)-designated cancer center in Central and South Texas, which gives eligible patients early access to clinical trials.
View clinical trial opportunities
Our team includes cancer experts from different medical specialties who share a commitment to delivering precise, personalized care.
Search our provider directory