Why choose us for bone cancer care?
If bone cancer touches your life, turn to our experts. The highly skilled team of bone cancer doctors at Mays Cancer Center, home to UT Health San Antonio MD Anderson, includes doctors who have additional training through fellowships. 
You'll have access to the best available treatments, including sophisticated surgical procedures and cancer-fighting drugs. And with years of experience, both individually and as a team, we'll tailor services to your needs. Find out more about our bone cancer program.
At the Mays Cancer Center, home to UT Health San Antonio MD Anderson, we perform genetic and molecular testing. These tests can match you with the treatments most likely to be effective against the specific type of cancer you have.
What you need to know about bone cancer?
Although risk factors don't usually put people at risk, below are some factors that may increase your chance of getting bone cancer.
Chordomas, changes to chromosome 7

Paget's diseases

Chondrosarcomas

Genetic disorders



How to talk to your doctor about bone cancer
Everyone reacts differently to a cancer diagnosis. No matter how you're feeling or what questions you have, we're here to help. Your care team is here to answer your questions and concerns at any time. No subject is too small to bring up.
You might want to ask your doctor about:
Additional testing

, if any, you may need to inform your diagnosis or treatment plan.

Cancer details

, including the type of Oral Cancer, whether it has spread and the odds that the cancer could come back after successful treatment.

Treatment options

, including clinical trials you may be eligible for at any phase of your treatment.

Potential treatment side effects

and supportive care services that may reduce the impact on your daily life.
We welcome family members and loved ones to participate in your care. They can help you remember important details discussed during appointments and make cancer treatment easier on you.
Types of bone cancer
Bone cancer includes three main types:
Chondrosarcoma

Osteosarcoma

Ewing's sarco

ma
Other types include:
Fibrosarcoma

High-grade undifferentiated pleomorphic sarcoma of bone

Giant cell tumor of bone

Chordoma
Symptoms
Symptoms of bone cancer usually include:
Pain in the bone or a painful

Hard swelling near the bone
Diagnosis
Our team of experts, which include orthopedic oncologist and an imaging team will perform a series of techniques that include:
X-Rays

MRI's

PET/CT scans

Blood tests
Our oncologist may also perform a biopsy to obtain certain specimens for further examinations. Our team may also use a technique called molecular profiling, which detects changes in your tumor.
Treatment
If we catch bone cancer in earlier stages, treatment often includes surgery. We may use other therapies to destroy remaining cancer cells and lower the risk of it coming back. For more advanced cancers, your care may include cancer-fighting drugs (chemotherapy) and radiation therapy instead of surgery, although radiation may be given before surgery in some patients. Get more information about cancer treatments.
 A bone cancer diagnosis and treatment side effects can bring challenges to your life. Our team is here for you. We can help relieve discomfort and solve problems related to your care. Find out more about supportive care.
Research and Clinical Trials
Clinical trials bring innovative care options that are not widely available close to home. You may be eligible for clinical trials if you have a rare type of bone cancer or one that does not respond to standard treatments.
Read more about cancer research and clinical trials.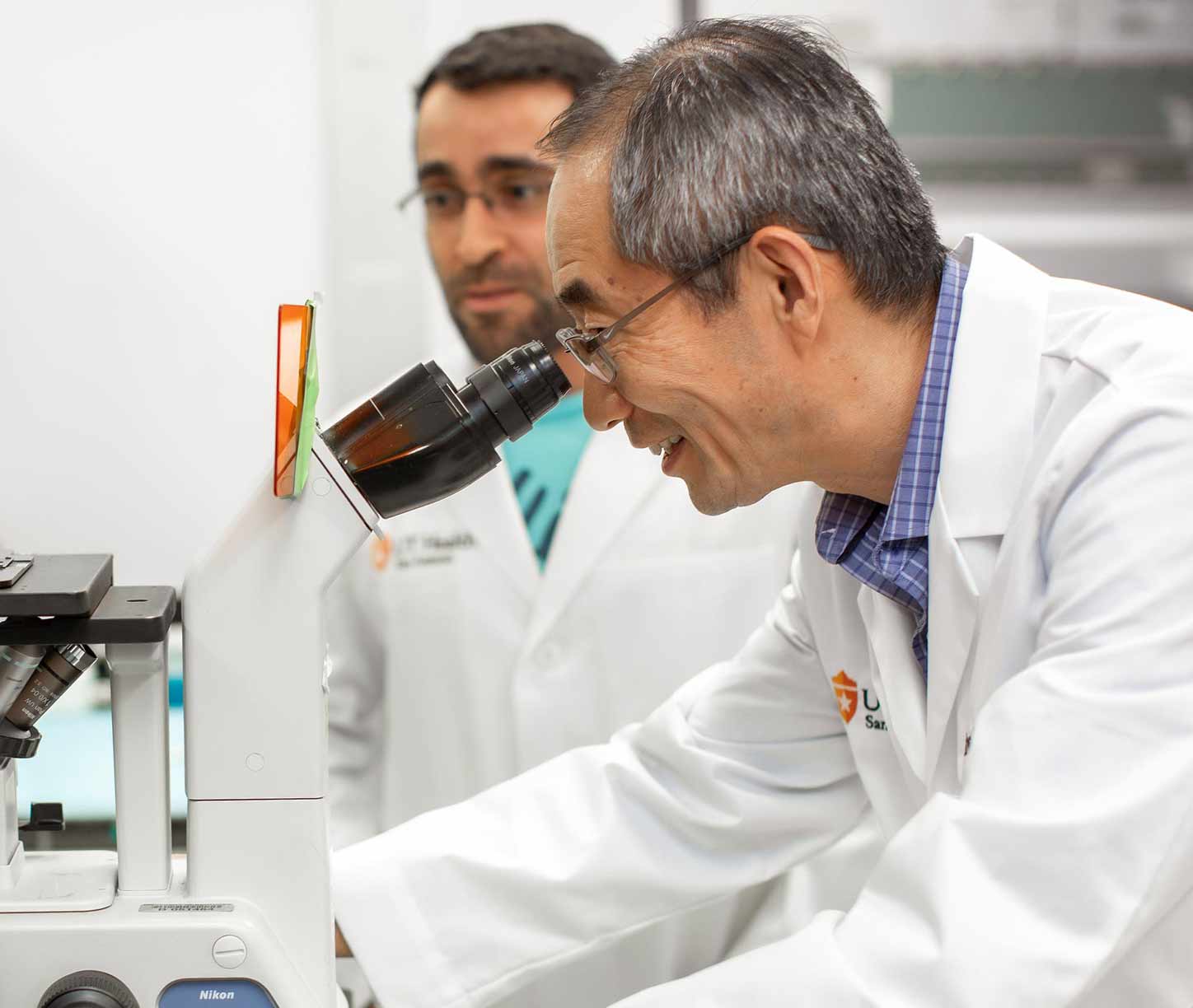 Mays Cancer Center is the only National Cancer Institute-designated cancer center in Central and South Texas, which gives you early access to clinical trials — some only available here in San Antonio.
Take the first step by visiting our cancer experts for testing, a second opinion or to learn about treatment options.
Make an appointment
Our team includes cancer experts from different medical specialties who share a commitment to delivering precise, personalized care.
Browse our provider directory