Why choose us for aplastic anemia and MDS care?
Aplastic anemia and myelodysplastic syndromes (MDS) are rare, complicated bone marrow disorders that can become cancerous. Doctors at Mays Cancer Center, home to UT Health San Antonio MD Anderson Cancer Center, have the expertise for precise diagnosis and care.
These conditions have similarities, including symptoms that mirror those of other blood conditions. Each requires a specific treatment approach. Our fellowship-trained blood cancer specialists (hematologist oncologists) perform a careful evaluation, including sophisticated testing.
We offer leading-edge treatments, such as immunotherapy. Patients with inherited disorders receive coordinated care from pediatric and adult hematologist oncologists.
Aplastic anemia and MDS are some of the many blood disorders we treat. Learn more about our blood disorder (hematology) program.
What you need to know about aplastic anemia and myelodysplastic syndromes
Your bone marrow produces stem cells. Your body relies on stem cells to produce blood components, including platelets and white and red blood cells. With aplastic anemia and myelodysplastic syndromes, the bone marrow produces abnormal stem cells.

Aplastic anemia is passed down in families. It is often diagnosed in childhood or early adulthood. MDS typically occurs in older adults. It can become blood cancer, specifically

acute myeloid leukemia

.

Some people with aplastic anemia or MDS have more than one rare bone marrow disorder. They may develop rare blood problems such as

paroxysmal nocturnal hemoglobinuria, where red blood cells break apart

.

You

may need inpatient services, including a bone marrow transplant. We coordinate those services with hospital-based physicians. Clinic-based (outpatient) services are available at Mays Cancer Center.
How to talk to

your doctor

about aplastic anemia and myelodysplastic syndrome
Aplastic anemia and MDS are complex conditions that often require multiple tests and ongoing care. We take time to talk about what to expect, but it's natural to have questions. Even if you need us to explain something again, don't hesitate to ask for more information about:
Diagnosis,

including the specific type of bone marrow disorder and what it means for your future health

Further testing

to confirm a diagnosis or check treatment progress

Cancer risks, if any,

and ways we help you manage them

Treatment options,

 

which may include medications or

clinical trials, if eligible

Transition

to adult care for young adults who are ready to take more ownership of care decisions
You are welcome to bring loved ones with you to your appointments. We welcome those who offer you extra support as you navigate your care options.
Types
Conditions we treat include:
Aplastic anemia:

With this condition, bone marrow produces damaged stem cells. Few of these cells mature to become normal blood cells.

Myelodysplastic syndromes:

These conditions cause the bone marrow to produce too many stem cells. The stem cells do not mature correctly, causing abnormal cells to enter the bloodstream.

MDS overlap syndromes:

Along with MDS, some people have

myeloproliferative neoplasms

, a type of cancer. This condition occurs when the body makes too many blood cells.

Paroxysmal nocturnal hemoglobinuria (PNH):

People with aplastic anemia and MDS can also have PNH.

Their red blood cells break apart and release their contents, a red substance called hemoglobin, into the urine.

It can cause blood clots that require treatment.
Symptoms
The symptoms of aplastic anemia and MDS vary from person to person and may include:
Bleeding more than normal, even with minor injuries

Extreme tiredness (fatigue)

Frequent infections

Pale appearance (pallor)

Shortness of breath

Tiny red dots under the surface of your skin (petechiae)
Diagnosis
The first clue of a bone marrow disorder is a blood test that shows abnormally low levels of blood cells. To learn more, we perform additional tests that may include:
Bone marrow biopsy:

We

take a bone marrow sample and hematopathologists, doctors who diagnose blood disorders, study it under a microscope.

Peripheral blood smear:

If we suspect MDS, we use a high-resolution microscope to evaluate the size and shape of abnormal blood cells.

Molecular testing:

We use sophisticated technologies (next-generation sequencing) to determine the chemical makeup of abnormal cells. This information helps us tailor treatment plans.

PNH testing:

We use flow cytometry to identify copies of abnormal stem cells (PNH clones) and determine how active they are.

Flow cytometry uses laser beams to help measure the characteristics of abnormal cells.
Treatment
The treatments that are right for you depend on your diagnosis. Your care team may recommend:
Blood transfusions

to boost levels of healthy blood cells with help from a healthy donor

Immunotherapy,

which helps your body detect and attack abnormal cells

PNH treatments

that slow or stop the production of PNH cells.

Stem cell transplant

(in partnership with

teams at MD Anderson Cancer Center in Houston or Methodist Hospital in San Antonio

) to replace damaged stem cells by transferring cells from a healthy donor
Research and clinical trials
You may be eligible to receive innovative new therapies through clinical trials. Our participation in research gives many patients access to new care methods years before they become widely available.
Find out more about: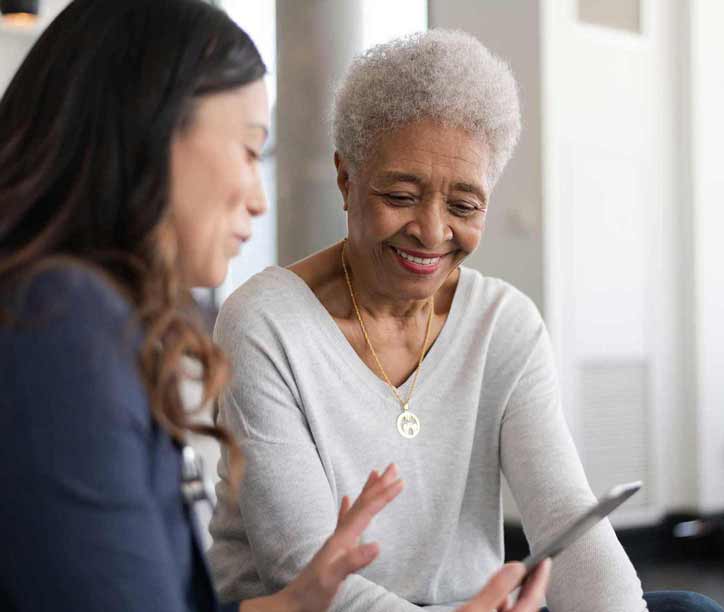 Take the first step by visiting our cancer experts for testing, a second opinion or to learn about treatment options.
Clinical trials help researchers evaluate new therapies before making them available to the public. Mays Cancer Center is the only National Cancer Institute (NCI)-designated cancer center in Central and South Texas, which gives eligible patients early access to clinical trials.
View clinical trial opportunities
Our team includes cancer experts from different medical specialties who share a commitment to delivering precise, personalized care.
Search our provider directory