Why choose us for myeloproliferative neoplasm care?
Myeloproliferative neoplasms are a group of conditions affecting the bone marrow, where blood cells form. For these rare conditions, people turn to the experts at Mays Cancer Center, home to UT Health San Antonio MD Anderson Cancer Center.
Our team includes internationally recognized, board-certified blood cancer specialists who provide leading care. We are advancing treatments through rigorous research, making it possible to offer clinical trials for patients who are eligible. We work alongside other cancer experts to deliver a level of care that's not widely available in South Texas.
Myeloproliferative neoplasms are among the many forms of blood and bone marrow cancer we treat. Read more about our hematology oncology program.
What you need to know about myeloproliferative neoplasms
Neoplasms are abnormal tissue growths that may be benign (not cancer) or cancerous.

Myeloproliferative neoplasms may cause your body to produce too many platelets, red blood cells or white blood cells.

This condition is more common in older adults. Mays Cancer Center has specialists experienced in meeting the unique needs of elderly cancer patients.
How to talk to your doctor about myeloproliferative neoplasms
If you learn that you have myeloproliferative neoplasms, you may be curious about the next steps in your care and your long-term health. Our team gives you the information you need to move forward.
You might want to ask your doctor about:
Additional testing

 

that may be necessary to confirm the diagnosis or plan treatments

Cancer status — including

whether it is cancer — and how advanced it is

Treatment options,

 

including medications and clinical trials, if you are eligible

Potential treatment side effects

and therapies to help you get relief

Support

to help you cope with the ways myeloproliferative neoplasms may affect your daily life
We explain recommendations in ways you can understand, so you can feel confident about your decisions. You are welcome to bring family members or trusted friends with you to care appointments for additional support.
Types
There are many types of myeloproliferative neoplasms. Each one affects blood cells differently.
The most common types include:
Essential thrombocythemia:

Your body produces too many platelets, a type of blood cell that helps with

clotting.

Chronic myeloid leukemia:

The body produces too many

granulocytes, a type of white blood cell that helps your body fight infections. Read more about

chronic myeloid leukemia

.

Myelofibrosis:

Abnormal blood cells build up in the bone marrow and cause scar tissue.

Polycythemia vera:

An abnormally high number of red blood cells makes your blood thicker than normal.
Symptoms
Early-stage myeloproliferative neoplasms often do not cause symptoms.
As the cancer progresses, the symptoms you experience depend on your diagnosis and may include:
Bone pain

Bruising easily

Extreme tiredness (fatigue)

Lightheadedness

Numbness or tingling in your hands or feet

Unusual bleeding, including bleeding gums
Diagnosis
We start with a blood test to measure levels of platelets and blood cells. Myeoproliferative neoplasms cause these levels to be abnormally high.
If we suspect a myeloproliferative neoplasm, we take a bone marrow sample. Hematopathologists, doctors who diagnose blood disorders, evaluate the tissue under a microscope. Our analysis accurately determines the type of neoplasms and whether they are benign or cancerous.
We often perform additional tests, including flow cytometry (to measure chemical characteristics of cancer cells) and genomic testing (to examine abnormal changes in large sets of genes). This information allows our team to recommend the therapies most suited to your situation.
For complex cases, blood cancer experts, hematopathologists, and other specialists discuss your care in meetings called tumor boards. We review your test results together, enabling us to quickly determine the right course of care for your needs.
Treatment
Treatment for myeloproliferative neoplasms often includes chemotherapy, which uses cancer drugs to disrupt abnormal cell growth. We are also experienced in delivering innovative treatments, such as targeted therapy. This option attacks specific proteins within cancer cells for more precise care, often with fewer or milder side effects. Find out more about targeted therapy.
In advanced cases, some people need a stem cell transplant. You receive this procedure at a local hospital. We perform a detailed evaluation before your transplant and regular follow-up care afterward.
We tailor therapies to help older adults receive safe, effective care. Patients may receive smaller doses of medications, adjustments to accommodate other medical conditions and extra support.
Research and clinical trials
Our leading role in cancer research gives you access to new therapies and care techniques through clinical trials. We have expertise in cancer drug development, meaning you may be among the first patients in the country to be able to receive new medications, if you are eligible. Read more about cancer clinical trials and research.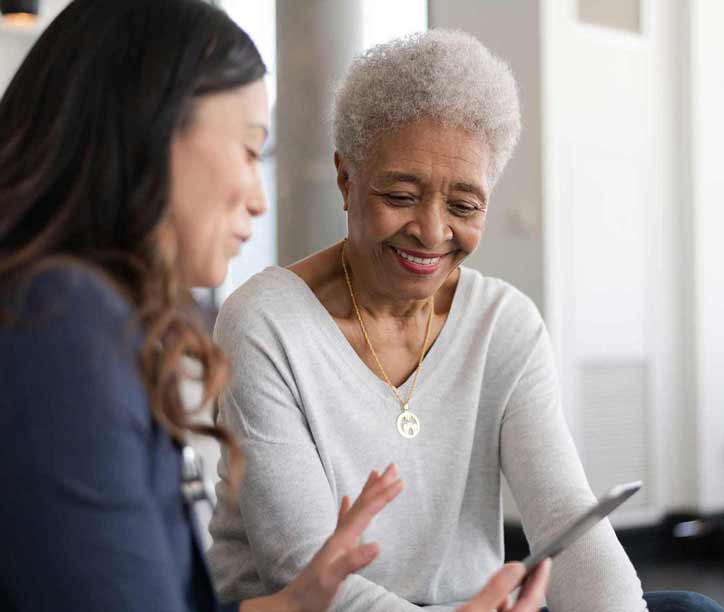 Take the first step by visiting our cancer experts for testing, a second opinion or to learn about treatment options. 
Clinical trials help researchers evaluate new therapies before making them available to the public. Mays Cancer Center is the only National Cancer Institute (NCI)-designated cancer center in Central and South Texas, which means you have early access to clinical trials for which you are eligible. 
View clinical trial opportunities for myeloproliferative neoplasms
Our team includes cancer experts from different medical specialties who share a commitment to delivering precise, personalized care.
Meet our team