Why choose us for uterine cancer care?
Multiple types of uterine cancer can develop inside the uterus (womb). Our cancer doctors at Mays Cancer Center, home to UT Health San Antonio MD Anderson Cancer Center, provide personalized, team-based care for all types of uterine cancer.
Our team includes highly skilled cancer doctors (such as gynecologic oncologists) with specialized fellowship training in cancers of the female reproductive organs. We care for a high volume of rare and complex gynecological cancer cases, including uterine sarcoma and other rare tumors.
Intricate fertility-sparing techniques help some women preserve their body's ability to conceive after cancer treatment.
Uterine cancer is one type of gynecological cancer we treat. Learn more about our gynecologic oncology program.
What you need to know about uterine cancer
The uterus is a reproductive organ in the pelvic area that protects and nourishes an unborn baby during pregnancy.

Cancer that occurs in cells that make up the inner lining of the uterus (endometrium) is endometrial cancer. This cancer accounts for most cases of uterine cancer. Less commonly, uterine tumors begin growing from connective tissue or other cells inside the uterus.

Uterine cancers most often occur after menopause, during mid to later life. But it can also affect younger women under 45.

Younger women (of childbearing age) in South Texas may have an increased risk of developing endometrial cancer. Doctors don't understand the factors causing unusually high endometrial cancer rates in South Texas, particularly for younger, Hispanic women.

If you miss your period for three months or longer, your doctor should evaluate you. In rare cases, a missed period could be an early sign of uterine cancer.

You can protect your health by exercising and maintaining a healthy weight. If someone in your family has had breast, endometrial, ovarian or colon cancer, you can assess your level of risk at our Zeller Building.
How to talk to your doctor about uterine cancer
Cancer impacts everyone differently. You don't have to face it alone. Our team supports you at every point on your care journey.
We explain your diagnosis in a way you can understand. Our doctors take the time to review test results with you, helping you can feel confident in your care. We welcome family or friends at your appointments and encourage their support.
We make sure to answer all your questions, including how cancer treatment could affect your reproductive health.
You might want to ask your doctor about:
Additional testing you might

need to determine the type of uterine cancer or guide treatment decisions

Cancer stage,

including the size of a tumor

and whether it has spread and how it could impact your long-term health

Treatment options,

 

including

fertility-sparing treatment options that

preserve your body's ability to have children

Clinical trials

you may be eligible for, at any phase of your care

Support services,

including how to connect with members of

Purple Heals

, an active support group of local gynecological cancer survivors
Types
Most uterine cancers fall into two types:
Endometrial cancers

account for the vast majority of uterine cancers. Cancer cells start growing from the inner lining (called the endometrium) of the uterus.

Uterine sarcomas

are rare tumors that make up less than 3% of all uterine cancers. Uterine sarcoma tumors start growing from muscle cells that make up the uterus wall.
Symptoms
Cancer affects people in different ways. Uterine cancer may cause abnormal vaginal bleeding or changes to menstrual flow. Some people with uterine cancer experience no obvious symptoms.
Uterine cancer symptoms include:
Heavy or prolonged menstrual flow

Irregular or missed periods

Sporadic bleeding between periods (spotting)

Any vaginal bleeding after menopause

Unusual vaginal discharge

Pain felt in the pelvic area or during sexual intercourse
Diagnosis
Our experienced gynecologic oncologists perform a pelvic exam to evaluate your symptoms. We may recommend one or more imaging tests, such as transvaginal ultrasound, to visualize the area inside of the uterus.
An endometrial biopsy is a procedure performed in our clinic offices to detect and diagnose endometrial cancer.
If you are diagnosed with endometrial cancer, your doctor may order imaging tests to help stage the cancer (showing other areas in the body where cancer may have spread).
Learn more about diagnosing cancer.
Treatment
Uterine cancer treatment usually involves surgery to remove the uterus and cervix (called a hysterectomy). Our surgeons may also remove other reproductive organs, such as the ovaries and fallopian tubes, and nearby lymph nodes.
Your doctor will explain all your treatment options. You can trust our team to recommend research-based therapies most appropriate for your needs. We personalize treatment recommendations to you with insight from our team of several gynecologic cancer specialists.
Our surgeons are skilled in open and minimally invasive techniques. We choose the surgical approach that is right for your situation.
Advanced surgical robots increase our surgeons' precision. These sophisticated tools help us identify cancer spread (to nearby lymph nodes) and remove cancer tissue in a less invasive way.
Surgery alone can treat some early-stage uterine cancers. Radiation therapy and chemotherapy after surgery may provide treatment benefits for more advanced uterine tumors.
Fertility-sparing therapy offers enhanced reproductive options to help certain patients conceive after cancer treatment. For women of childbearing age, endometrial cancer is often treated with hormone therapy.
Find out more about cancer treatments.
Research and clinical trials
Our physician-scientists actively explore many avenues for potential improvements in gynecological cancer care. Our research efforts offer eligible patients enhanced treatment options that aren't otherwise available in San Antonio.
You may be able to receive novel therapies, such as targeted cancer drugs that specifically attack endometrial cancer cells.
Get more information about cancer clinical trials and research.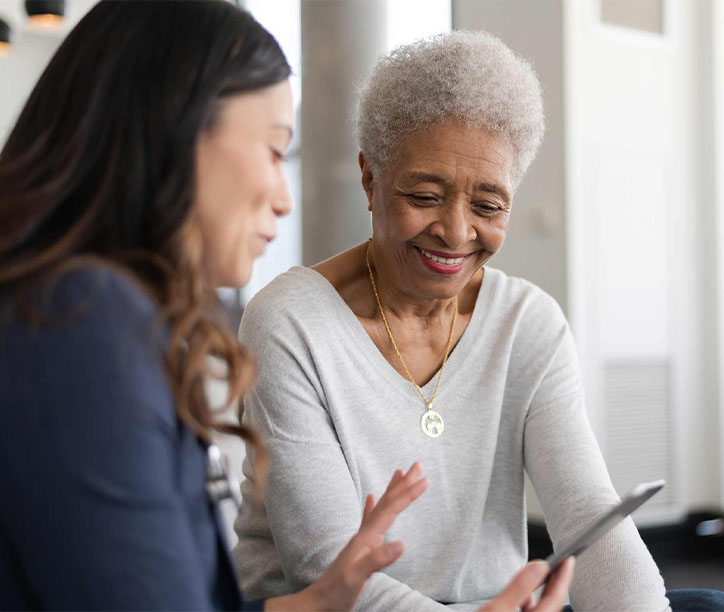 Take the first steps by visiting our cancer experts for testing, a second opinion or to learn about treatment options.
Clinical trials help researchers evaluate new therapies before making them available to the public. Mays Cancer Center is the only National Cancer Institute (NCI)-designated cancer center in South Texas, which may give you early access to clinical trials, if you are eligible.
Clinical trial opportunities
Our team includes cancer experts from different medical specialties who share a commitment to delivering precise, personalized care.
Search our provider directory