Why choose us for vaginal cancer care?
Vaginal cancer cells can come from many different types of cells that make up the vagina (muscular channel in the female genital tract). At Mays Cancer Center, home to UT Health San Antonio MD Anderson Cancer Center, you receive specialized expertise for vaginal cancer and other rare gynecological tumors, close to home.
A team of highly trained cancer doctors (gynecologic surgeons, radiation oncologists, pathologists and radiologists) work closely together to personalize your care. You can access leading cancer innovations not offered elsewhere in San Antonio, such as powerful internal radiation therapies (brachytherapy). Women trust us for precise vaginal cancer treatment and a superior care experience.
Vaginal cancer is one of many gynecological cancers we treat. Learn more about our gynecologic oncology program.
What you need to know about vaginal cancer
Vaginal cancer is one of the rarest types of cancers to affect the female reproductive system. This cancer commonly affects older women in later life (after age 60).

As a large academic medical center, we see a high volume of vaginal cancers. Our team of gynecologic cancer doctors has a strong understanding of how to treat these rare tumors. We provide an outstanding quality of gynecological cancer care to the San Antonio and surrounding areas.

Human papillomavirus (HPV) is a common virus that spreads through sexual contact. Many HPV infections cause no obvious symptoms or health problems. Certain strains can turn healthy cells into cervical, vaginal or vulvar cancer — sometimes years after being infected. Getting the

HPV vaccine

can protect against the well-known strains that cause cancer.

Having HPV or the herpes simplex virus increases your chances of developing vaginal cancer. Pap tests can detect HPV. These routine tests help your doctor identify some of the earliest signs of cervical or vaginal cancers.

Early detection of vaginal cancer may mean you need less aggressive therapies. Seeing your gynecologist for regular pelvic exams can help detect gynecologic cancers at early stages.
How to talk to your doctor about vaginal cancer
Cancer affects everyone in unique ways. We are here to listen and support you. We answer your questions, including how cancer treatment could affect your reproductive or sexual health.
We review your tests and help you understand how vaginal cancer or cancer therapies could impact your health and daily life. We offer multiple treatment options, giving you choices.
We encourage you to share your preferences so we can better meet your needs. You are welcome to bring family members or trusted friends with you to appointments or treatment sessions.
You might want to ask your doctor about:
Additional testing you might

need and how tests help guide your treatment plan

Cancer stage,

including

where vaginal cancer started and whether it has spread

Treatment options,

 

including surgery or radiation combined with chemotherapy

Treatment side effects, including how treatment may impact your sexual function

Clinical trials

you may be eligible for at any point in your care

Support

services,

including how our unique network of local gynecologic cancer survivors,

Purple Heals

, can support your health and help you cope
Types
We specialize in treating all types of vaginal cancer, including:
Squamous cell carcinoma

is slow-growing cancer that originates inside the vaginal lining. It is the most common vaginal cancer.

Many of these vaginal cancers are associated with a human papillomavirus (HPV) infection.

Adenocarcinoma

develops from gland cells inside the vagina and usually affects people in mid- to later life.

Clear cell adenocarcinoma

is the only type of adenocarcinoma known to occur early in life. Most people who developed this cancer were exposed to the synthetic estrogen medication

diethylstilbestrol (DES)

during their mother's pregnancy.

Melanoma

starts from melanocytes, cells that color skin tissue. Although vaginal tissue is not exposed to the sun, melanoma can still develop in the vagina.
Symptoms
Many women experience few or no vaginal cancer symptoms, especially in early stages. Vaginal cancer symptoms include:
Abnormal vaginal bleeding

or discharge

Lump or bump

inside the vagina

Persistent pain

around the pelvic area

Pelvic pain

that's triggered by certain acts, like urinating or sex
Diagnosis
Performing a pelvic examination helps our gynecologic oncologists check vaginal and nearby reproductive organs for abnormal growths.
Multiple tests may help our specialists pinpoint a vaginal cancer diagnosis:
Pap smears

analyze cells of the cervix to detect early changes that can become cancer. A pap smear can also be used to detect abnormalities in the vaginal cells.

Colposcopy

uses a special tool that magnifies the vaginal walls and other nearby tissues. It provides clear details so we can examine a lump or abnormal cells inside the vagina.

Biopsy

removes tissue from a suspected cancer tumor or growth. Specialists analyze the shape, size and patterns of cells under a microscope to confirm or rule out cancer.
You can trust our specialists to thoroughly evaluate your symptoms and provide a precise vaginal cancer diagnosis. Our gynecologic oncologists review test results with you, helping you understand how a diagnosis may impact your health.
Learn more about diagnosing cancer.
Treatment
A team of cancer doctors with different areas of expertise reviews your case and develops a personalized treatment plan.
We treat rare vaginal cancers using a combination of advanced radiation therapies and chemotherapy not available at other centers in San Antonio.
Your treatment plan may include external radiation therapy or brachytherapy (radiation delivered inside the body). We use highly specialized techniques, including interstitial and intracavitary brachytherapy, to precisely place radiation compartments next to or inside a gynecological tumor.
Advanced imaging and computer software enable us to treat tumors with powerful, precise doses. At the same time, we protect healthy tissues that surround a tumor, which helps us minimize treatment side effects.
Find out more about cancer treatments.
Research and clinical trials
As an academic research program, our physician-scientists pursue wide-ranging research interests to advance cancer therapies.
We offer eligible patients access to new clinical trials, expanding your options for vaginal cancer treatment. You may be able to receive novel drugs or therapies that aren't otherwise available in the community.
Get more information about cancer clinical trials and research.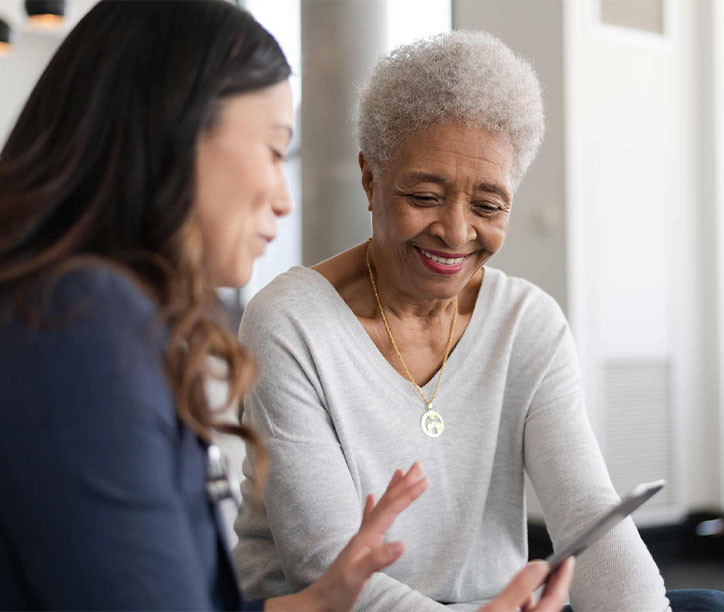 Take the first steps by visiting our cancer experts for testing, a second opinion or to learn about treatment options.
Clinical trials help researchers evaluate new therapies before making them available to the public. Mays Cancer Center is the only National Cancer Institute (NCI)-designated cancer center in South Texas, which may give you early access to clinical trials, if you are eligible.
Clinical trial opportunities
Our team includes cancer experts from different medical specialties who share a commitment to delivering precise, personalized care.
Search our provider directory