Why choose us for throat cancer care?
If you are concerned that a lump in your throat may be cancer, turn to the experts at Mays Cancer Center, home to UT Health San Antonio MD Anderson Cancer Center.
Our experienced team detects subtle signs of cancer that can be easy to miss. You receive timely, personalized care.
Throat cancer is one of the many forms of head and neck cancer we treat. Explore our head and neck cancer program.
What you need to know about throat cancer?
HPV is a frequent cause of throat cancers. This virus spreads through unprotected sex with an infected person. You can lower your risk by getting the

HPV vaccine

.
Regularly using tobacco and drinking alcohol also raises your throat cancer risk. It's never too late to stop using these substances. Get more information about tobacco use and cancer.

An HPV vaccine, like FDA-approved GARDASIL®9 may lower your risk of HPV throat cancer. The vaccine is for adults and children. Talk to your family doctor to learn more.

You'll have help keeping track of the small details of your care. Our nurse navigator coordinates your tests and treatments
How to talk to your doctor about throat cancer
A throat cancer diagnosis may come as a surprise. We are here for you with the encouragement and information you need.
You might want to ask your doctor about:
Additional testing

to help determine which treatments are right for your needs

Diagnosis,

including the type and stage of the cancer

Treatments

and how soon you may receive them

Supportive therapies

, which may include emotional support, to help you cope with a cancer diagnosis
We explain the tests and treatments you may need in ways you can understand, so you know what to expect. Please feel free to bring family members or trusted friends to appointments to help make care decisions.
Types
This cancer begins in the surface tissue of the throat. As it progresses, cancerous growths may extend to deeper tissue layers or nearby organs.
Throat cancer starts in the:
Symptoms
The symptoms you experience depend on where in the throat the cancer is growing and often include:
Changes in your voice, such as consistent hoarseness

Constant need to clear your throat

Difficulty swallowing

Wheezing or cough that won't quit
Diagnosis
Tests we use to diagnose throat cancer include:
Physical exam

to assess symptoms and check for abnormal growths in your throat or nearby areas, including your nose, tongue or neck

Imaging studies,

such as computed tomography (CT) scan, to help us learn more about the size and shape of the cancer

Endoscopy,

a procedure that enables our specialists to examine the surface tissue of your throat using a thin tube with a camera and instruments at the tip

Biopsy

to

take a sample of suspicious throat tissue during an endoscopy

HPV test

to see if the HPV virus caused the tumor
A pathologist examines the tissue sample under a microscope. Our pathologists have years of head and neck cancer experience, which leads to accurate results.
Pathologists, along with other head and neck cancer experts, discuss your diagnosis and test results in meetings called tumor boards. We then develop ways to tailor therapies to your unique needs.
Treatment
If you have HPV, radiation therapy and surgery to remove cancer cells may be the only treatments you need. Some patients may be eligible for surgery using robotic technologies. This method enables surgeons access cancer through the mouth. Learn more about trans-oral robotic surgery (TORS).
People who do not have HPV, or HPV with advanced throat cancer may need additional therapies, including
Chemotherapy:

You receive

chemotherapy

drugs that destroy cancer cells and seek to prevent new ones from forming.

Radiation therapy:

This option uses powerful energy, such as X-ray beams and other substances, to disrupt cancer cell growth. A team of experts deliver focused treatments, protecting as much healthy tissue as possible.

Reconstructive surgery:

If radiation therapy or surgery affects your throat's functioning, this specialized form of surgery may repair it. Read more about head and neck reconstructive surgery.
Services to help you stay comfortable during treatment include:
Speech therapy:

Experienced therapists help you cope with difficulty speaking and swallowing. Read more about speech therapy during cancer treatment.

Nutrition therapy:

Our dietitians may recommend soft foods or other methods of getting the nutrients you need if eating becomes challenging.
Research and Clinical Trials
Our cancer research program gives eligible patients access to new care methods through national clinical trials. Our research interests include a broad range of cancer services, including prevention, treatment and survivorship
Read more about cancer research and clinical trials.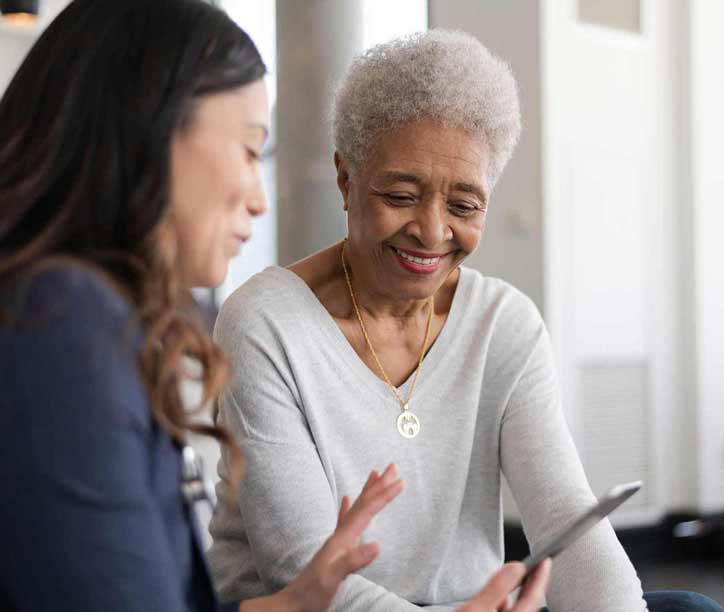 Take the first step by visiting our cancer experts for testing, a second opinion or to learn about treatment options.
Clinical trials help researchers evaluate new therapies before making them available to the public. Mays Cancer Center is the only National Cancer Institute (NCI)-designated cancer center in Central and South Texas, which gives eligible patients early access to clinical trials.
Clinical trials
Our team includes cancer experts from different medical specialties who share a commitment to delivering precise, personalized care.
Search our provider directory