Why choose us for laryngeal cancer care?
Your voice is unique and essential for interacting with the world around you. If you are facing a diagnosis of larynx (voice box) cancer, you can put your trust in our team. At Mays Cancer Center, home to UT Health San Antonio MD Anderson Cancer Center, you have access to leading therapies and a team of experts who personalize your care.
Fellowship-trained head and neck surgeons, along with other highly skilled cancer doctors, work together in meetings called tumor boards. We coordinate the therapies and supportive therapies that are right for you. We take a focused approach that emphasizes treating cancer while preserving voice and swallowing function.
Laryngeal cancer is one of many forms of head and neck cancer that our experienced team treats. Read more about our head and neck cancer program.
What you need to know about voice box cancer
The larynx houses your vocal cords and connects with other neck organs that help you breathe, speak and swallow.

Because of the larynx's role in voice and swallow function, it is important to receive care from a specialized team, such as ours. We use leading techniques and technologies to deliver precise care while protecting sensitive tissue near the cancer. This approach lowers the chances of complications.

You face a higher risk of laryngeal cancer if you regularly use tobacco or consume alcohol. Quitting these substances may help treatments work better and lowers the risk of another cancer in the future. Find out more about tobacco use and cancer.

Voice box cancer care typically involves many doctor visits, diagnostic tests and treatments. Our head and neck cancer nurse navigator helps coordinate these services.
How to talk to your doctor about laryngeal cancer
Our caring and experienced team of physicians guide you through every step of the treatment process.
You might want to ask your doctor about:
Additional testing:

Tests may include high-resolution imaging scans, like magnetic resonance imaging (MRI), to determine the size and location of the cancer.

Diagnosis:

It's important to know the type of laryngeal cancer, what may have caused it and its stage.

Treatment options:

Your treatment plan may include surgery, radiation or chemotherapy. You'll need to know what treatments to expect and how soon you may start them.

Supportive therapies:

Support often includes speech therapy to help you maintain your ability to speak or swallow during and after treatment.
You will need to make crucial decisions about your care, but you are not alone. We provide you with the information and guidance you need. We also encourage you to bring your loved ones with you to your appointments for extra support.
Types
Laryngeal cancer can affect many areas of your larynx, including the:
Glottis:

This is the main part of the voice box, including the vocal cords, which produce your voice

Supraglottis:

Upper portion of the larynx above the vocal cords, which is important for swallowing

Subglottis:

Lower portion of the larynx that connects to your windpipe (trachea)
Symptoms
The symptoms of voice box cancer include:
Voice changes, including hoarseness that does not go away

Cough or ear pain that does not go away

Swallowing problems and choking on food

Lump or abnormal growth you can feel on the outside of your neck
Diagnosis
We use a variety of tests to diagnose laryngeal cancer and help our team plan treatments, including:
Head and neck exam

to check for signs of cancer in your mouth or throat or on the outside of your neck

Flexible laryngoscopy,

which examines the inside of your throat and larynx using a specialized, high-definition camera

Biopsy,

a tissue sample we take during a laryngoscopy to help confirm a cancer diagnosis
A doctor who specializes in diagnosing cancer from biopsies (pathologist) examines the tissue sample under a microscope. Our team includes pathologists with expertise in head and neck cancers to help you get an accurate diagnosis.
Treatment
Laryngeal cancer treatment typically includes radiation therapy and surgery. Some patients need one of these treatments, while others need both. Our experienced head and neck surgeons tailor therapies to your needs.
Your care may also include:
Radiation therapy:

Doctors specializing in radiation therapy (radiation oncologists) use powerful energy beams like X-rays and electrons to disrupt cancer cell growth. Find out more about

radiation therapy

.

Chemotherapy:

You may receive drugs that destroy cancer cells and prevent new ones from forming. Learn more about

chemotherapy

.

Reconstructive surgery:

In some cases, surgery or radiation therapy affects how nearby tissue functions. Specialized surgery helps repair and restore it. Explore

head and neck reconstructive surgery

.
Services that aid your recovery include:
Speech and swallow therapy:

:

Our specialists help you regain your ability to speak and swallow if cancer treatment affects these functions. Find out more about

speech therapy during cancer treatment

.

Nutrition therapy:

If eating becomes challenging, dietitians may recommend a special diet or other ways to get the nutrition you need.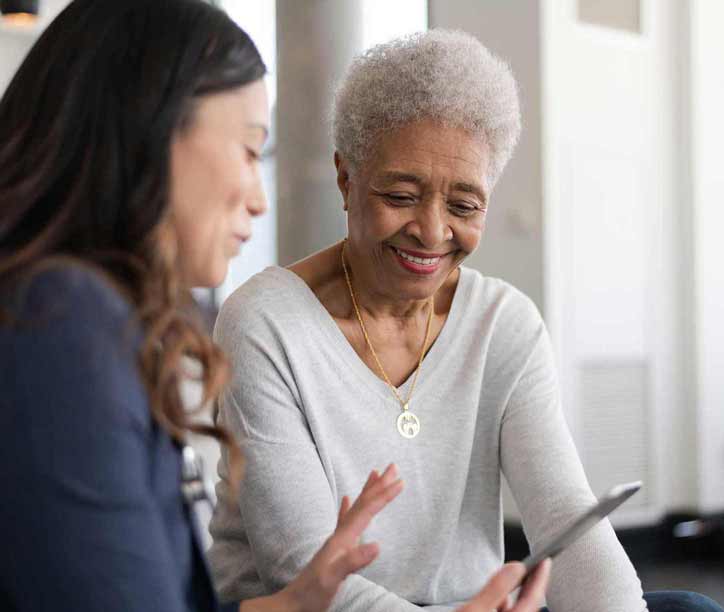 Take the first step by visiting our cancer experts for testing, a second opinion or to learn about treatment options.
Research at Mays Cancer Center gives eligible patients access to national clinical trials, some of which are not widely available. Clinical trial options may include new therapies and methods for preventing recurring cancer. Read more about cancer clinical trials and research.
View cl
Our team includes cancer experts from different medical specialties who share a commitment to delivering precise, personalized care.
Search our provider directory