Why choose us for spinal tumor care?
Leading spinal tumor therapies and medical expertise are within reach at Mays Cancer Center, home to UT Health San Antonio MD Anderson Cancer Center.
Our team includes experienced doctors with additional fellowship training who diagnose and treat many types of rare spinal tumors. We offer advanced therapies not offered elsewhere in San Antonio. Options include stereotactic radiation therapy and sophisticated reconstructive surgeries to stabilize and rebuild the spine.
Find out more about our neuro-oncology (brain tumor) program.
What you need to know about spinal tumors
A primary spinal tumor starts along the spine. Primary spinal tumors may be benign (noncancerous) or malignant (cancer).

Cancer may occur elsewhere on the body and spread to the spine. Doctors call these growths metastatic spinal tumors.

All spinal tumors are rare. Some tumors can cause life-threatening symptoms, including paralysis. If you experience numbness in your arms or legs that won't go away, seek immediate medical attention.

No one knows what causes people to develop spinal tumors. You may be more likely to experience a spinal tumor if you have neurofibromatosis type 2 (NF2), a rare inherited condition that families can pass down through their genes.

If you have a spinal tumor, it's important to receive qualified care. Because our team treats a high volume of cancer cases, including those affecting the brain and central nervous system, we can deliver precise, personalized care.
How to talk to your doctor about spinal tumors
People react to a spinal tumor diagnosis in different ways. Whatever you're feeling, you can count on us to provide expert guidance and compassion.
You can trust our team to offer leading treatment options based on some of the latest cancer advances. We will explain your diagnosis and discuss any clinical trials for which you may be eligible.
You might want to ask your doctor about:
Additional testing,

 

if any, you may need to guide diagnosis or treatment

Tumor type,

including whether or where a spinal tumor has spread and how it may affect your health

Treatment options,

 

including what to expect if your doctor recommends surgery and any clinical trials for which you may be eligible

Support

services,

including resources that can relieve discomfort or help you overcome challenges due to treatment
Making treatment decisions alone can feel daunting. You may find it beneficial to have a trusted family member or friend come with you to appointments. This support may make it easier to talk through important care decisions.
Types
Spinal tumors can form out of various parts of the spinal column, which reaches from your neck down to your pelvic bone.
Most spinal tumors fall into these types:
Intramedullary spinal tumors

start growing from cells that make up the inside of the actual spinal cord (nerves).

Intradural-extramedullary spinal tumors

develop outside of the spinal cord but inside the dura (a thin layer that protects the spinal cord).

Extradural spinal tumors

make up most spinal tumors. They occur outside the dura, developing from the bones of the spine (vertebrae) or from cartilage tissue.

Metastatic spinal tumors

describe cancer that starts in another area (like lymphoma in the lymph nodes) and spreads to tissues in or near the spine.
Symptoms
Back pain that doesn't go away is the most common spinal tumor symptom people experience. Back pain is a common health problem. Most often, a spinal tumor is not the cause.
Other spinal tumor symptoms include:
Shooting pains that start in your lower back and extend down the back of your leg (called sciatica)

A numbing sensation that commonly affects the legs or arms

Weakness in your legs or problems walking

Dizziness

Nausea or vomiting
Diagnosis
Many spinal tumor symptoms mirror routine health conditions. If our specialists suspect you may have a spinal tumor, we will conduct a complete physical exam to carefully evaluate your symptoms.
We usually diagnose spinal tumors using advanced imaging tests, such as computed tomography (CT) scans or magnetic resonance imaging (MRI). These tests offer clear detail of a tumor's size, shape and location along the spine.
A biopsy (tissue removal procedure) can definitively diagnose a spinal tumor. Our neuropathologist examines tumor cells under a microscope, looking for identifying features of cancer cells. Then a team of doctors reviews your test results and pinpoints your diagnosis.
Learn more about cancer diagnosis.
Treatment
We may recommend one or multiple spinal tumor treatments based on considerations like the tumor location and your age, symptoms and preferences.
Some spinal tumors may not require immediate treatment. In that case, we would schedule ongoing evaluations to track how a tumor grows or changes over time.
Your doctor may recommend:
Research
Because we are a large academic medical center, we offer access to hundreds of clinical trials that seek to improve spinal tumor treatments in countless ways. Through our team's research efforts, we provide additional options, including new therapies only available through clinical trials.
Ask your doctor how an experimental treatment could benefit any phase of your care, if you are eligible. Learn more about cancer clinical trials and research.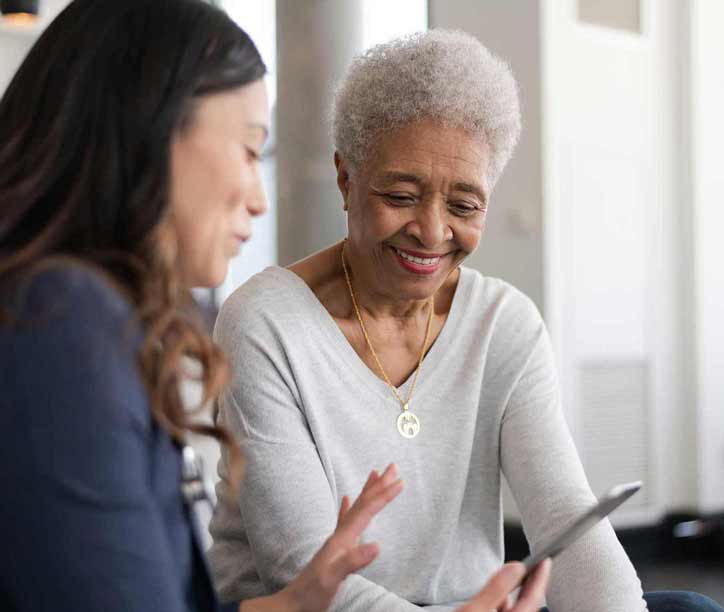 Take the first step by visiting our cancer experts for testing, a second opinion or to learn about treatment options.
Clinical trials help researchers evaluate new therapies before making them available to the public. Mays Cancer Center is the only National Cancer Institute (NCI)-designated cancer center in Central and South Texas, which gives eligible patients early access to clinical trials.
Our research efforts make it possible for eligible patients' treatment options to include some of the latest cancer advances, such as new and emerging cancer drugs. We will explain how any clinical trial treatments for which you may be eligible fit into your care.
Clinical trial opportunities for spinal tumors
Our team includes cancer experts from different medical specialties who share a commitment to delivering precise, personalized care.
Search our provider directory