Why choose us for pancreatic cancer care?
Your pancreas is a gland that produces substances (enzymes) to help you digest food. Pancreatic cancer is rare and challenging to treat.
Seeking services at an experienced program such as ours helps you receive trusted care from experienced doctors. We treat a high volume of patients with pancreatic cancer, giving you the best chances for successful treatment.
Pancreatic cancer is one of many forms of gastrointestinal cancer we treat. Find out more about our gastrointestinal cancer program.
What you need to know about pancreatic cancer
Early-stage pancreatic cancer does not cause symptoms. For that reason, people often get their diagnosis in later stages, when it is more likely to grow and spread.
The pancreas's location near other digestive organs makes it difficult to access.
The best care includes a delicate surgical technique, the Whipple procedure. Our pancreatic surgeons have years of experience performing it.
You still have options if you cannot have surgery. We offer nonsurgical procedures, specialized radiation therapy and chemotherapy.
How to talk to your doctor about pancreatic cancer
Everyone reacts differently to a pancreatic cancer diagnosis. And we are here for you with information that may make the next steps of your care less overwhelming. We encourage you to voice questions and concerns, so you know what to expect.
You might want to ask your doctor about:
Additional testing you may need to determine the cancer stage or personalize your care
Cancer stage, the size of the cancer and whether it has spread, and what it means for your long-term health
Treatment options, including any pancreatic cancer clinical trials you may be eligible for
Potential treatment side effects and therapies to lessen their impact on your daily life
Support to help you cope with the ways cancer may affect your mind, body and spirit
We are happy to include loved ones in important discussions about your care. They may raise questions you wouldn't think to ask or provide support as you make care decisions.
Types
Two types of abnormal growths (tumors) give rise to pancreatic cancer:
Exocrine tumors, including adenocarcinoma, form in the exocrine cells that help you digest food.
Neuroendocrine tumors are made of slow-growing cells that may or may not produce abnormal levels of hormones.
Symptoms
Early-stage pancreatic cancer often has no symptoms. In later stages, the tumor becomes large enough to affect nearby organs.
Symptoms you may experience include:
Complications of hormone imbalances, such as low blood sugar, diarrhea and lightheadedness
Stomach and back pain
Unexpected weight loss
Yellowing of the eyes or skin (jaundice) due to liver problems
Diagnosis
There are many methods for diagnosing pancreatic cancer, including blood tests and imaging scans. We often use endoscopy, a procedure where doctors pass a long tube (endoscope) down your throat and advance it until it reaches the pancreas. Instruments at the tip help us examine suspicious growths and take tissue samples. Learn more about diagnosing cancer.
We may also recommend genetic testing to determine whether you have an inherited form of pancreatic cancer. This information helps us identify the treatments that are best for you. We may recommend other family members undergo testing, too, to see if they face a higher cancer risk. Find out more about our cancer genetics and high-risk screening clinic.
Treatment
Doctors specializing in pancreatic surgery treat many early-stage cancers and have a track record of good results. For more advanced cancers and complications such as blockages, we use nonsurgical procedures. Get more information about cancer treatments.
We offer therapies and services that give you an extra layer of support. Your care may include advanced pain management to help you stay comfortable. Emotional support may relieve some of the stress you may be experiencing. Find out more about palliative and supportive care.
Research and clinical trials for pancreatic cancer
We are advancing care possibilities for many types of cancer, including pancreatic cancer, through clinical trials. Our interests span all aspects of cancer care, including new treatment options and methods for coping with side effects. Our research coordinators explain which trials you may be eligible for and what to expect.
Get more information about cancer clinical trials and research.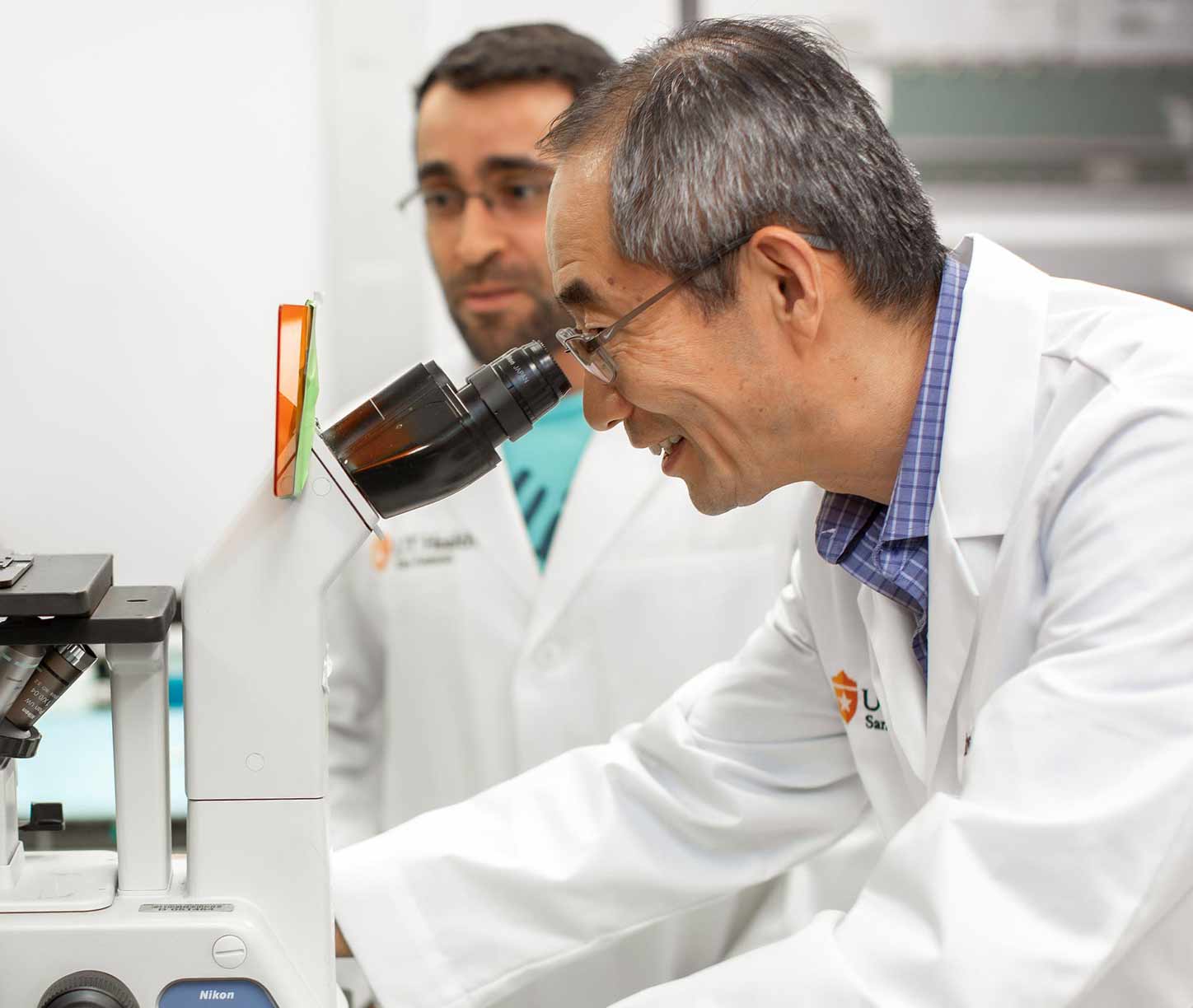 Clinical trials help researchers evaluate new therapies before making them available to the public. Mays Cancer Center is the only National Cancer Institute (NCI)-designated cancer center in South Texas, which gives you early access to clinical trials.
Take the first steps by visiting our cancer experts for testing, a second opinion or to learn about treatment options.
Make an appointment
Our team includes cancer experts from different medical specialties who share a commitment to delivering precise, personalized care.
Search our provider directory