Why choose us for colon cancer care?
At Mays Cancer Center, home to UT Health San Antonio MD Anderson, it's still possible to live a full, active life after colon cancer. Our team of experts makes personalized recommendations reflecting today's best care practices. And having years of experience means we can help more patients achieve optimal results so they can resume daily activities.
Colon cancer is one of many forms of gastrointestinal (GI) cancer our team excels in treating. Find out more about our GI cancer program.
What you need to know about colon cancer
Your colon is part of the large intestine. Its role is to absorb nutrients from food and convert waste to stool.

Some people face a higher colon cancer risk due to gene abnormalities (mutations) that are passed down in families.

Detecting colon cancer in its early stages gives you the best chances of becoming cancer-free.

Our expert team is capable of removing cancers in hard-to-reach areas and preserving your ability to have a bowel movement.
How to talk to your doctor about colon cancer
A colon cancer diagnosis causes some people to feel embarrassed. But don't let this stop you from receiving potentially lifesaving care. We understand —and every member of our team treats you with the respect you deserve.
We want you to have a good care experience, which is why we encourage you to ask questions. Voicing your questions can help understand why we are recommending tests or treatments and how they can help you get better. No subject is too small to discuss. You might want to ask your doctor about:
Additional testing you may need to inform your diagnosis, such as determining colon cancer stage, or treatment decisions
Cancer stage, the size of cancer

and whether it has spread, and what it means for your long-term health

Treatment options, 

including any clinical trials you may be eligible for

Potential treatment side effects and therapies to lessen their impact on your daily life
Support

to help you cope with the ways colon cancer may affect your mind, body and spirit
And you are welcome to bring loved ones with you to appointments. They can help you remember important details and assist you in making care decisions.
Types
Our team successfully treats rare and common forms of colon cancer, including:
Adenocarcinoma occurs in the cells lining the surface of the colon. It is the most common colon cancer.
Carcinoid tumors are slow-growing cancer that can occur in many areas but often affects the lower intestines, including the colon.
Gastrointestinal stromal tumors form in cells lining the digestive tract. This type of colon cancer is rare.
Lymphoma is a type of cancer affecting the immune system. It sometimes starts in the colon.
Symptoms
Colon cancer begins as a polyp, a small, noncancerous growth in the lining of the colon. Often, polyps don't cause symptoms.
If the polyp continues to grow and becomes cancerous, you may experience:
Rectal bleeding

Blood in the stool or toilet after a bowel movement

Diarrhea or constipation that does not go away

Change in normal bowel habits, such as size, shape and frequency

Discomfort or urge to have a bowel movement when there is no need

Abdominal pain or cramping in your lower stomach

Bloating or full feeling

Change in appetite

Weight loss without dieting

Fatigue
Diagnosis
We confirm or rule out colon cancer by examining tissue samples under a microscope. Doctors (pathologists) with years of experience in colon cancer assure an accurate diagnosis. We look for differences between colon cancer cells and those of similar cancers, such as rectal cancer, so you receive appropriate care. Get more information about diagnosing cancer.
Colon cancer can also be a sign of Lynch syndrome. With this condition, you test positive for gene mutations that increase your risk of other cancers. Genetic testing and personalized cancer prevention recommendations can manage this risk. 
Treatment
Certain patients are eligible for robotic surgery. This technique removes cancer with greater precision than a human hand, using assistance from robotic surgical technology. Read more about additional cancer treatments.
We help you stay comfortable and reduce stress throughout your care journey. Your care may include therapies to relieve pain and other side effects of treatment. Social workers and other specialists help you explore financial assistance options if necessary. Learn more about palliative and supportive care.
Research and Clinical Trials
Our colon cancer research efforts give you access to innovative care options that are not widely available. Our research coordinators speak English and Spanish, making it easier to learn about the trials that are best for you.
 Learn more about cancer clinical trials and research.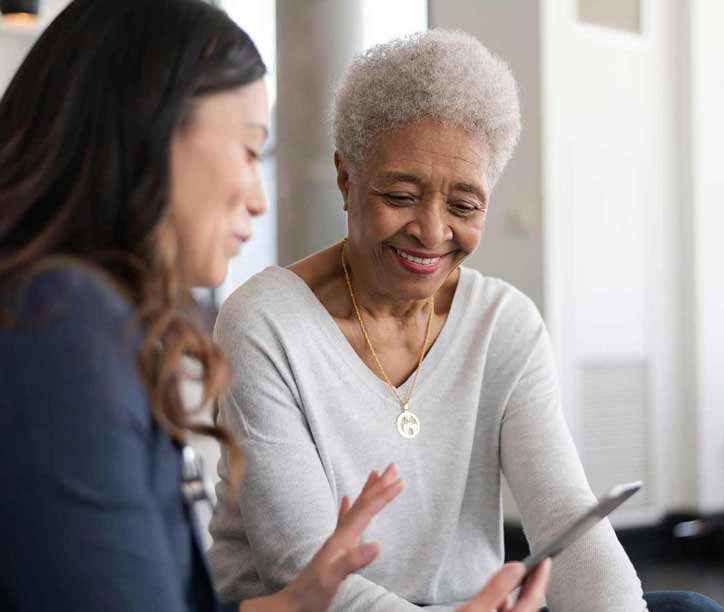 Take the first steps by visiting our cancer experts for testing, a second opinion or to learn about treatment options.
Clinical trials help researchers evaluate new therapies before making them available to the public. Mays Cancer Center is the only National Cancer Institute (NCI)-designated cancer center in South Texas, which gives you early access to clinical trials.
View colon cancer clinical trials
Our team includes cancer experts from different medical specialties who share a commitment to delivering precise, personalized care.
Search our provider directory