Why choose us for cervical cancer care?
If cervical cancer touches your life, turn to our experts. The highly skilled team of cervical cancer doctors at Mays Cancer Center, home to UT Health San Antonio MD Anderson, includes doctors who have additional training through fellowships.
You'll have access to the best available treatments, including sophisticated surgical procedures and cancer-fighting drugs. And with years of experience, both individually and as a team, we'll tailor services to your needs.
What you need to know about cervical cancer
Cervical cancer is most present in Hispanic, Asian and African-American women.

It a worldwide healthcare problem

This cancer usually does not show symptoms in the early stages.
How to talk to your doctor about cervical cancer
It's natural to have many questions after receiving a cervical cancer diagnosis. Our personalized approach includes taking time to answer these questions and explain what comes next. You might want to ask your doctor about:
Further testing

you might need to inform your diagnosis or lung cancer treatment suggestions

Cancer stage,

tumor size, whether it has spread and what it means for your long-term health

Treatment options,

including any lung cancer clinical trials you may be eligible for

Side effects of treatment

and how you can lessen the impact of side effects on your daily life

Support

to help you cope with the ways cancer may affect your mind, body and spirit


 
Bringing a friend or loved one with you to appointments gives you an extra voice in your care. This person can help you make important decisions and remember key details.
Symptoms
Early stages of cervical cancer may not show any symptoms. Symptoms often include the following in some women:
Bleeding or spotting after sexual intercourse

Watery vaginal discharge

It is important to note that these symptoms are not cancer-related. Routine testing is recommended to identify the cancer early.
Diagnosis
Pap smears and cervical biopsies, along with regular gynecological examinations often lead to a diagnosis early. A cone biopsy can be used to help determine this cancer. A gynecological oncologist can determine the exact diagnosis. 
Read more about diagnosing cancer.
Treatment
If we catch cervical cancer in earlier stages, treatment often includes surgery. We may use other therapies to destroy remaining cancer cells and lower the risk of it coming back. For more advanced cancers, your care may include cancer-fighting drugs (chemotherapy) and radiation therapy instead of surgery.
A cervical cancer diagnosis and treatment side effects can bring challenges to your life. Our team is here for you. We can help relieve discomfort and solve problems related to your care.
Research and Clinical Trials
Clinical trials bring innovative care options that are not widely available close to home. You may be eligible for clinical trials if you have a rare type of cervical cancer or one that does not respond to standard treatments.
Read more about cancer research and clinical trials.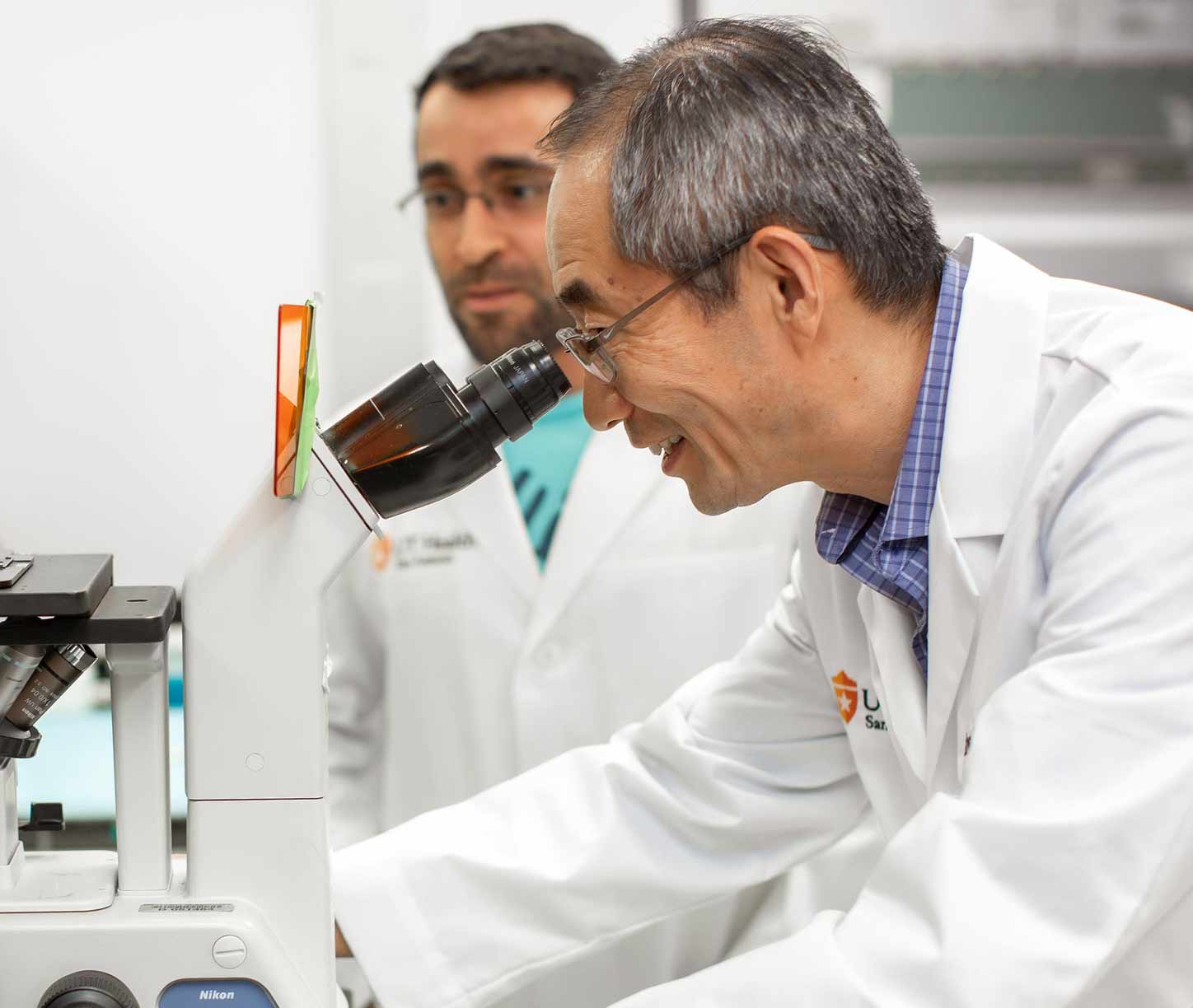 Clinical trials help researchers evaluate new therapies before making them available to the public. Mays Cancer Center is the only National Cancer Institute (NCI)-designated cancer center in Central and South Texas, which gives eligible patients early access to clinical trials.
Take the first steps by visiting our cancer experts for testing, a second opinion or to learn about treatment options.
Make an appointment
Our team includes cancer experts from different medical specialties who share a commitment to delivering precise, personalized care.
Search our provider directory