Why choose us for cervical cancer care?
At Mays Cancer Center, home to UT Health San Antonio MD Anderson Cancer Center, you can access gynecological cancer expertise and leading cervical cancer treatment innovations, close to home.
Multiple specialists with a deep understanding of female reproductive cancers collaborate on your care. We use advanced surgical techniques and high-tech radiation technologies to treat disease in hard-to-reach areas.
Fertility-sparing surgery and oncofertility services offer younger women of childbearing age expanded options for their reproductive future.
Cervical cancer is one of many gynecological cancers we treat. Learn more about our gynecologic oncology program.
What you need to know about cervical cancer
The cervix is part of the female reproductive system. It connects the uterus to the vagina, serving as a gatekeeper to the womb.

Human papillomavirus (HPV) infections are responsible for a large percentage of cervical cancers. Preventive care can safeguard your health.

Getting regular pelvic exams and Pap tests can help your gynecologist identify and remove precancerous tissue (called dysplasia) before it turns into cervical cancer. The

HPV vaccine

protects against several high-risk strains that cause cervical and other cancers.
Purple Heals

is a large, active support group for cancer survivors affected by all forms of gynecologic cancer. This diverse network of women provides wide-ranging resources and support to the San Antonio community
How to talk to your doctor about cervical cancer
A cancer diagnosis may make you question how cancer may impact your long-term health or your reproductive future. We'll provide honest answers to your questions and help you navigate the next steps in your care.
We take the time to discuss your treatment options at length, helping you gain a better understanding of your care journey. Knowing what to expect from treatment can help you plan ahead and feel confident in your care decisions.
Having a familiar face or trusted friend by your side at doctor appointments may provide comfort during a stressful time. We encourage you to involve family members or loved ones in your care in ways that feel right for you.
You might want to ask your doctor about:
Additional testing you might

need as well as how tests help inform your treatment plan

Cancer stage,

including

where cervical cancer originated and whether it has spread

Treatment options,

 

including how

oncofertility

services and fertility-sparing surgery can help

preserve future reproductive options before cancer treatment

Clinical trials

you may be eligible for at any point in your care

Support

services,

including how our unique network of local gynecologic cancer survivors,

Purple Heals

, can aid your health and help you cope
Types
A large majority of cervical cancers fall into three main types:
Squamous cell carcinoma

develops from skin cells that make up the cervix lining. This cancer type makes up most cervical cancer cases.

Adenocarcinoma

grows out of gland cells located where the cervix meets the uterus.
Mixed carcinoma cancer cells have characteristics from more than one cancer. Cells may resemble squamous cell carcinoma in some ways and adenocarcinoma in others.
Symptoms
People often experience cervical cancer differently. Early stages of disease may cause vague symptoms you hardly notice or no symptoms at all.
Cervical cancer symptoms include:
Abnormal vaginal bleeding,

especially after sex

Unusual vaginal discharge

that may look watery

Mild discomfort or pain

near the pelvic area

Menstrual changes,

such as an extra heavy menstrual flow or longer period
Diagnosis
Our gynecologic oncologists are highly trained to diagnose common and rare forms of cervical cancer. The first step to evaluating suspected cervical cancer symptoms is a thorough pelvic examination.
During a pelvic exam, we carefully examine the reproductive organs inside the pelvis, including the cervix, uterus, ovaries and vagina. We inspect the area for unusual growths or patches of tissue that look suspicious (or abnormal).
Tests we commonly use to diagnose cervical cancer include:
Pap test

evaluates a sample of cervical cells for features that resemble cancer. A Pap test can also detect human papillomavirus (HPV). If you tested positive for HPV, we will explain how an HPV infection may impact your level of cancer risk and long-term health.

Colposcopy

is similar to a pelvic examination, providing a high degree of precision. A specialized magnifying tool with a bright light at one end enables us to inspect reproductive tissues with more detail.

Biopsy

involves careful removal of tissue cells from a suspected cancer site. A pathologist analyzes cells under a microscope for features of cervical cancer.
If a biopsy detects cervical cancer cells, we may order imaging tests to determine whether cancer cells have spread beyond the cervix. This is called cancer staging.
Our team of gynecology cancer specialists meets regularly to collaborate on patient care. These discussions are called tumor boards. Different types of cancer doctors (gynecologic oncologists, surgeons, radiologists, radiation oncologists) will review your test results together and start planning the next steps in your care.
Learn more about diagnosing cancer.
Treatment
Surgery to remove the uterus and cervix (hysterectomy) is the main treatment for many early-stage cervical cancers. We tailor a procedure to your situation, preferences and treatment goals.
Our gynecologic oncologists have cared for a large number of early and advanced cervical cancer cases. As a result, our surgeons have a high level of skill and precision.
We offer fertility-sparing surgery (called radical trachelectomy) for women of childbearing age who have early-stage cervical cancers. During this sophisticated surgery, we remove much of the cervix and other nearby tissues (including some vaginal tissue). Leaving the uterus in place can preserve fertility options for women who may want to have children after cancer treatment.
We often treat more advanced cervical cancers with a combination of radiation therapy and chemotherapy. These therapies include:
Radiation therapy:

You meet with a radiation oncologist who specializes in treating reproductive cancers with radiation therapies. We may recommend external and internal (brachytherapy) therapies, depending on your needs. Our team uses advanced techniques to surgically place a radiation source near hard-to-reach cervical cancers. We are the only center in San Antonio treating gynecological cancers in this way.

Chemotherapy:

Our gynecologic oncologists are also trained to deliver chemotherapy. That means the same doctor will perform your surgery and administer chemotherapy.

Having one doctor oversee most of your care helps us provide expert care and a personalized experience.
Find out more about cancer treatments.
Research and clinical trials
As an academic research program, our physician-scientists participate in hundreds of clinical trials at any one time. Members of our team are involved in ongoing translational research efforts to advance screening, detection and treatment options for female reproductive cancers.
Our research efforts provide eligible patients new cervical cancer treatment options. You may be able to receive novel drugs or therapies that aren't otherwise available in the community.
Get more information about cancer clinical trials and research.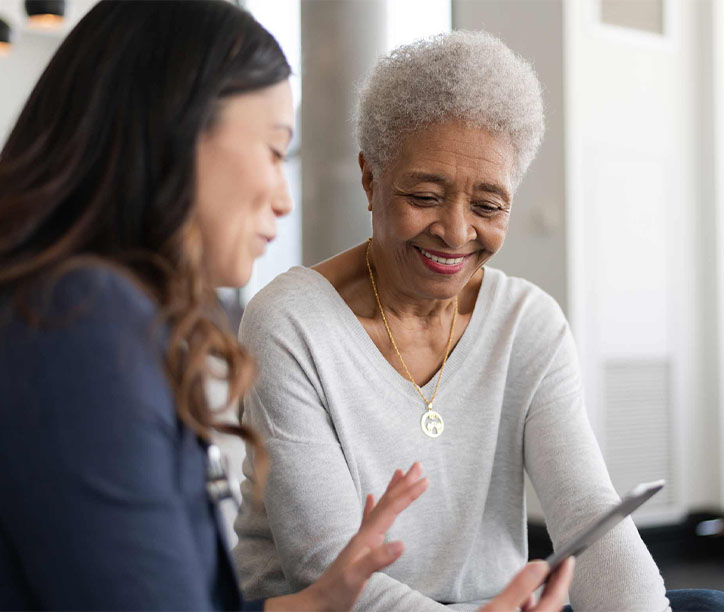 Take the first steps by visiting our cancer experts for testing, a second opinion or to learn about treatment options.
Clinical trials help researchers evaluate new therapies before making them available to the public. Mays Cancer Center is the only National Cancer Institute (NCI)-designated cancer center in South Texas, which may give you early access to clinical trials, if you are eligible.
Clinical trial opportunities
Our team includes cancer experts from different medical specialties who share a commitment to delivering precise, personalized care.
Search our provider directory