Why choose us for rectal cancer care?
Rectal cancer requires specialized care from multiple specialists, and you'll find it at Mays Cancer Center, home to UT Health San Antonio MD Anderson. Our team, which includes highly skilled colorectal surgeons and medical oncologists, uses the latest techniques for exceptional care close to home. These capabilities help you achieve the best possible results – even for rare cancers and growths in hard-to-reach areas.
Rectal cancer is one of many forms of gastrointestinal cancer we treat. Read more about our gastrointestinal cancer program.
What you need to know about rectal cancer
Your rectum is part of the large intestine. It stores solid waste (stool) between bowel movements.

Rectal cancer can be challenging to treat because the rectum is so close to other organs, such as the bladder.

This type of cancer is more likely than colon cancer to spread to other organs or return after treatment.

Mays Cancer Center has experience with difficult-to-treat rectal cancers, giving more patients hope for healing.
How to talk to your doctor about rectal cancer
A rectal cancer diagnosis causes some people to feel self-conscious. But don't let this stop you from pursuing treatments that can save your life. Talk to us about these feelings, and we can help you put them to rest.
We also have detailed conversations with you about which therapies and services are best for your needs. Asking questions helps you learn what to expect and get the most from your care. You might want to ask your doctor about:
Additional testing

you may need to confirm a rectal cancer diagnosis or guide care decisions

Cancer stage,

the size of the cancer

and whether it has spread, and what it means for your long-term health

Treatment options,

 

including any rectal cancer clinical trials you may be eligible for

Potential treatment side effects

and therapies to lessen their impact on your daily life

Support

to help you cope with the ways cancer may affect your mind, body and spirit
Bringing loved ones with you to appointments can lessen some of the stress you may be experiencing. They can assist you in making important decisions and help you remember care instructions.
Types
Our team treats a broad range of rectal cancers, including:
Adenocarcinoma

affects the cells lining the surface of the rectum. This form of rectal cancer is common.

Carcinoid tumors

are a type of neuroendocrine tumor (NET). They

can occur in many areas but often affect the lower intestines, including the rectum.

Gastrointestinal stromal tumors

form in cells lining the digestive tract. These tumors are a rare type of rectal cancer.
Hereditary rectal cancer

stems from abnormal gene changes (mutations) that are passed down in families.
Symptoms
Rectal cancer starts as a polyp, a small, noncancerous growth in the lining of the rectum, that often does not cause symptoms.
If the polyp continues to grow and becomes cancerous, you may experience:
Stomach pain and cramping

Changes in the appearance of your stool, including narrow stools

Rectal bleeding

Bloody stool or drops of blood in the toilet
Diagnosis
We take tissue samples and examine them under a microscope to check for signs of cancer. Doctors (pathologists) with years of rectal cancer experience assure an accurate diagnosis. Learn more about diagnosing cancer.
Some people with rectal cancer also have Lynch syndrome, meaning you test positive for genes that increase your risk of other cancers. We offer genetic testing to detect these genes. If you have them, we'll make personalized cancer prevention recommendations. 
Treatment
We offer the full range of rectal cancer therapies. Many patients start with chemotherapy and radiation to shrink the cancer. These treatments are sometimes given before surgery. Our team excels in delicate surgical procedures that remove cancer with less disruption to nearby organs. Learn more about cancer treatments.
Going through rectal cancer treatment can bring side effects that make it hard to go about your daily life. Our team is here for you with helpful services. We may recommend therapies to relieve discomfort and help navigate challenges related to your care. Read more about palliative and supportive care.
Research and clinical trials
Research and clinical trials Our clinical trials program is exploring new rectal cancer treatments. Research coordinators speak English and Spanish, making it easier for you to learn about your options. Get more information about cancer clinical trials and research.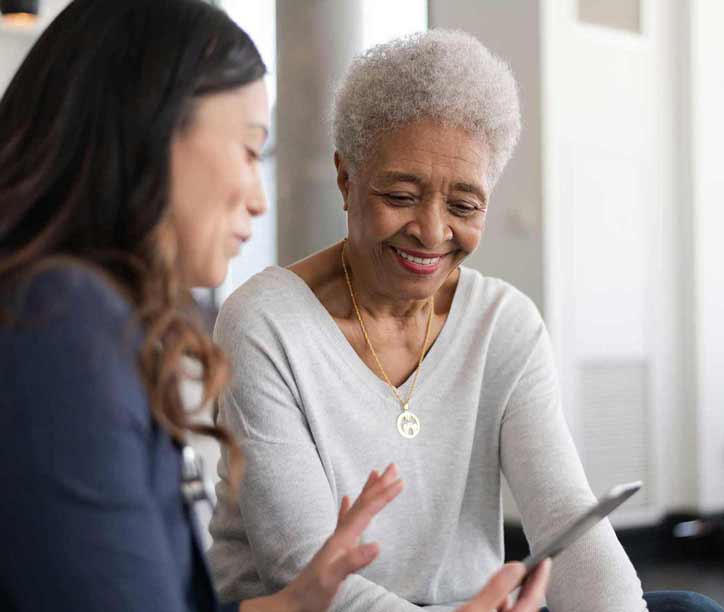 Take the first steps by visiting our cancer experts for testing, a second opinion or to learn about treatment options. 
Clinical trials help researchers evaluate new therapies before making them available to the public. Mays Cancer Center is the only National Cancer Institute (NCI)-designated cancer center in South Texas, which gives you early access to clinical trials.
We participate in prestigious clinical trial networks such as Southwest Oncology Group. We also partner with institutions such as Fred Hutchinson Cancer, Stanford Health Care, Yale New Haven Health and Cleveland Clinic.
View clinical trial opportunities
Our team includes cancer experts from different medical specialties who share a commitment to delivering precise, personalized care.
Search our provider directory