Why choose us for prostate cancer care?
Mays Cancer Center, home to UT Health San Antonio MD Anderson Cancer Center, offers a leading prostate cancer care program centered on men's needs.
Our nationally recognized cancer team treats prostate cancer using the latest science and promising cancer therapies. We use cutting-edge therapies and follow high standards. But every cancer, just like every person, is unique. We provide expert guidance while ensuring you're in control of your treatment decisions
What you need to know about prostate cancer
The prostate is a small gland located under the bladder. Part of the male reproductive system, it helps produce semen and protects sperm.
Prostate cancer is the most common cancer that affects men today. It is a kind of genitourinary (GU) cancer. See why so many men seek out our nationally renowned genitourinary cancer program for second opinions on prostate cancer care.
Knowing when or how to get screened for prostate cancer can be confusing. You can trust our experts to assess your prostate cancer risk using special tools developed right here in San Antonio. We'll help you decide the screening approach that fits your needs. Learn more about prostate screening and guidelines.
Not all prostate cancers pose the same threat to your health. We use new biomarkers to better predict how cancers will act. That means we can provide more options to men who have increased risk of prostate cancer.
You may wonder how treatment side effects will affect your life. Our team will talk you through all your options and find a treatment plan that feels right for you.
Other centers in South Texas regularly refer difficult cases to us for our uncommon expertise. Our surgeons perform intricate nerve-sparing surgery. This procedure effectively treats prostate cancer while minimizing side effects on urinary and sexual function.
How to talk to your doctor about prostate cancer
Hearing you have prostate cancer can be unsettling and confusing. At Mays Cancer Center, you have a team of leading experts by your side.
Your concerns and desires are at the center of the cancer treatment process. We explain everything you need to know about how prostate cancer and different treatments could affect your life, now and in the future.
We encourage you to bring every question and concern to our attention (even uncomfortable topics). Your quality of life matters to us.
You might want to ask your doctor about:
Further testing you may need to pinpoint your diagnosis or guide treatment recommendations
Cancer stage, including the size of a tumor and whether prostate cancer has spread (or could come back in the future)
Treatment options, including any clinical trials for which you may be eligible
Side effects of treatment and whether nerve-sparing surgery may help you preserve sexual function
Support to help you live life to the fullest after prostate cancer treatment
Types
Prostate cancers develop inside cells of the prostate gland. These cancers are usually called adenocarcinomas. They make up the vast majority of prostate cancers.
Not all prostate cancer acts the same way. Some cancers grow fast and spread to other organs quickly. Other cancers grow very slowly and may never pose a serious threat to your health.
Symptoms
Many men experience no prostate cancer symptoms, especially in early stages. You may have any combination of symptoms, including:
Pain or burning sensation when you urinate
Problems controlling (starting or stopping) urination
Weak urine flow
Blood (dark red or rust color) in your urine or semen
Lingering pain near your lower back, hips or thighs that doesn't go away
Trouble having or keeping an erection

These signs don't mean you have cancer. Your problems may be due to a common health issue called BPH (benign prostatic hypertrophy). The only way to get answers is to get checked out by a doctor. 
Diagnosis 
There are many ways to test for prostate cancer. Not all doctors agree on the approach to diagnosing prostate cancer, including what role prostate cancer screening should play in detecting early signs of cancer. Many men come to us for a second opinion after receiving an initial prostate cancer diagnosis elsewhere.
We offer a full spectrum of prostate cancer screening tools to help you protect your health long-term. Not sure how often you should get screened? We can assess your prostate cancer risk using a tool developed here in San Antonio. We'll help you decide the screening approach that is right for you. Learn more about prostate cancer screening.
Our doctors specialize in prostate cancer diagnosis and treatment. We will consider multiple factors and the latest science before recommending tests that fit your needs and circumstances. Learn more about cancer diagnosis.
We may use one or more tests to detect prostate cancer:
Prostate-specific antigen (PSA) test measures how much of a certain substance is in your blood. Elevated levels could indicate cancer or another health problem.
Digital rectal exam is a physical exam where a doctor assesses the prostate gland, inside the rectum, for potential signs of cancer.
Tissue sample (biopsy) of the prostate to confirm or rule out a cancer diagnosis. Our doctors perform specialized biopsies using advanced imaging (ultrasound and MRI technology) to better target the tissue in question.
Prostate MRI imaging may be needed in certain circumstances. Not all MRI scans are the same. We have worked diligently with imaging leaders to provide optimal scans. We also are researching improved imaging techniques for cancer detection.
Treatment
Prostate cancer treatment requires specialized expertise and precision. Our team includes surgeons with extensive training in how to treat the most difficult cases of prostate cancer. 
We base our recommendations on the latest science, making sure your needs and preferences are at the center of every discussion. Read more about additional cancer treatments.
The most appropriate treatment approach for you will depend on many factors, including:
Test results, including the cancer's genetic and molecular makeup and tumor size
Whether cancer has spread
Your age and overall health
Treatment side effects

Your doctor may recommend:
Active surveillance: Certain prostate cancers may require no treatment. We monitor you closely to see if the cancer grows or acts in a way that warrants starting treatment at a later time.
Prostatectomy: Surgeons remove the prostate gland and possibly other structures, using open or robotic techniques. Specialized nerve-sparing techniques help many men retain their sexual function after surgery.
Radiation therapy: High-energy radiation beams (sometimes implanted inside the body as capsules) destroy cancer cells while sparing healthy tissue. 
Hormone therapy: Hormone therapy for prostate cancer stops the body from making testosterone, which causes cancer cells to stop or slow their growth. 
Chemotherapy and other medicines: New medicines and targeted immunotherapies kill cancer in innovative ways.
Research and Clinical Trials
As an academic medical center, we provide access to leading therapies that offer you the future of prostate cancer treatment, today. Clinical trials help researchers evaluate new therapies before they become available to the public. Your doctor may recommend you participate in one or multiple clinical trials to increase treatment effectiveness. Learn more about cancer clinical trials and research.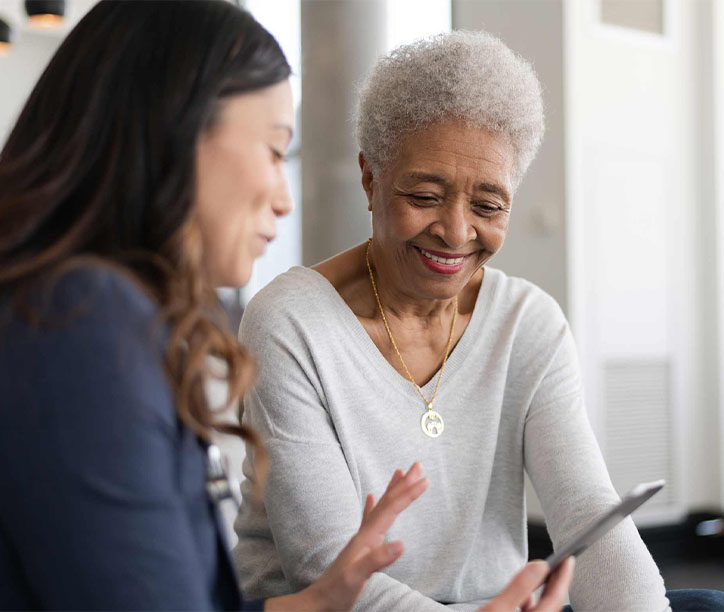 Take the first steps by visiting our cancer experts for testing, a second opinion or to learn about treatment options.
Clinical trials help researchers evaluate new therapies before they become available to the public. Mays Cancer Center is the only National Cancer Institute (NCI)-designated cancer center in Central and South Texas, which gives eligible patients early access to clinical trials — some only available here in San Antonio.
View clinical trial opportunities
Get personalized care right from the start. Meet with our experts to confirm a diagnosis and review treatment options.
Make an appointment