Why choose us for penile cancer care?
At Mays Cancer Center, home to UT Health San Antonio MD Anderson Cancer Center, you receive care from a team of experts who excel in treating genitourinary (GU) cancers, such as penile cancer.
Our GU specialists include surgeons who have been nationally recognized for their skill in treating advanced GU cancers of the urinary and reproductive systems. In some cases, we work closely with dermatologists to remove cancer precisely.
Read about other GU cancers we treat in our genitourinary cancer program.
What you need to know about penile cancer
Penile cancer is a rare cancer that most commonly develops from skin cells along the head (glans) of the penis. It usually affects men later in life, between the ages of 50 and 70.

Having an uncircumcised penis (with the skin surrounding the penis head intact) increases your chances of developing penile cancer. Human papillomavirus (HPV) infection and smoking also increase your risk.

Our team-based approach to cancer care ensures you receive expert guidance from doctors with different areas of cancer expertise. Depending on the specifics of your case, your care team may include cancer surgeons, medical oncologists or radiation oncologists — each with a high level of experience treating penile and other GU cancers. These doctors will meet regularly to discuss your care and work together to determine the right treatment plan for you.

Our surgeons' skills in performing intricate penile cancer surgeries help us remove cancer with less impact to your body's urinary and sexual functions.
How to talk to your doctor about penile cancer
It's natural to feel uneasy about bringing up uncomfortable symptoms with your doctor. You should know that many common signs of penile cancer are similar to routine health problems, like a bacterial or fungal infection. These common issues can be easily treated.
If you do have penile cancer, you can trust our specialists to explain all your options and use innovative therapies in your care.
Many patients choose to bring a family member, partner or close friend to doctor appointments. Of course, you are also welcome to come to appointments alone, should that help you feel more comfortable. Our team is here to support you.
You might want to ask your doctor about:
Further testing

you may need to pinpoint your diagnosis or guide treatment recommendations

Cancer stage,

including the size of a penile tumor and cancer

type (including what that means for the treatments that are most likely to be effective for you)

Treatment options,

 

including any clinical trials for which you may be eligible

Side effects of treatment,

including how treatment may affect fertility

and whether certain options may help you preserve natural function

Support

to help you enjoy your life after cancer treatment
Types
Cancer can develop from different types of cells in the skin or other tissue of the penis. Our doctors treat all types of penile cancer, including:
Squamous cell carcinoma, a type of skin cancer that often grows slowly, makes up most cases of penile cancer.
Melanoma is a less common form of skin cancer that is more likely to spread.
Sarcoma is a rare type of penile cancer that develops from connective tissue (like muscle or fat cells) or blood vessels.
 
Symptoms
Penile cancer symptoms include:
Skin changes

to the appearance (skin color) or feeling (skin thickness) anywhere on the penis

One or more lumps,

or growths, that may or may not hurt

Open sores

(ulcers) that won't heal

Fluid or bleeding

from under the foreskin

Swelling

at the end of the penis or in the groin area (lymph nodes)
Diagnosis 
Many signs of penile cancer affect the skin. A thorough physical exam often helps doctors evaluate penile cancer symptoms. If further testing is necessary, our team of experts will recommend tests that fit your circumstances.
Doctors usually perform a biopsy to confirm penile cancer. During this procedure, doctors remove tissue from the affected area (sometimes removing tissue from nearby lymph nodes in the groin area as well). Pathologists then look at the tissue sample under a microscope to confirm or rule out cancer cells.
Our pathologists perform specialized genetic and molecular tests to learn more about the cancer you have. This testing helps guide us to the treatments that are more likely to be effective for you.
Read more about cancer diagnosis.
Treatment
Penile cancer treatment may include any combination of surgery, chemotherapy and radiation therapy. Our team will consider a cancer's location, cancer analysis testing and your overall health before recommending a treatment plan personalized to you.
We use innovative treatment advances in your care. For early penile cancers, your doctor may recommend a topical chemotherapy medication (a cream you apply) to destroy cancer cells. In some cases, doctors may recommend radiation therapy, which can destroy penile cancer cells precisely while protecting surrounding healthy tissue.
If your doctor recommends surgery, you can trust the experience and expertise of our specialists. Depending on the type of penile cancer you have, your care team may include cancer doctors who specialize in urology (cancers of the reproductive system) as well as dermatology (skin cancer experts).
Our specialists work together to treat common and complex cancer cases using the latest therapies that are right for you. Our surgeons' skills enable them to perform intricate procedures, such as penile cancer surgery, with a high degree of precision.
Read more about additional cancer treatments.
Research
Because we are a large academic medical center, our physician-scientists participate in many local and national clinical trials. This research focus means you may have access to some of today's most innovative cancer treatments. Our team will sit down with you to explain how a clinical trial could enhance your treatment plan, if you are eligible. Learn more about cancer clinical trials and research.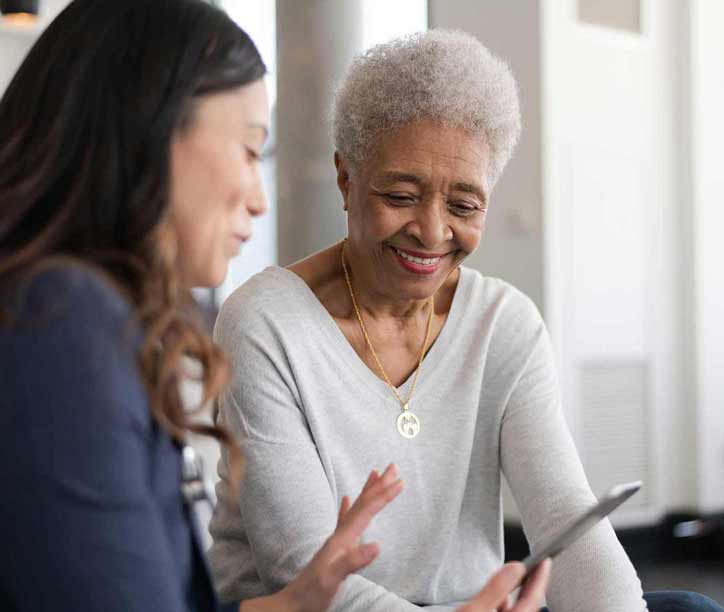 Take the first steps by visiting our cancer experts for testing, a second opinion or to learn about treatment options.
Clinical trials help researchers evaluate new therapies before they become available to the public. Mays Cancer Center is the only National Cancer Institute (NCI)-designated cancer center in Central and South Texas. This focus gives you early access to clinical trials, if you are eligible. Some trials are only available here in San Antonio.
View clinical trial opportunities
Our team includes cancer experts from different medical specialties who share a commitment to delivering precise, personalized care.
Search our provider directory