Why choose us for paranasal sinus cancer care?
Paranasal sinus cancer occurs in the nose and nearby structures. A tumor in this area can press on sensitive organs, such as your eyes or skull base. You are in expert hands at Mays Cancer Center, home to UT Health San Antonio MD Anderson Cancer Center.
We are among the few cancer centers in South Texas using a team approach to care. Our team includes highly skilled head and neck cancer doctors who work closely with other specialists, including eye surgeons. We offer advanced testing and leading therapies that help us deliver precise care.
Paranasal sinus cancer is one of many forms of head and neck cancer we specialize in. Explore our head and neck cancer program.
What you need to know about paranasal sinus cancer
The paranasal sinus area includes structures that help filter the air you breathe and moisten it before it enters your lungs.

People with ongoing exposure to certain types of dust and harsh chemicals face a higher risk of paranasal sinus cancer.

You also face a higher risk if you use tobacco. Quitting can lower your chances of a cancer diagnosis. Read more about tobacco use and cancer.

Our nurse navigator coordinates the many tests and treatments you may need so you can focus on your health.
How to talk to your doctor about paranasal sinus cancer
Finding out you have cancer is never easy. We help you move forward by taking the time to answer your questions and explaining what to expect.
You might want to ask your doctor about:
Additional testing

you may need and how it helps us plan your care

Diagnosis,

including the tumor's location and whether it affects nearby structures or organs

Treatments,

which may include one or more types of surgery

Support

to help you cope with challenges, which may include anxiety, that come with a cancer diagnosis
We include your input in important care decisions. We encourage you to bring a trusted friend or loved one with you to appointments to help with these conversations
Types
Paranasal cancer typically starts at the surface layers of tissue. As it progresses, cancer may extend to deeper tissue layers or nearby organs.
Paranasal sinus cancer affects the:
Nasal cavity,

including the openings of your nose (nostrils), through which you breathe

Sinuses,

air-filled sacs near your nose that moisten the air you breathe in
Symptoms
Symptoms of paranasal sinus cancer depend on a tumor's size and location. Signs may include:
Changes to your sense of smell

Difficulty breathing through your nose

Frequent nosebleeds or abnormal discharge

Swelling or pain in your face

Vision problems, including double vision, and watery eyes
Diagnosis
Tests we use to diagnose paranasal sinus cancer include:
Physical examination,

where our head and neck cancer experts evaluate symptoms and check for abnormal growths in nearby areas such as the cheeks and gums

Imaging studies,

such as computed tomography (CT) scans, to help us pinpoint the location of the cancer

Nasal endoscopy

to examine the surfaces of the sinuses and inside the nasal area using a thin tube we guide through your nasal passages

Biopsy,

a sample of suspicious tissue we take during a nasal endoscopy procedure
Doctors specializing in diagnosing medical problems (pathologists) examine biopsy tissue under a microscope. Our pathologists have years of experience with head and neck cancers, leading to a more accurate diagnosis.
Our head and neck cancer team holds weekly tumor board meetings. We review test findings together, making it easier to coordinate therapies and tailor them to your needs.
Treatment
Paranasal sinus treatment usually includes surgery. For complex cancers, treatment may include care from multiple experts, including:
Head and neck surgeons

use leading techniques to remove cancer while preserving as much healthy paranasal sinus tissue as possible.

Ocular surgeons

treat cancers that become large enough to affect eye tissue. Read more about

eye cancer

.

Reconstructive surgeons

r

Reconstructive surgeons

restore a natural-looking appearance and maximize functioning if surgery disrupts healthy tissue. Explore

head and neck reconstructive surgery

.
Your personalized care plan may include other therapies, such as:
Chemotherapy:

You receive cancer medications that limit cancer cells' ability to reproduce. Find out more about

chemotherapy

.

Radiation therapy:

We offer a range of options that use precise, focused energy to disrupt cancer cell growth. Get more information about

radiation therapy

.

Supportive therapies:

If pain is getting in the way of eating, dietitians help you get the nutrition you need with a special diet. Explore

patient and family services during cancer care

.
Research and clinical trials
We participate in national clinical trial networks that bring the next generation of cancer therapies close to home. Our head and neck cancer research interests include robotic surgery, outcomes and new chemotherapy drugs.
Read more about cancer clinical trials and research.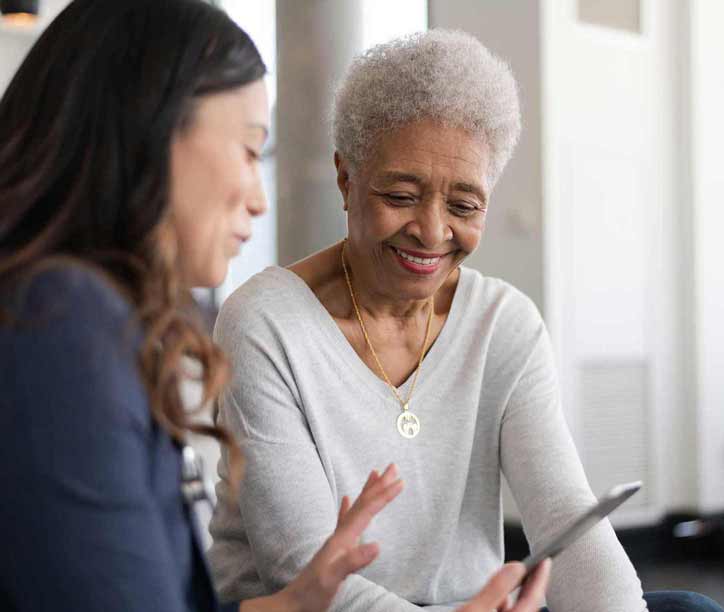 Take the first step by visiting our cancer experts for testing, a second opinion or to learn about treatment options.
Clinical trials help researchers evaluate new therapies before making them available to the public. Mays Cancer Center is the only National Cancer Institute (NCI)-designated cancer center in Central and South Texas, which gives eligible patients early access to clinical trials.
View clinical trial opportunities
Our team includes cancer experts from different medical specialties who share a commitment to delivering precise, personalized care.
Search our provider directory