Why choose us for non-Hodgkin lymphoma care?
Non-Hodgkin lymphoma is one of the most common types of cancer. It can affect people of all ages, though it usually develops after midlife. At Mays Cancer Center, home to UT Health San Antonio MD Anderson Cancer Center, our experts are committed to treating this cancer in the short and long term.
Our specialists perform genetic and molecular testing in addition to comprehensive pathology testing. Using these diagnostic test results, we can match you with treatments that are personalized to the specific type of cancer you have.
Find out more about our blood cancer (hematological malignancies) program.
What you need to know about non-Hodgkin lymphoma
This type of cancer develops from two kinds of white blood cells, called B cells and T cells. Doctors aren't sure what causes this cancer to start growing. People with compromised immune systems may have a greater chance of developing non-Hodgkin lymphoma.
There are many types of non-Hodgkin lymphoma. Some forms grow slowly and may pose a lesser threat to your long-term health. Other forms are more aggressive. They may be more likely to come back (recur) in the months or years after successful treatment. We follow you closely after your treatment ends to monitor your health long-term.
Our doctors perform specialized diagnostic tests to learn as much as possible about a cancer's genetic and molecular makeup. This information helps tell us which treatments are most likely to be effective for the type of cancer you have.
Our team includes cancer doctors and scientists with different backgrounds, each with additional training in blood cancers like non-Hodgkin lymphoma. We meet regularly to discuss your care and personalize treatment to your needs.
How to talk to your doctor about non-Hodgkin lymphoma
Everyone reacts differently to a cancer diagnosis. No matter how you're feeling or what questions you have, we're here to help. Your care team is here to answer your questions and concerns at any time. No subject is too small to bring up.
You might want to ask your doctor about:
Additional testing, if any, you may need to inform your diagnosis or treatment plan
Cancer details, including the type of non-Hodgkin lymphoma, whether it has spread and the odds that the cancer could come back after successful treatment
Treatment options, including clinical trials you may be eligible for at any phase of your treatment
Potential treatment side effects and patient and family services that may reduce the impact on your daily life.
We welcome family members and loved ones to participate in your care. They can help you remember important details discussed during appointments and make cancer treatment easier on you.
Types
There are many types of non-Hodgkin lymphoma. Lymphomas develop from different types of white blood cells in the body's immune system. Non-Hodgkin lymphoma more commonly develops from B cells, although sometimes it starts from T cells.
Diffuse large B-cell lymphoma is one of the most common types of non-Hodgkin lymphoma. It mostly affects people over 60. The cancer may spread quickly but often responds well to treatment.
Implant-associated anaplastic large cell lymphoma is a rare condition that occurs in women who have textured breast implants. Treatment often includes surgery to remove the implants. 
 
Each type of lymphoma acts and affects you differently. Our team specializes in treating the many forms of this disease, including common and rare subtypes:
Follicular lymphoma
Marginal zone lymphoma
Mantle cell lymphoma
Burkitt lymphoma
Lymphoblastic lymphoma
Symptoms
Non-Hodgkin lymphoma symptoms vary depending on where and how cancer develops in the body. Early stages of the disease may cause no symptoms.
People with non-Hodgkin lymphoma may experience:
Swollen or painful lymph nodes (in your neck, armpits or groin area)
Fever
Night sweats
Unexplained weight loss
Extreme fatigue
Diagnosis
Doctors often diagnose non-Hodgkin lymphoma by performing a biopsy. During this procedure, a doctor removes a sample of lymph node or bone marrow tissue. Specialists then examine the tissue under a microscope, looking for unique patterns of cancer cells.
Your doctor may also recommend or perform other tests, which helps our team learn more about a type of cancer and how far it may have spread. Tests may include:
Blood tests
Imaging tests, such as CT or PET scans
Lumbar puncture, in rare cases, to analyze a sample of spinal fluid by inserting a needle into the lower back
Our team includes hemato-pathologists, doctors who perform special tests that tell us about a cancer's genetic and molecular makeup. These details lead to a precise diagnosis and a treatment plan that's highly personalized to your needs. Learn more about cancer diagnosis. 
Treatment
Non-Hodgkin lymphoma treatment often includes cancer-destroying drugs (such as chemotherapy or targeted therapy) or radiation therapy. Your doctor may recommend one or both treatments.
A multidisciplinary team of doctors who specialize in blood cancers meet to discuss every patient's care. They review several factors, such as a cancer's makeup and your overall health. We discuss all your options with you and decide on the best course of treatment for you. Learn more about cancer treatments.
A stem cell transplant may help treat certain types of non-Hodgkin lymphoma, especially cancers that don't respond to treatment or come back (recur). If your doctor recommends a stem cell transplant, your cancer treatment team will work in partnership with teams at MD Anderson Cancer Center in Houston or Methodist Hospital in San Antonio. We monitor your health and provide seamless care before and after the transplant.
Sometimes, non-Hodgkin lymphoma comes back after successful treatment. In the months and years after your treatment, regular follow-up visits and testing help us track your health. Our goal is to catch any possible recurrence in the earliest stages, when it's easier to treat.
Research and clinical trials
Clinical trials offer eligible patients new and advanced cancer treatments close to home. Some of these innovations are led by San Antonio's own scientists within our institution.
Your care team will discuss how available clinical trials may benefit you during any or every phase of your treatment.
Read more about cancer research and clinical trials.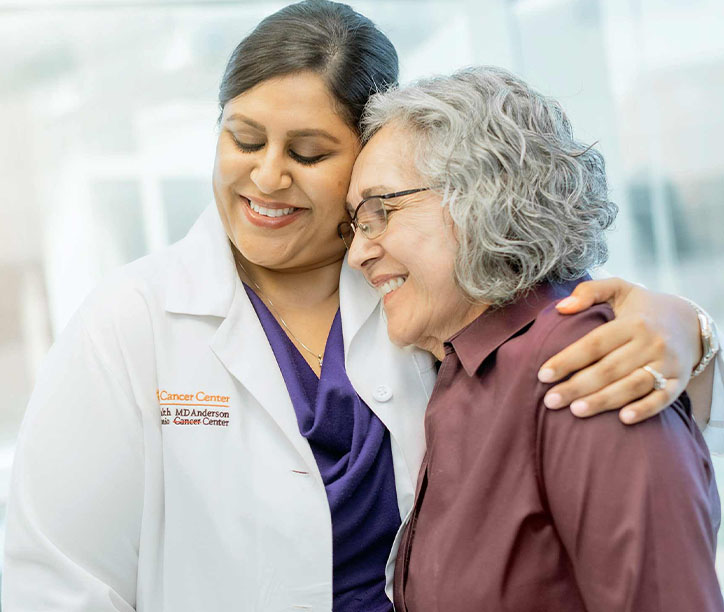 Our team includes cancer experts from different medical specialties who share a commitment to delivering precise, personalized care.
Clinical trials help researchers explore new ways to treat cancer before making them available to the public. Mays Cancer Center, home to UT Health San Antonio MD Anderson Cancer Center, is the only National Cancer Institute (NCI)-designated cancer center in Central and South Texas, offering eligible patients access to all types of nationwide clinical trials. 
Our team of more than 200 scientists and clinicians also leads promising hematology and oncology studies, some available exclusively at this center, within our institution.
View clinical trial opportunities
Take the first step by visiting our cancer experts for testing, a second opinion or to learn about treatment options.
Make an appointment