Why choose us for Hodgkin lymphoma care?
At Mays Cancer Center, home to UT Health San Antonio MD Anderson Cancer Center, our care team understands how to treat the nuances of Hodgkin lymphoma cancer.
On-site molecular and genetic testing leads to a precise diagnosis faster. We match you with leading treatments, which may include novel therapies developed by our scientists.
Taking a team approach, our hematology and oncology specialists help you manage the disease, however it affects your health, today and in the years to come.
Find out more about our blood cancer (hematological malignancies) program.
What you need to know about

Hodgkin lymphoma
Hodgkin lymphoma is cancer that starts in the body's lymph nodes (glands that help your body fight infection). It most commonly affects young adults and people over 65. Our doctors have extra expertise in caring for the unique needs of these age groups.

Not all Hodgkin lymphoma cancer cells act the same way. We offer leading cancer care for all forms of Hodgkin lymphoma, in the short and long term.

Certain forms of this cancer may come back at some point after successful treatment. To monitor your health long-term, we follow you closely in the months and years after your treatment ends.

Here, cancer doctors with different backgrounds work alongside scientists. This level of coordination leads to precise, fast diagnosis and a treatment plan personalized to specific type of cancer you have.  
How to talk to your doctor about

Hodgkin lymphoma
Everyone reacts differently to a cancer diagnosis. We're here to answer your questions and help you cope. We encourage you to voice questions and concerns at any point in your care journey. No topic is off limits.
You might want to ask your doctor about:
Additional testing,

 

if any, you may need to inform your diagnosis or treatment plan

Cancer details,

including the type of Hodgkin lymphoma

, whether it has spread and the chances of cancer coming back after treatment ends

Treatment options,

 

including local or nationwide clinical trials that may benefit you now or later in the treatment process

Potential treatment side effects

and

patient and family services

that can help make cancer treatment easier
You're welcome to bring friends or loved ones along to appointments or treatments, if you wish. They can help you remember important details the doctor tells you and provide comfort throughout cancer treatment.
Types
We treat all forms of Hodgkin lymphoma cancer, including:
Classical Hodgkin lymphoma

is the most common type, known for what doctors call "Reed-Sternberg cells."

Nodular Hodgkin lymphoma

is rarer. Its abnormal cells look like popcorn under a microscope.
Symptoms
People with Hodgkin lymphoma commonly experience swollen lymph nodes. This usually feels like a lump in your neck, armpit or groin area. An enlarged spleen (which may cause abdominal pain) is also common. But you may not notice any symptoms at all.

Other Hodgkin lymphoma symptoms include:
Fever

Heavy sweating while you sleep

Unexplained weight loss

Extreme tiredness

Itchy skin
Diagnosis
If your doctor suspects you may have cancer, they may order a lymph node biopsy. Doctors may remove a sample of tissue or the entire lymph node. Pathologists then look for Hodgkin lymphoma cells under a microscope. Learn more about diagnosing cancer.
Other tests tell doctors how far or whether cancer has spread to other parts of your body. Tests can also gauge how well a treatment is working. Your doctor may recommend:
Blood tests

Imaging tests

, such as CT or PET scans

Bone marrow biopsy,

taking a sample of the spongy tissue inside your bones, where blood cells form
Treatment
Our pathologists use special molecular and genetic tests to learn more about the cancer you have. These details help us match you with the most appropriate course of treatment. Find out more about cancer treatments.
Hodgkin lymphoma cancer treatment often includes:
Chemotherapy or other medical treatments:

Medicines (such as chemotherapy and targeted therapies) work in different ways to destroy cancer cells or stop them from growing.

Radiation therapy:

We use sophisticated technology to direct high-energy beams at cancer cells, destroying cancer while sparing healthy tissue.
A stem cell transplant can help doctors treat the most difficult cases of Hodgkin lymphoma. Your doctor may recommend this procedure if other treatments aren't effective or if cancer comes back after successful treatment. Our cancer treatment team works closely with the stem cell transplant team to provide seamless care before and after transplant surgery.
In some people, Hodgkin lymphoma comes back in the weeks or years after successful treatment. Regular follow-up visits and testing help us monitor your health long-term. With this approach, we can detect a cancer recurrence in the earliest stages.
Research and clinical trials
Clinical trials offer eligible patients some of today's promising cancer treatments close to home. Our robust clinical trial program means your treatment could include novel therapies that aren't widely available, on top of the treatments we normally recommend.
Some of these advances are developed in our center's own laboratories, offering eligible patients exclusive access to innovative Hodgkin lymphoma care. Your doctor will discuss how clinical trials may benefit you throughout your treatment.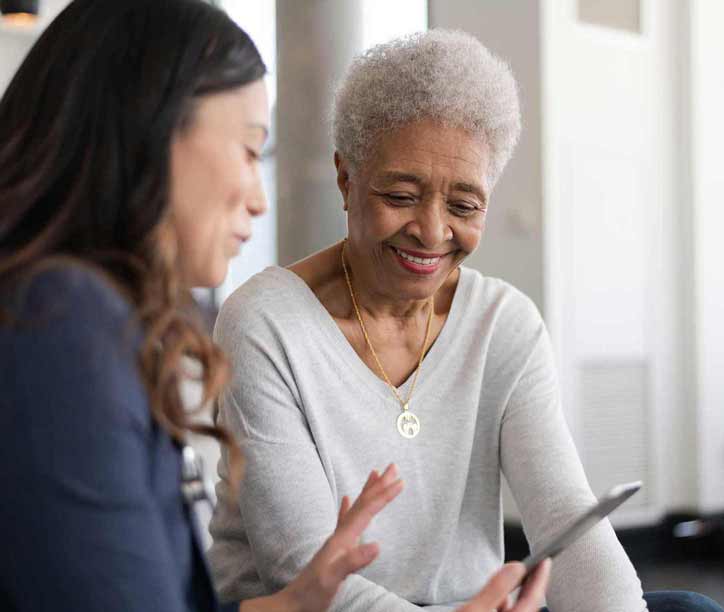 Take the first step by visiting our cancer experts for testing, a second opinion or to learn about treatment options.
As the only National Cancer Institute (NCI)-designated cancer center in Central and South Texas, we offer eligible patients access to some of the nation's most promising clinical trials. Scientists in our laboratories also explore new ways to treat Hodgkin lymphoma. Your doctor will explain how clinical trial treatments may fit into any phase of your care.
Find clinical trial opportunities for Hodgkin lymphoma