Doctors and genetic experts at Mays Cancer Center, home to UT Health San Antonio MD Anderson, are, in some cases, stopping cancer before it starts. We take extra steps to identify people at risk for hereditary forms of cancer. We personalize your care to lower the chances of receiving a cancer diagnosis.
Hereditary cancer syndromes, which include Lynch syndrome and hereditary breast and ovarian cancer syndrome, are a group of conditions that raise your risk for certain cancers. These syndromes are often passed down in families. But they don't need to get in the way of living a full, active life. Our cancer genetic testing and preventive services increase your chances of remaining cancer-free. If you start showing signs of cancer, we often catch it in earlier stages, when it's easier to treat.
What you need to know
Cancer occurs when gene changes (mutations) cause abnormal cells to grow and multiply. A small number of cancers stem from mutations passed down in families.

Having a hereditary cancer syndrome means you carry a mutation that is more likely to cause cancer. It is not the same as having cancer. And it does not automatically mean you will experience cancer in your lifetime.

Many hereditary cancer syndromes, including Lynch syndrome, may lead to colon cancer or hereditary breast and ovarian cancer.

Lynch syndrome and hereditary breast and ovarian cancer syndrome lead to a higher risk for more than one type of cancer.
How to talk to your doctor about hereditary cancer syndromes
Learning that you have a hereditary cancer syndrome can be overwhelming. We're here to help. We encourage you to voice questions and concerns so know what to expect. No subject is too small to discuss.
Common topics include:
Additional testing, if any, that will provide more information about your cancer risk or help you avoid a diagnosis
Family members with no cancer history and whether they may be at risk
Treatment options that may prevent a cancer diagnosis
Support to help you cope with the news of being at higher risk of cancer
You are welcome to bring a friend or loved one with you to appointments. They can help you remember important details and assist you in making care decisions.
Understanding hereditary cancer syndromes
One sign that you may have a hereditary cancer syndrome is a family history of certain cancers, including pancreatic cancer. Comprehensive genetic testing and counseling at Mays Cancer Center helps preserve your well-being.
If you test positive, you are in caring and capable hands. Our experts deliver screenings and preventive services that help you stay as healthy as possible. Find out more about cancer genetics and high-risk screening clinic.
Hereditary cancer syndromes do not have specific treatments. But there are many steps you and your care team can take to lower your cancer risk. We offer the latest screening tests. We'll also suggest other care that may include preventive treatments, like surgery. Find out more about cancer prevention and screenings.
Hereditary cancer syndromes
Our expertise spans a broad range of hereditary cancer syndromes, including:
Cowden syndrome
This rare condition raises a person's risk of noncancerous tumors. The syndrome also increases the chances of thyroid, breast or uterine cancer. A person with Cowden syndrome may have additional health and developmental problems. These problems may include learning disabilities, autism and abnormal skin growths.
Familial adenomatous polyposis (FAP)
FAP causes precancerous growths (polyps) to form in the lower gastrointestinal tract, especially the colon and rectum. It's not uncommon for people with FAP to develop hundreds of polyps in these organs. If left untreated, these polyps will develop into cancer.
Hereditary breast and ovarian cancer (HBOC) syndrome
HBOC increases the risk of breast, ovarian and other cancers. Women with HBOC face a 1 in 2 chance of experiencing breast cancer in their lifetime. These cancers stem from abnormal changes (mutations) in the BRCA1 and BRCA2 genes.
Li-Fraumeni syndrome
This rare syndrome increases the risk of breast cancer, bone cancer, brain tumors and soft tissue tumors (sarcomas). Cancer in people with Li-Fraumeni syndrome often occurs at a younger age, even in childhood. And you may experience multiple types of cancer in your lifetime.
Lynch syndrome
The most common cause of hereditary colon cancer is Lynch syndrome. The condition, also known as hereditary nonpolyposis colorectal cancer, raises a person's risk of colon, uterine, stomach and liver cancer. Lynch syndrome may also cause cancer at a younger age (before 50 years old).
Multiple endocrine neoplasia (MEN) syndromes
These conditions raise a person's risk for cancerous and noncancerous endocrine gland tumors. Your endocrine glands produce hormones, chemical messengers that control certain body functions. Tumors may cause your body to produce high levels of hormones or glands to become larger than normal.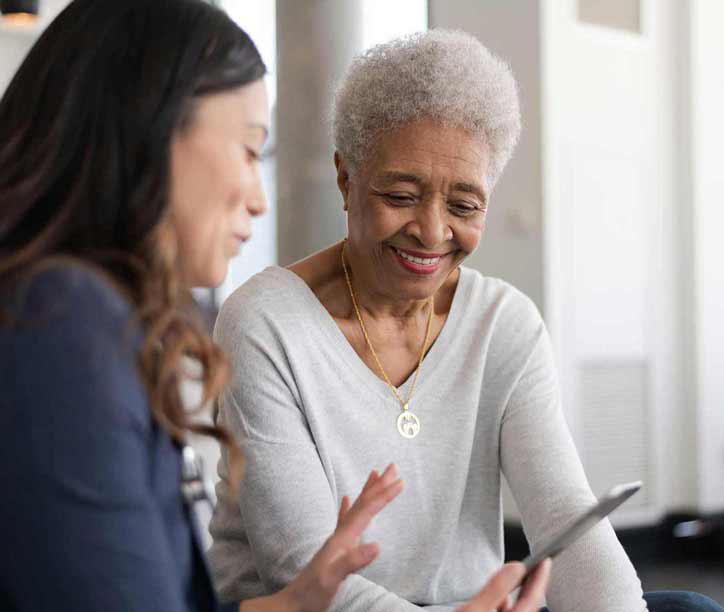 Take the first steps by visiting our cancer experts for testing, a second opinion or to learn about treatment options.