At Mays Cancer Center, home to UT Health San Antonio MD Anderson, we offer eligible patients enhanced treatment options through a wide selection of clinical trials.
Our respected research program brings some of today's latest cancer breakthroughs to our Central and South Texas communities. Our physician-scientists have brought more than 20 new medications to the world of cancer treatment. Today, we offer national and local clinical trials that provide new hope and enhance your care in multiple ways throughout your care.
Why choose us for clinical trials?
Mays Cancer Center offers a very active clinical trials program that offers eligible patients additional treatment options. Highlights of our program include: 
Full spectrum of clinical trial options: Our researchers and doctors conduct and take part in a wide range of treatment trials. They explore new cancer drugs, radiation oncology therapies and cancer surgery techniques. 
Specialized focus: Nine dedicated research teams focus on care improvements in specific areas, such as cancers affecting women and rare cancers. Each team consists of doctors, scientists and other team members who seek to uncover new ways to prevent, detect and treat cancer.
Unique resource in the region: Our researchers lead 75% of the studies we participate in, offering an expertise and breadth of research studies that is uncommon in South Texas. We also participate in research focused on improving cancer screening, prevention, support services and survivorship. Find out more about our cancer research programs.
Early drug development: More than 20 cancer drugs used by doctors around the world were first developed inside our Institute for Drug Development. We are the only center in the region offering access to therapies in the earliest stages of development, including phase 1 trials of brand-new drugs.
Support: If you decide to participate in a clinical trial for which you are eligible, we are committed to your safety and well-being. Our research coordinators provide personalized guidance and support, helping you receive treatments at the right time and checking in on you between appointments.
Leading cancer treatment in San Antonio
Mays Cancer Center is the only National Cancer Institute (NCI)-designated cancer center in Central and South Texas. This recognition represents our commitment to safe, appropriate care for clinical trial participants. 
We participate in national and local clinical trials that offer eligible patients the chance to receive therapies before they are widely available. In addition to exploring new cancer treatments, our well-known research program also participates in clinical trials that aim to advance other aspects of cancer care, including prevention and screening.
For example, a clinical trial may explore a new immunotherapy drug or a new surgical technique that seeks to treat cancer more effectively. Other research offers new hope for cancers that were once thought incurable. 
Our physician-scientists also pursue other clinical studies looking at how to prevent cancer. Learn more about our cancer clinical trials and research.
What you need to know about clinical trial treatments
Our treatment options frequently include clinical trials that have the potential to offer eligible patients access to new therapies. Your care team will discuss how available clinical trials may enhance your treatment. 
Deciding whether to participate in a clinical trial is completely up to you. It is one part of the process of developing a personalized treatment plan together.  
If you join a clinical trial, you can choose to leave the trial at any time. Clinical trials have many unknowns. Our clinical trials team will talk to you about the possible risks and benefits involved. Learn more about how to participate in clinical trials by reading about cancer clinical trials.
How to talk to your doctor about clinical trials
Cancer is a complex disease. We want you to feel empowered to be an active voice in treatment planning. Our doctors recommend therapies that are right for you. We take the time to discuss all your options with you. Together, we'll decide on the best approach for your needs.
If you are diagnosed with cancer, a member of your care team will sit down with you to explain what's ahead. We take the time to help you understand what a specific condition means for your health — and all your treatment options. 
We participate in clinical trials that explore the effectiveness of one or multiple treatments, including new:
We encourage you to bring a family member or close friend to your appointments. Having a loved one with you can help you remember key details or offer insight into care decisions.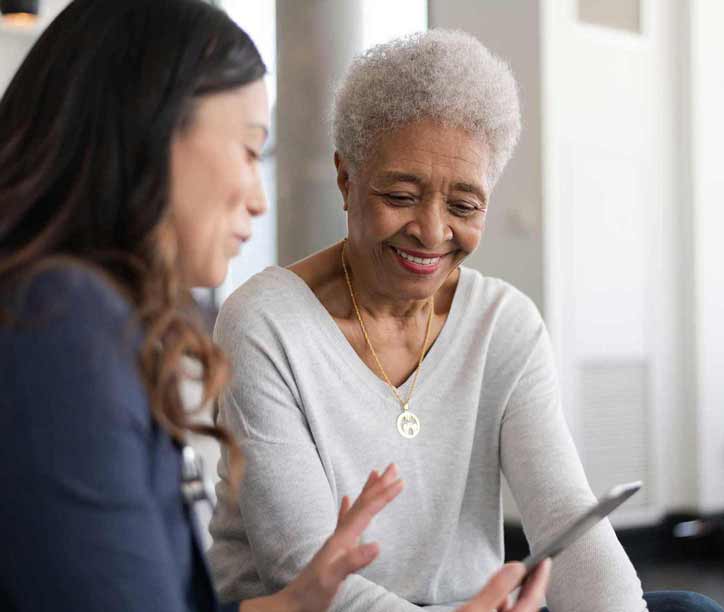 Take the first step by visiting our cancer experts for testing, a second opinion or to learn about treatment options.