Why choose us for chronic lymphocytic leukemia (CLL) care?
Chronic lymphocytic leukemia is the most common form of leukemia in adults. It starts in the bone marrow, where it affects white blood cells called lymphocytes. At Mays Cancer Center, home to UT Health San Antonio MD Anderson Cancer Center, you are in expert hands for CLL treatment.
Our board-certified blood cancer doctors work with other experts to deliver an accurate diagnosis. Our high care standards include leading treatments and careful attention to your unique needs. We meet regularly in meetings called tumor boards to coordinate your care for your situation.
CLL is one of the many blood cancers we treat. Learn more about our hematology oncology program.
What you need to know about chronic lymphocytic leukemia
Leukemia is a cancer affecting the bone marrow, where blood cells develop. There are four main types, including chronic lymphocytic leukemia.

Chronic lymphocytic leukemia occurs in white blood cells. These cells are part of your immune system, which helps your body recognize and fight infections.

CLL typically occurs in older adults. Our team includes blood cancer doctors knowledgeable in care practices that help older patients have a safe, comfortable experience.
How to talk to your doctor about chronic lymphocytic leukemia
A CLL diagnosis may come as a surprise, but you don't have to face it alone. Our team takes time to answer your questions and explain how we'll help you feel better.
You might want to ask your doctor about:
Additional testing

 

that may be necessary to confirm a diagnosis or plan treatments

Cancer stage,

which describes how advanced the CLL is

and if it is likely to spread

Treatment options,

 

which may include clinical trials, if you are eligible

Potential treatment side effects

and therapies to help you stay comfortable

Support

to help you cope with challenges CLL may bring to your daily life
We listen carefully as you describe your preferences. Some patients take comfort in the help they receive from loved ones. Your family members or trusted friends are welcome to come to appointments so we can make important care decisions together.
Types
CLL may affect two different types of immune system cells:
B-cell CLL:

Affects cells that produce proteins (antibodies) that help your body recognize disease

T-cell CLL:

Involves cells that trigger other parts of the immune system and clear out infection
Symptoms
As the CLL progresses, you are more likely to feel sick and take longer to recover.
You may experience:
Frequent infections or illness

Night sweats

Swelling in certain organs, including the liver and spleen

Unexpected weight loss

Unusual tiredness (fatigue)
Diagnosis
We use blood tests to evaluate the levels of white blood cells. If the numbers are high, we will take a bone marrow sample. Hematopathologists, doctors who diagnose blood disorders, look at bone marrow tissue under a microscope to confirm CLL. We examine the proteins within the cells to accurately determine the type of CLL so you receive appropriate care.
We may work with molecular biologists to perform other assessments, including genomic and molecular testing. These tests identify specific proteins and other cell changes.
For complex cases, our blood cancer experts, molecular biologists, hematopathologists, and other specialists gather in meetings called tumor boards. We review test results together and develop a care plan that's tailored to you needs.
Treatment
For early-stage chronic lymphocytic leukemia, we may recommend watchful waiting instead of cancer treatment. You will receive regular blood tests to check for changes that signal the cancer is progressing. We also deliver therapies to relieve symptoms, such as antibiotics for infections.
Treatment for more advanced CLL may include cancer drugs (chemotherapy). We also offer innovative options, such as targeted therapy, which attacks specific proteins within cancer cells and spares healthy ones. Find out more about targeted therapy.
Our experience caring for a high volume of older adults helps all patients receive appropriate services for their needs. Older oncology patients sometimes can't tolerate medication as well, so their treatment may include smaller doses. We may also adjust therapies for patients taking drugs for other medical conditions.
Research and clinical trials
Research at Mays Cancer Center gives you access to new therapies and care techniques. Our expertise includes cancer drug development, meaning you may be among the first patients in the country to benefit from new medications, if you are eligible. Get more information about cancer clinical trials and research.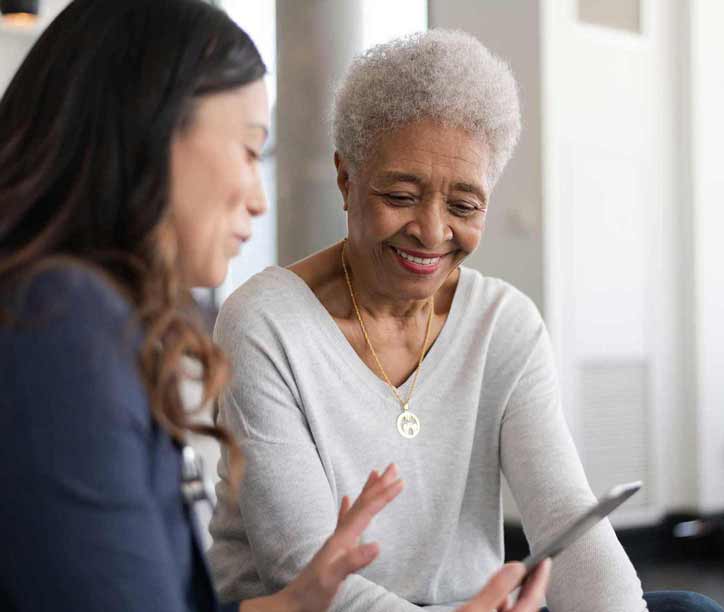 Take the first step by visiting our cancer experts for testing, a second opinion or to learn about treatment options. 
Clinical trials help researchers evaluate new therapies before making them available to the public. Mays Cancer Center is the only National Cancer Institute (NCI)-designated cancer center in Central and South Texas, which means you have early access to clinical trials for which you are eligible. 
View clinical trial opportunities for chronic lymphocytic leukemia
Our team includes cancer experts from different medical specialties who share a commitment to delivering precise, personalized care.
Search our provider directory