Why choose us for hemophilia and bleeding disorder care?
We are the only comprehensive bleeding disorder program in South Texas recognized by the National Hemophilia Foundation. This prestigious recognition means we maintain high standards in diagnosing, treating and supporting people with hemophilia.
Our team includes pediatric and adult blood disorder experts who have additional training through fellowships. Our expertise also includes rare bleeding disorders.
We work alongside other specialists, including dentists, orthopedists and surgeons, to protect you from complications. These extra steps help you stay safe while receiving dental work, treatments for joint damage or surgery.
Our blood disorder experts are part of the South Texas Comprehensive Hemophilia Treatment Center. This program provides family-focused services to children and adults with hemophilia and other blood disorders.
What you need to know about hemophilia and bleeding disorders
When people bleed, proteins in the blood trigger cells to form a gel (clot) that stops it. With hemophilia and other bleeding disorders, the blood fails to clot. These lifelong conditions require specialized care from a program such as ours.

You may experience frequent bleeding episodes that cause you to lose a lot of blood. Small cuts may need immediate medical attention. A hit to the head can sometimes lead to dangerous internal bleeding.

Many bleeding disorders are genetic, meaning they are passed down in families. These genes sometimes "skip" a generation. That means parents who do not have bleeding disorders may still pass them on to their children.

You

receive inpatient services at University Hospital. You'll see a hematologist oncologist (a specialist in all types of blood disorders) for clinic-based (outpatient) services at Mays Cancer Center. Coming to the cancer center and seeing a hematologist oncologist for a blood disorder does not mean you have cancer.
How to talk to

your doctor

about hemophilia and bleeding disorders
It's natural to have questions when you receive a bleeding disorder diagnosis. We are here for you with information to help you move forward with confidence.
Feel free to ask us about:
Ways to avoid bleeding,

which may involve avoiding certain pain medications

Treatment options,

 

including

medications that may prevent uncontrolled bleeding

When and where to seek medical care,

including emergency treatment for bleeding that won't quit
Support from

social workers who help patients and families navigate common challenges, such as feelings of anxiety or depression
We'll provide easy-to-understand explanations of how treatments work and ways to avoid complications. You are welcome to bring loved ones with you to your appointments. They can help you keep track of important details or ask questions you might not have thought of.
Types
Bleeding disorders occur when proteins (factors) responsible for blood clotting are missing or not working as they should. There are many types of bleeding disorders. Each one represents problems with a specific blood factor.
Types of blood disorders we treat include:
Hemophilia A (factor VII deficiency)

Hemophilia B (factor IX deficiency)

Rare blood disorders (factor V, VII, XI or XIII deficiencies)

Von Willebrand disease
We also care for people at risk of abnormal bleeding due to medical conditions such as:
Chronic kidney disease

Connective tissue disorders, such as Ehlers

-

Danlos syndrome

Liver disease
Symptoms
A common hemophilia symptom is bleeding that doesn't stop on its own, even after a minor injury.
Other symptoms include:
Blood in the urine or stool

Bruising easily, as well as large bruises with no known cause

Heavy menstrual bleeding in premenopausal women

Joint pain

Frequent, unexpected nosebleeds
Diagnosis
A blood test helps us evaluate levels of different clotting factors in your blood. As an established bleeding disorder program, we deliver a diagnosis and determine the type of disorder with a high degree of accuracy.
We may perform genetic testing to determine if any abnormal genes (mutations) affect your treatment options.
Genetic testing is also available to people who have a family history of bleeding disorders but are not experiencing symptoms. Testing enables you to learn more about your risk for future problems.
Treatment
Our team includes specialists who help adults and children have a safe, comfortable experience:
Pharmacists

specializing in blood disorders make sure you receive the correct treatment type and dose.

Child life specialists

let children know what to expect so that treatments are a little less scary. These specialists also provide age-appropriate activities to help pass the time.
Members of our team, including hematologists, nurse practitioners and physical therapists, have special training in evaluating abnormal bleeding. For children who require hospital care, we use bedside imaging technology and joint evaluations to check for signs that can be easy to miss. Detecting bleeds early can lower the risk of complications.
Treatment for common blood disorders uses a liquid solution with clotting factors (factor replacement therapy). You may need this treatment if proteins (factors) responsible for blood clotting are missing or not working as they should. We inject the solution into a vein. You may receive factor replacement therapy:
At the time of an injury to control bleeding that won't stop on its own

On a preventive basis to increase your body's clotting ability
If you have joint pain, our team includes a physical therapist who specializes in working with blood disorder patients. This specialist guides you through gentle exercises, which can prevent scar tissue from forming. Limiting scar tissue helps avoid future joint damage.
Research and clinical trials
Our physician-scientists are leading research that's advancing care for hemophilia and bleeding disorders. You have the opportunity to participate in these efforts through clinical trials, if you're eligible. You may be able to receive new treatments years before they become widely available.
Find out more about: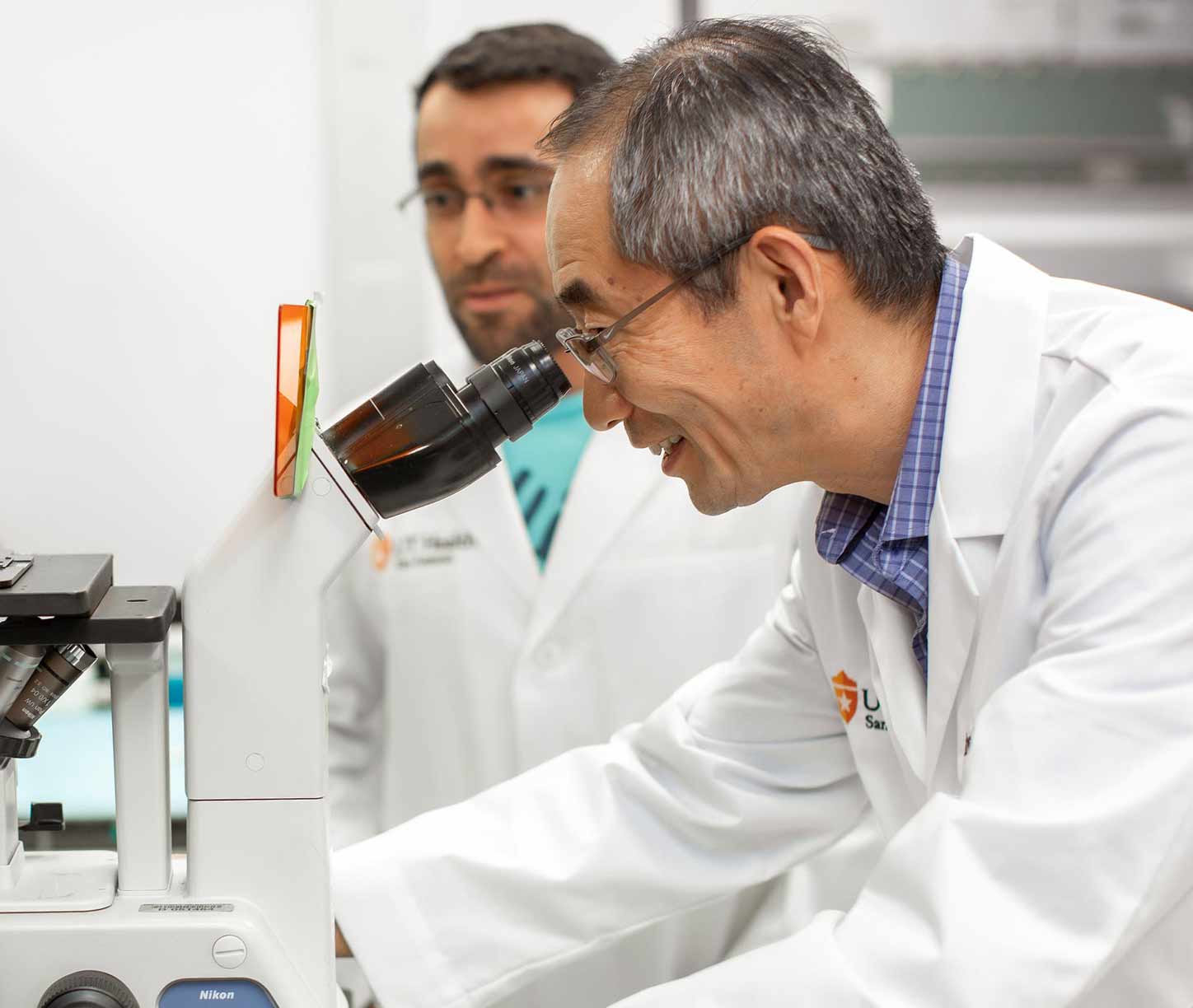 Clinical trials help researchers evaluate new therapies before making them available to the public. Mays Cancer Center is the only National Cancer Institute (NCI)-designated cancer center in Central and South Texas, which gives eligible patients early access to clinical trials.
Take the first step by visiting our cancer experts for testing, a second opinion or to learn about treatment options.
Make an appointment
Our team includes cancer experts from different medical specialties who share a commitment to delivering precise, personalized care.
Search our provider directory