Why choose us for ocular melanoma care?
Ocular melanoma, also called uveal melanoma, is the most common type of cancer to develop inside the eye. At Mays Cancer Center, home to UT Health San Antonio MD Anderson Cancer Center, we offer leading ocular melanoma treatments and a high level of expertise.
Ophthalmologists and other specialists coordinate your care. We use some of today's leading cancer advances, including brachytherapy and genetic testing.
Our fellowship-trained surgeons are experienced in intricate cancer removal and reconstructive procedures. They treat cancer while protecting healthy eye tissues whenever possible.
Find out more about our eye cancer program.
What you need to know about ocular melanoma
Ocular melanoma is also called uveal melanoma. It describes cancer cells that grow from melanocytes (cells deep inside the eye called the uvea tract). Ocular melanoma is not the same as

melanoma

that develops from skin cells.

While ocular melanoma is a more common type of eye cancer, it is still relatively rare. It affects about 3,000 people every year, mostly people of middle age.

Ocular melanoma treatment has the potential to damage your vision permanently. Your doctor will gauge the risk this cancer poses to your health before recommending whether and how to treat it.

Some types of ocular melanoma are more likely to spread to other parts of the body. Genomic profiling tests help us assess the risk a cancer poses to your health, guiding us to the most appropriate treatment for you. A personalized follow-up plan helps us monitor your health long-term.
How to talk to your doctor about ocular melanoma
Everyone reacts to a cancer diagnosis differently. You can trust our specialists to recommend research-based therapies in your care.
We will explain how ocular melanoma or cancer treatment could affect your health or eyesight. Our team is here to support you in making care decisions that are right for you.
We value your voice in the care process, and we encourage you to ask questions and concerns at any point.
You might want to ask your doctor about:
Additional testing,

 

such as genomic testing, you may need to inform your diagnosis or treatment plan

Cancer details,

including

whether ocular melanoma has spread and the risk it poses to your long-term health

Treatment options,

 

including how treatment could affect your vision

Potential treatment side effects and how we can help you manage any discomfort you may feel

Support

services

to help you navigate life with cancer and the challenges it may bring
Many patients find it helpful to bring a family member or trusted friend to appointments or treatment sessions. We welcome their presence if it helps make the care process easier for you.
Types
Ocular melanoma may develop on its own (de novo) or from a tiny freckle on the eye, called a choroidal nevus.
Doctors often discover a choroidal nevus during a routine eye exam. Only a small percentage of choroidal nevi (plural) turn into cancer. People with this common condition should have regular eye exams to track how a spot grows or changes over time.
Some types of ocular melanoma are aggressive. They may spread beyond the eye, to the lymph nodes or organs such as the liver. Genomic profiling tests tell us more about the risk cancer may pose to you so we can recommend treatments right for you.
Symptoms
Common ocular melanoma symptoms include blurred vision and seeing flashing lights or shadows (floaters). Some people experience no noticeable symptoms.
You should have any unusual changes in your vision evaluated by a trained medical professional.
Diagnosis
Our experienced ophthalmologists diagnose ocular melanoma by performing a comprehensive eye exam. Our specialists may recommend one or more tests to learn more about a potential problem:
Eye ultrasound:

We use a specialized ultrasound test, called B

-scan ultrasonography, to capture details of the inside of the eye. Ultrasound images use sound waves to show doctors a tumor's size, shape and thickness. This test can help doctors track eye changes over time.

Biopsy:

Our

ophthalmologist may remove a tiny sample of tumor tissue for further analysis in a laboratory.

Genomic profiling:

In some cases, we send a tissue sample for specialized genetic testing by an outside laboratory. These results can help us determine how likely cancer is to spread to other parts of the body.
Treatment
A tumor's size and thickness help our doctors determine the right treatment approach for your circumstances.
Small, thin melanomas may not need treatment right away. In these instances, we may monitor you closely with regular testing. The results help our team track how a tumor grows over time.
Treatment for larger (or thicker) cancers may involves surgery or radiation therapy. We offer specialized radiation treatment called iodine-125 brachytherapy. Learn more about brachytherapy.
For this type of brachytherapy, an ophthalmologist and a radiation oncologist secure a tiny cup (called a plaque) containing radioactive seeds onto your eye, right over the tumor. After a certain number of days (generally less than a week), we perform a second procedure to remove the radioactive cup. This type of radiation therapy does not cause hair loss or make you feel unwell.
Genomic profiling test results can help us plan the most appropriate treatments for you. Treatment may include advanced or evolving drugs that target the specific type of ocular melanoma you have. Learn more about targeted therapy.
Some types of ocular melanoma are more likely to resurface after successful treatment. We monitor you closely in the years after your treatment ends. This regular follow-up helps us detect a possible recurrence during its early stages.
Research and clinical trials
Clinical trials offer eligible patients access to some of today's leading cancer treatments close to home. As an academic research center, our scientists take part in hundreds of nationwide and local cancer research efforts.
Eligible patients with ocular melanoma that is more likely to spread (metastasize) may benefit from a clinical trial of advanced targeted therapies.
Read more about cancer research and clinical trials.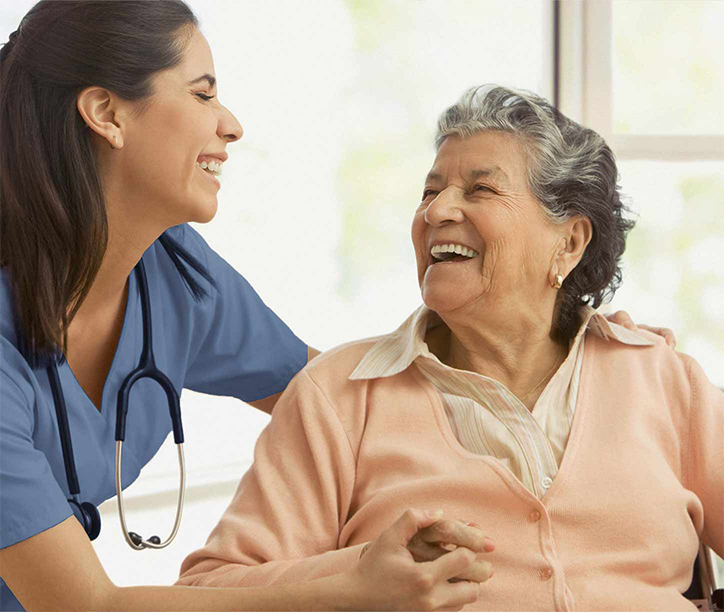 Take the first step by visiting our cancer experts for testing, a second opinion or to learn about treatment options.
Clinical trials help researchers evaluate new therapies before making them available to the public. Mays Cancer Center is the only National Cancer Institute (NCI)-designated cancer center in Central and South Texas, which gives you early access to clinical trials.
Clinical trial opportunities for ocular melanoma
Our team includes cancer experts from different medical specialties who share a commitment to delivering precise, personalized care.
Search our provider directory