Why choose us for chronic myeloid leukemia (CML) care?
Chronic myeloid leukemia is a blood cancer that occurs when your body produces too many white blood cells. Doctors at Mays Cancer Center, home to UT Health San Antonio MD Anderson Cancer Center, are giving CML patients hope.
We use a team approach that combines recommendations from different blood cancer specialists to provide exceptional care. We meet regularly in meetings called tumor boards to coordinate treatments for conditions that do not respond to standard therapies. Our expertise, along with leading treatments, helps many patients get back to their daily lives.
CML is one of the many blood cancers we treat. Get more information about our hematology oncology program.
What you need to know about chronic myeloid leukemia
Your bone marrow produces stem cells, which become red blood cells, platelets or white blood cells.

CML usually happens when there is a change to a specific gene (Philadelphia chromosome) in your blood cells.

With CML, stem cells become white blood cells in high numbers. These abnormal white blood cells build up in your bone marrow, crowding out healthy cells.

Chronic myeloid leukemia often occurs in middle-aged or older adults.
How to talk to your doctor about chronic myeloid leukemia
A chronic myeloid leukemia diagnosis can come as a shock. We are here for you with the answers, care recommendations and reassurance you need.
You might want to ask your doctor about:
Additional testing

, if any,

to confirm the diagnosis

Cancer stage,

including how advanced the CML is and

whether it may spread

Treatment options,

 

which may include multiple rounds of chemotherapy

Potential treatment side effects

and how we help you feel better

Support

to help you cope with the ways CML may affect your daily life
We explain tests and treatments in ways you can understand. You are welcome to bring loved ones with you to care appointments. They can help you keep track of important details or remember to ask specific questions.
Types
CML has three phases:
Chronic phase:

A small number of immature white blood cells (blasts) are present in the blood or bone marrow. You might not experience symptoms or know that you are sick.

Accelerated phase:

The number of blasts increases, along with other possible changes to your blood, like low platelet counts. People often notice symptoms in this phase.

Blast phase:

High numbers of blasts are present in the blood or bone marrow. In this phase, cancer may spread to nearby tissue and organs.
Symptoms
Chronic myeloid leukemia is a slow-growing cancer. Symptoms become more noticeable over time and may include:
Bone pain

Feeling full after eating a small amount of food

Night sweats

Shortness of breath

Unexpected weight loss

Weakness
Diagnosis
We offer testing options and expertise that lead to a timely, accurate diagnosis. Our experience and attention to detail means you can start treatments earlier.
We start with blood tests to measure the levels of specific blood cells. We also may take a bone marrow sample. Hematopathologists, doctors who diagnose blood disorders, examine the bone marrow tissue under a microscope.
We often perform additional assessments, including molecular and genomic testing. These tests help us identify specific proteins to target the specific treatments that are right for you.
Treatment
If you are in the accelerated or blast phase of CML, targeted therapy may help you feel better. This type of cancer drug attacks specific proteins and spares healthy cells so you may experience fewer side effects. Get more information about targeted therapy.
You also have access to the full range of blood cancer treatments, including chemotherapy. Your care may include support from a dietitian to boost energy and help you get more of the nutrients you need.
Older patients may respond differently to treatments or experience more severe side effects. We adjust therapies and coordinate extra support, when needed, so your care keeps moving forward.
Research and clinical trials
Research at Mays Cancer Center is advancing care possibilities for people with leukemia and other blood cancers. Our physician-scientists have a long track record of discovering and testing new treatments. Through clinical trials, you have access to more care options, which may include new medications, if you are eligible. Get more information about cancer clinical trials and research.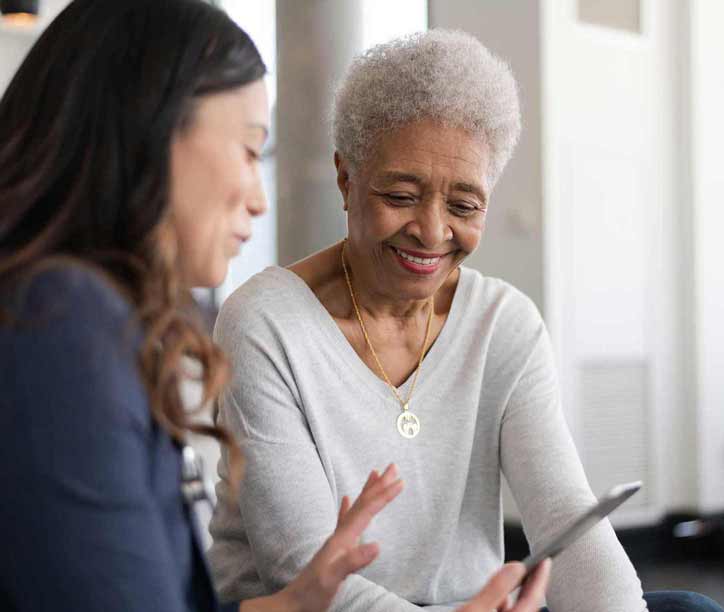 Take the first step by visiting our cancer experts for testing, a second opinion or to learn about treatment options. 
Clinical trials help researchers evaluate new therapies before making them available to the public. Mays Cancer Center is the only National Cancer Institute (NCI)-designated cancer center in Central and South Texas, which means you have early access to clinical trials for which you are eligible. 
Learn more about our clinical trials and research
Our team includes cancer experts from different medical specialties who share a commitment to delivering precise, personalized care.
Search our provider directory