At Mays Cancer Center, home to UT Health San Antonio MD Anderson, you can receive cancer immunotherapy personalized to your needs.
Our extensive research capabilities give people living in San Antonio and surrounding communities access to cancer advances that aren't widely available in South Texas. Doctors here use immunotherapy drugs to treat early and advanced forms of some diseases, such as bladder cancer. 
What is cancer immunotherapy?
Cancer immunotherapy medicines help the body's immune system recognize and attack cancer cells. Known as immune checkpoint drugs, these medicines work to activate the immune system and include new therapies researchers are actively exploring today. 
Many immune checkpoint drugs help enhance how your body's immune system works. They give your body's natural defenses more power to fight against cancer cells. Other immune checkpoint drugs help your immune system recognize cancer cells so it knows to get rid of them.
Immunotherapy is just one type of medicine doctors use to treat cancer. Your doctor may also recommend chemotherapy or targeted therapy drugs. For some cancers, doctors combine immune checkpoint drugs with chemotherapy or other targeted therapies.
How to talk to your doctor about immunotherapy
Research surrounding immunotherapy has evolved at a fast pace. Doctors still have much to learn about precisely how immunotherapies work and who they can help. You can trust our scientists to follow leading evidence to offer you the most appropriate therapies for your situation.
Your doctor will decide whether immunotherapy may benefit you based on the type of cancer you have and other factors. You may take one or more cancer medications at one time.
Your doctor may recommend immunotherapy in addition to cancer surgery, radiation therapy or other cancer treatments.
Immunotherapy works in complex ways. If your treatment plan includes immunotherapy, your doctor will explain what you should know, including possible side effects. We encourage you to ask questions whenever they arise. 
You can access plentiful support services to cope with any challenges of cancer treatment through patient and family services during cancer care and our Supportive Cancer Care Clinic.
Immunotherapy: What to expect
Immunotherapy is a systemic cancer treatment. Medicine travels through your bloodstream to treat cancer throughout your body. 
You can receive immunotherapy drugs in different ways. While some come in pill form that you swallow, most immunotherapies today get delivered in one of two ways:
Infusion: A nurse places an IV into a vein in your hand or arm. Medicine enters your bloodstream through the IV and travels throughout the body.
Port: A radiologist or surgeon places a port (a small device connected to a flexible tube) under the skin, in the upper chest or just below your collarbone. The port acts as a semi-permanent IV, so a nurse can more easily deliver medication.
Central line: A surgeon places a long, thin tube under the skin (in the neck, chest or arm). A nurse uses this tube (also called a catheter) to deliver medication.
You can receive all immunotherapy services at Mays Cancer Center. Our infusion center features comfortable chairs, televisions, Wi-Fi and ample space. We encourage you to bring a family member or friend along for support. 
Why choose us for immunotherapy cancer treatment?
Highlights of our program include: 
Commitment to excellence: We are the only National Cancer Institute (NCI)-designated cancer center in Central and South Texas. This recognition illustrates our commitment to providing precise, compassionate care to every patient. 
Advanced therapies: Our team includes leading cancer experts who are exploring immunotherapy treatment options not widely available at other centers in the region. We participate in national and local clinical trials that expand treatment options for eligible patients with new therapies. Your doctor can explain how we streamline clinical trials to enhance your treatment. Learn more about clinical trial treatments.
Coordinated care: You can find a full spectrum of immunotherapy and other treatment services in San Antonio. Because we value your time, we coordinate your care so you can receive the treatments you need when it's convenient for you.
Personalized treatment: Specialists with different areas of focus consult regularly on the details of your care. This close relationship helps us develop a plan that's based on leading cancer research and fits your needs.
Types of cancer we treat
At Mays Cancer Center, we care for people affected by all types and stages of cancer, including complex cases. Multiple specialists work hand in hand to determine which immunotherapy or combination of treatments is most appropriate for your circumstances.
Find out more about the cancer types we treat.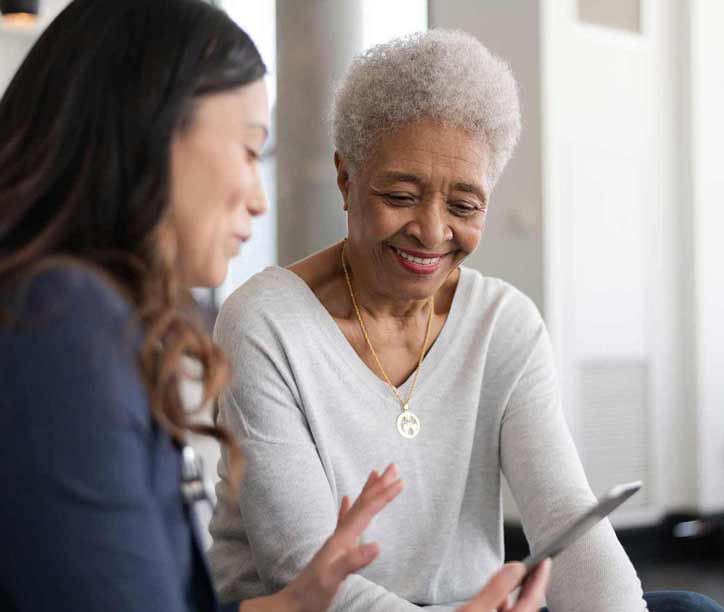 Take the first step by visiting our cancer experts for testing, a second opinion or to learn about treatment options.
Our team includes cancer experts from different medical specialties who share a commitment to delivering precise, personalized care.
Search our Provider Directory