Why choose us for iron overload disorder care?
Iron overload disorder (hemochromatosis) causes deposits of iron to build up in your organs, making you feel sick. Mays Cancer Center, home to UT Health San Antonio MD Anderson Cancer Center, delivers specialized care for this condition.
Our fellowship-trained blood disorder specialists (hematologist oncologists) can detect subtle signs of the disease. Our goal is to help you receive timely care. We pay careful attention to your needs throughout treatment, which keeps therapies moving forward.
Iron overload disorder is one of the many blood disorders we treat. Find out more about our blood disorder (hematology) program.
What you need to know about hemochromatosis
Iron is a nutrient we normally get from the foods we eat. It helps the blood deliver oxygen to your organs. With iron overload disorder, the body absorbs too much iron and stores it in the liver, joints, pancreas or heart.

Excessive iron buildup can damage your organs. It can lead to problems such as diabetes, abnormal heart rhythms and irreversible liver damage (cirrhosis).

Iron overload disorder is often passed down in families through abnormal genes. Most people don't start experiencing symptoms until middle age.

Hemochromatosis is a blood disorder, not cancer. However, certain complications, including cirrhosis, can lead to cancer. Receiving care from an experienced program such as ours can lower the risk.
How to talk to

your doctor

about

hemochromatosis
Learning you have iron overload disorder may come as a surprise. We are here for you with answers and personalized recommendations to help you feel more in control of your situation.
Feel free to ask us about:
Further testing

 

that may be necessary to confirm a diagnosis or check for signs of complications

Treatments

and how often you need them

Cancer risks

and the steps we can help you take to manage them
Hemochromatosis often requires lifelong care, but you don't have to face it alone. We explain treatment options in ways that are easy to understand. We invite you to bring loved ones with you to your appointments for support.
Types
There are many types of hemochromatosis, including:
Hereditary hemochromatosis,

the most common form of the condition, stems from an abnormal gene that's passed down in families.

Juvenile hemochromatosis

occurs in younger patients, typically between 15 and 30 years old.

Neonatal hemochromatosis

causes rapid iron buildups in the organs of newborns.

Secondary hemochromatosis

occurs as a result of some other problem, such as alcoholism or complications from a blood transfusion.
Symptoms
Symptoms of iron overload disorder include:
Elevated iron levels found in blood tests that you have for other reasons

Extreme tiredness (fatigue)

High blood sugar levels

Skin that looks bronze or grey

Stiff joints or joint pain, especially in the knuckles
Diagnosis
Diagnosing hemochromatosis is challenging because symptoms often mirror those of other medical conditions. In the early stages, you might not experience any symptoms. The first sign of a problem may be when blood tests for other reasons show elevated iron levels.
Our experienced blood disorder specialists perform a detailed assessment. We may order further tests so that you receive an accurate diagnosis. These additional tests measure levels of iron and determine whether iron overload is affecting your liver.
You may wish to pursue genetic testing to find out if you have gene mutations (changes) that lead to iron overload disorder. We can use this information to tailor care to your needs. It also lets you know whether other family members should consider testing. Our experts let you know which tests are right for you.
Treatment
We develop a personalized treatment plan that may include therapies to lower iron levels in your blood by performing:
Regular blood draws (therapeutic phlebotomy):

Removing some blood through a needle in your arm slows the progression of iron overload and may reverse some symptoms. Your body starts restoring normal blood levels shortly after the procedure.

Chelation therapy:

We inject a medication that removes excess iron from the blood. This option can help people who have medical conditions that prevent them from having therapeutic phlebotomy.
Other recommendations to prevent and check for complications include:
Diet and lifestyle changes

: These changes may include avoiding supplements and multivitamins that raise iron levels, and quitting alcohol to protect your liver.

Cancer screening:

If you are showing signs of liver damage, regular imaging tests help us detect changes that could signal cancer.
Research and clinical trials
Physician-scientists at Mays Cancer Center are leading research that's advancing care for blood disorders. You may be eligible to participate in these efforts and receive new treatments through clinical trials.
Find out more about: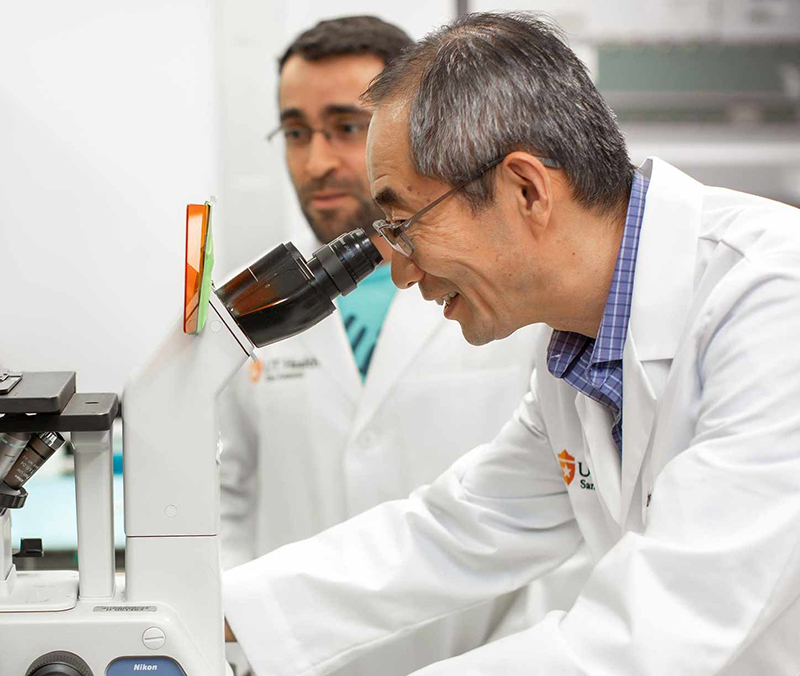 Clinical trials help researchers evaluate new therapies before making them available to the public. Mays Cancer Center is the only National Cancer Institute (NCI)-designated cancer center in Central and South Texas, which gives eligible patients early access to clinical trials, if eligible.
Take the first step by visiting our cancer experts for testing, a second opinion or to learn about treatment options.
Make an appointment
Our team includes cancer experts from different medical specialties who share a commitment to delivering precise, personalized care.
Search our provider directory