Donors help bring therapies to fruition
Each year, nearly 14 million people throughout the world learn they have cancer, and eight million die from the disease, according to the U.S. Centers for Disease Control and Prevention. Research suggests that one-third of cancer deaths can be prevented, but oftentimes therapies are not widely available. Commonly, the reason is because these therapies, which have great potential to help patients, take time and lofty financing to develop.
With the partnership of generous private donors, researchers at the UT Health San Antonio Cancer Center are beginning to see promising cancer therapies come to fruition. That's because gifts from private donors allow scientists to advance their years of work spent on pilot research programs and secure larger grants that enable them to translate their findings into the latest effective cancer treatments.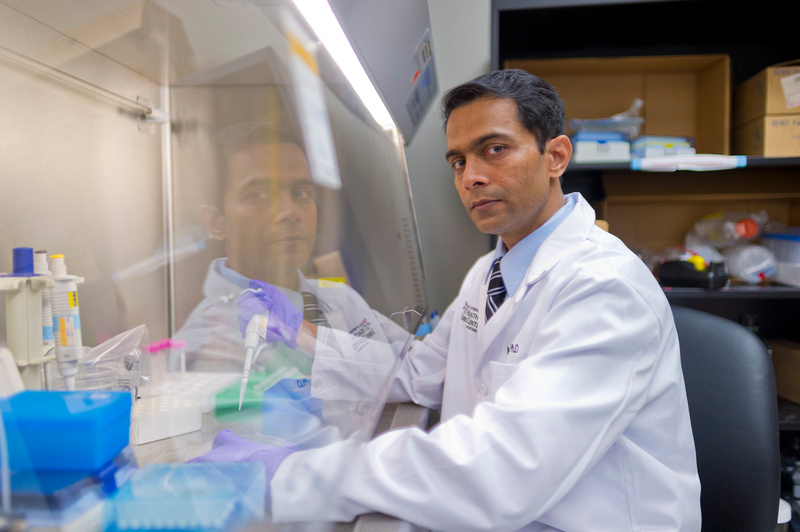 When Roger and Dot Hemminghaus learned of the pilot research grant program at the UT Health Cancer Center, they chose to support the work of Manjeet Rao, Ph.D., assistant professor of cellular and structural biology at UT Health San Antonio. Their $25,000 pilot gift allowed Dr. Rao to build toward a $900,000 grant from the Cancer Prevention and Research Institute of Texas (CPRIT).
Dr. Rao's work with microRNA (small gene-like molecules that can affect cells through subtle regulation of a number of factors) plays a critical role in cancer drug resistance. Dr. Rao wants to put them to work against triple-negative breast cancers and find less toxic treatments that aren't so vulnerable to drug resistance.
For more information and to support pilot research projects at the cancer center, visit our giving portalor contact Sheri Ortiz, Senior Director of Development, at ortizs8@uthscsa.edu or 210-450-5512.