Discoveries deliver lifesaving results
David Williams had endured the surgical removal of a brain tumor as well as six weeks of aggressive traditional radiation and chemotherapy treatments. But a tumor regrew in his brain anyway. When doctors at the UT Health San Antonio MD Anderson Center offered him a brand new treatment, he said, "Why not me?" Today, he believes he was in the right place at the right time.
In March 2015, David Williams became the first human being ever to have a new radiation treatment implanted in the center of his brain tumor. 
The technology, developed at UT Health San Antonio MD Anderson Center, uses tiny radioactive liposomes, or fat particles, only 100 nanometers across, inserted by the thinnest of catheters directly into a tumor. There they remain, radiating only a tiny distance, affecting only the tumor.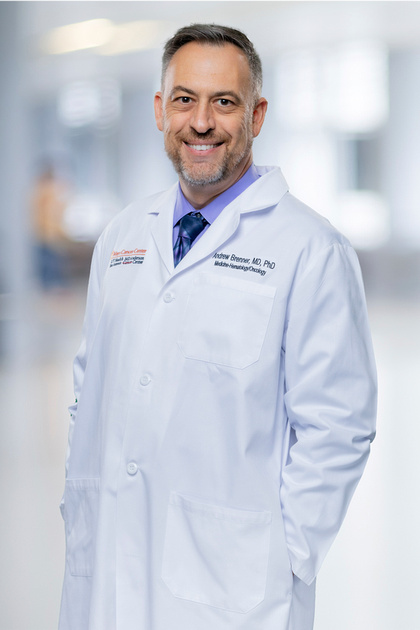 Andrew Brenner, M.D., Ph.D., a neuro-oncologist, is leading the clinical trial at the cancer center and expects to start the second patient on the study within a month.
At his first follow-up appointment, Williams reported feeling great and said he did not experience the side effects that one normally does after conventional radiation therapy. That technology must send its beams through healthy tissue to reach the tumor, and so must be limited in the amount of radiation it delivers. 
"The technology is unique," Dr. Brenner said. "Only we can load the liposomes to these very high radioactivity levels."
The concept was developed by nuclear medicine physician William T. Phillips, M.D., and biochemist Beth A. Goins, Ph.D., in the Department of Radiology; and Ande Bao, Ph.D., a medical physicist and pharmaceutical chemist formerly in the Department of Otolaryngology, all of the Long School of Medicine at UT Health San Antonio. They originally thought of trying it in head and neck cancers.
But Dr. Brenner had a different idea.
"I thought it made sense to use it in brain cancer first," he said. "The skull is a rigid structure" and the tissue inside is much less varied, he said, whereas in the neck and other parts of the head there are many different kinds of tissue and lots of moving parts. He worked with neurosurgeon John R. Floyd II, M.D., to apply the first treatment to Williams on March 10 at University Hospital, the teaching hospital of UT Health San Antonio.
For more information and to support vital cancer research, visit our giving portal or contact Sheri Ortiz, Senior Director of Development, at ortizs8@uthscsa.edu or 210-450-5512.